This Strawberry & Cherry Buttermilk Cornmeal Cobbler is my ideal summer dessert: an easy and breezy process (that takes about 20-30 minutes and is hard to mess up) and a result that ends in bubbling cooked down berries that fill your kitchen with a heavenly aroma. Seriously does it get any better than those few moments right after you pull something like this out of the oven and you see those bubbles?
While I'm usually more enamored by the fruit component of any dessert, I do have to take a moment to talk about these biscuits. The recipe for these biscuits was inspired by my recent love for cornmeal (P.S. have you seen my honey cornmeal cake?! another goodie for anyone who loves cornmeal or cornbread). I am just in love with the texture and flavor it brings to a dessert! From there, I adapted the biscuit recipe from a dessert I made last summer- this Easy Summer Blueberry Spelt Cobbler. It's one of my favorites and most popular desserts because of how simple it is. Everything for the dough can be made in one bowl and comes together in about ten minutes.
Behind the Recipe: Strawberry & Cherry Buttermilk Cornmeal Cobbler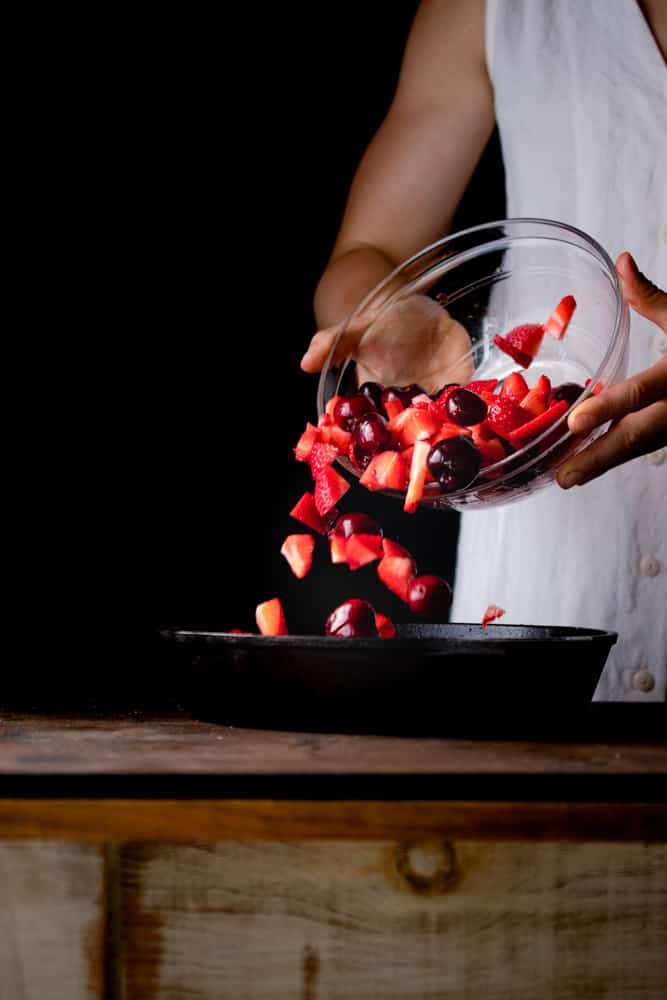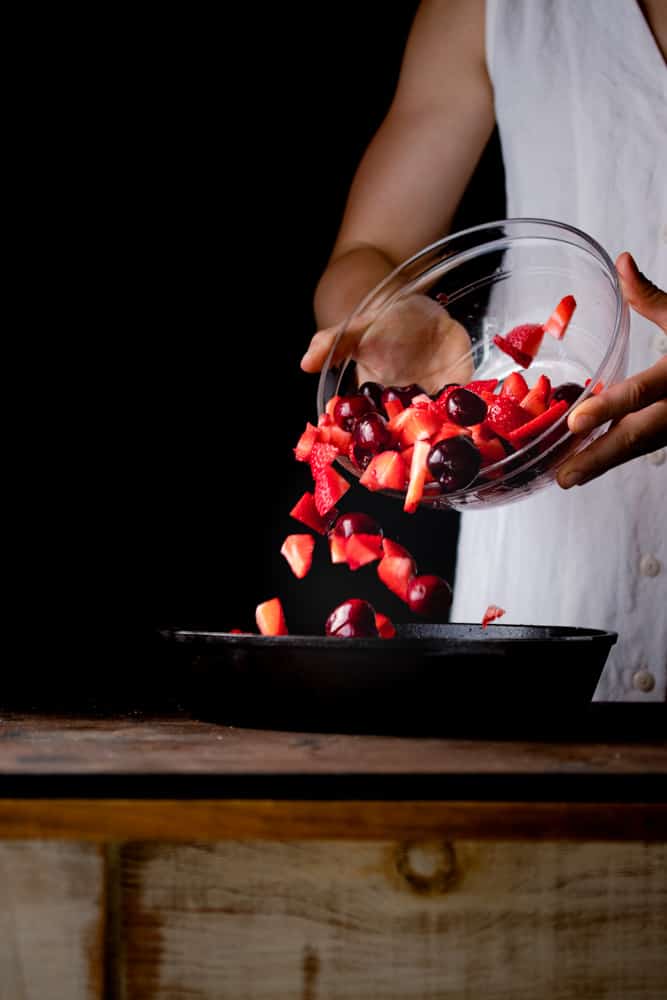 While the recipe and process is very simple- purposefully so- this is no ordinary cobbler. Let's talk about why.
Behind the Recipe: The Ingredients
The combination of strawberries and cherries: This combination is not a traditional or common one, but they go so well together!! I actually just came up with the idea to mix the two because well- I love strawberries and my mom loves cherries. Turns out they mix perfectly in the sweet yet slightly tart filling. They'll meld together a bit (and I love the color of the two together), but you can still taste and see their distinct flavors.
The cardamom: Another subtle flavor that'll have people wondering… What's in that filling? There's something I really like but can't quite identify.
The cornmeal: I love the added texture and flavor that comes from cornmeal. This, combined with almond flour, gives these biscuits a TON of flavor and it's just in the flours! While coarse grain isn't for everyone (and you can certainly get fine grain cornmeal), I like the coarser texture.
The almond flour: Okay. Normally I HATE the idea of having 3 flours in this biscuit and would try to simplify, but it's just needed here! The cornmeal provides flavor and texture, all purpose flour needed gluten and structure, and almond meal gives it a fluffy and buttery taste and texture. Be sure to use blanched fine almond flour like this one from Bob's Red Mill.
Buttermilk: A key ingredient to any good biscuit in my experience. Some use heavy cream, but I prefer this slightly lighter option (which still isn't very light, let's be honest).
The amount of sugar: I've served this Strawberry & Cherry Cornmeal Cobbler to a number of people and everyone thought it was the perfect amount of sweetness. However, compared to most cobblers, this is definitely on the low side- the biscuits only have a 1/4 cup as does the filing. While I wouldn't call this the healthiest dessert, it's on the healthier side for sure.
Behind the Recipe: The Process
You can see below the different trials and attempts I did when designing the recipe for this Strawberry & Cherry Buttermilk Cornmeal Cobbler. Here's what I gathered from my trials:
Don't add other berries: The combination of cherries and strawberries is just right. I tried adding in some blueberries and raspberries, but they released a lot more water and ended up having just a bit too much juice. Don't try this with other berries (or at least realize you may need to add more cornstarch and play with the ratios a bit here).
Let it rest: Let this sit for at least 30 minutes (ideally 60 minutes) after baking to make sure the juices aren't runny.
Biscuit size: I tried a variety of biscuit sizes- crumbled, in large dollops, and in smaller ones. The goldilocks of the biscuit size? Dollops that were about the size of my palm. This resulted in the best result of a golden top and tender, but fully baked, inside.
Baking Vessel: I personally just LOVE the look of serving a dessert in a cast iron skillet (this one was 9") and will almost always lean toward that, but when I didn't have one, I used a ceramic oval baking dish that worked just fine. A square 9" ceramic baking dish would also work too. The key is just making sure it's not too big because the fruit will reduce in size and you don't want to be too thin.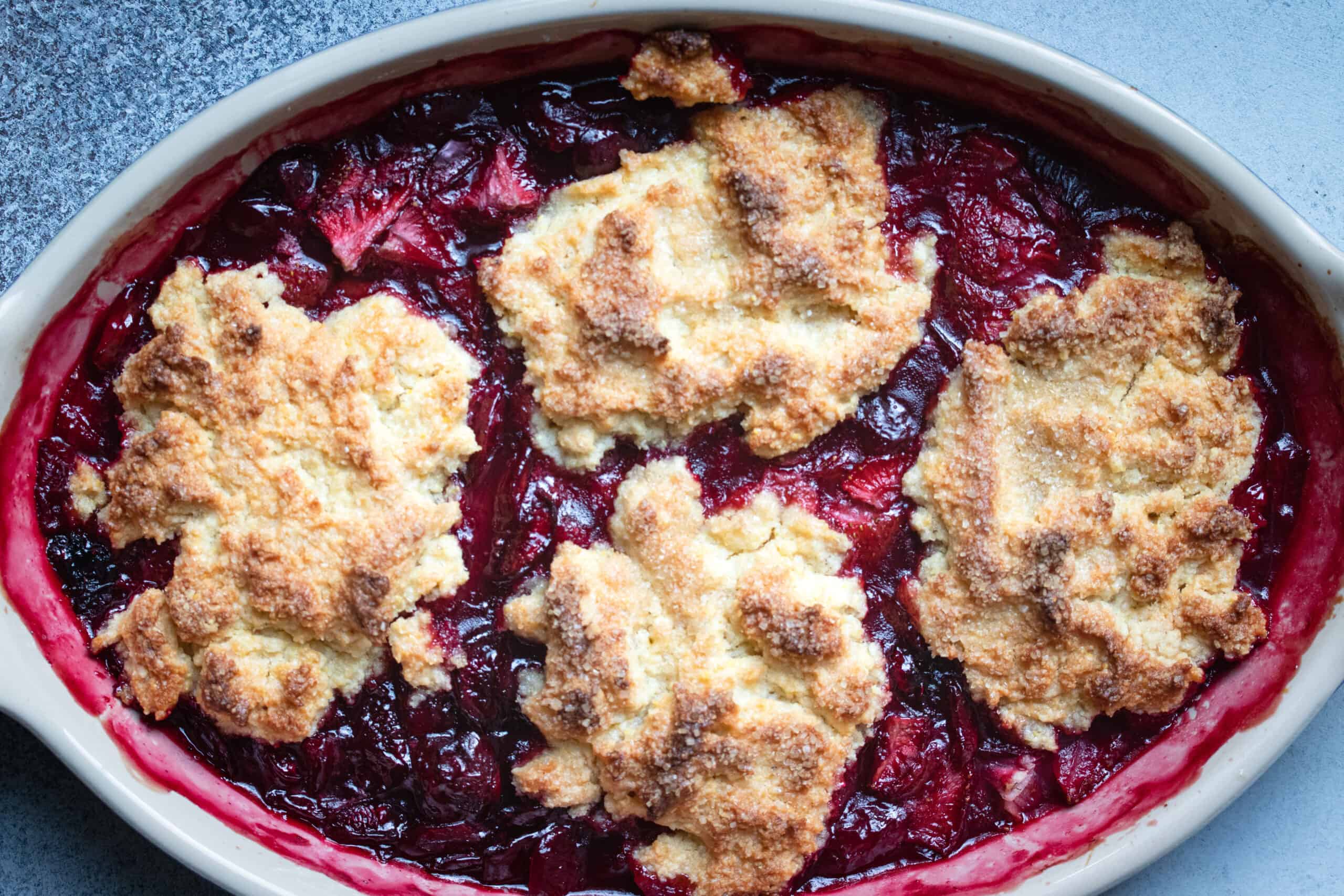 Strawberry & Cherry Buttermilk Cornmeal Cobbler
For the Fruit:
1

pound

strawberries

,

, quartered

1

pound

sweet cherries

,

, pitted (you can keep whole or slice them- either way works!)

1/4

cup (50g)

white sugar

2

teaspoons (6g)

cornstarch

1/2

teaspoon

diamond kosher salt

,

(or 1/4 teaspoon sea salt)

Heaping 1/4

teaspoon

cardamom
For the Biscuits:
1/2

cup (56g)

all-purpose flour

1/2

cup (56g)

almond flour

,

(blanched and fine grain- I use Bob's Red Mill brand)

1/2

cup (63g)

cornmeal

,

(you can do fine or coarse. I love coarse due to the texture, but I think most people prefer fine)

1/4

cup (50g)

white sugar

1/2

teaspoon

diamond kosher salt

,

(or 1/4 teaspoon sea salt)

3

ounces (6 tablespoons)

super cold unsalted butter

,

(place in freezer for at least 15 minutes before using)

1/2

cup (120g)

buttermilk

,

(I've done with both lowfat and full fat- both work)
Make the Filling:
Preheat oven to 375. Place your stick of butter in the freezer (this will help later, just trust me). Make sure you keep your buttermilk in the fridge until you need it.

Add sliced strawberries and pitted cherries to either a large or bowl or directly into whatever vessel you plan to bake/serve this cobbler in- YES, it's that easy. You can bake this in a 8 or 9'' square baking dish, a 8'' or 9'' deep cast iron skillet, or even an oval baking dish (see above for my variations).

Add 1/4 cup sugar, cornstarch, salt, and cardamom to the berries. Toss to thoroughly coat and set aside.
Make the Biscuits:
In a large bowl, add in all dry ingredients: all-purpose flour, almond flour, cornmeal, 1/4 cup white sugar, and salt. Stir to mix thoroughly.

Using a large cheese grater, grate in butter (this almost a whole stick, but not quite). Once all grated, use your hands to mix the butter and the flour and try to coat the butter with the flour. Be careful about overmixing or getting the butter too warm/soft.

Pour in buttermilk. Using a large spoon or spatula, mix until the dough is cohesive and one.

Scoop batter onto berry mixture in ~1/2 cup mounds. While you don't want to flatten the mounds completely, push them down just slightly so they aren't super tall.
Bake:
Bake in oven until the berry mixture is thick and bubbly (not juicy/watery) and the biscuits are golden brown on top, 40-45 minutes.

Let cool for at least 30 minutes (ideally 60 minutes) before serving (otherwise the juices will run).