Since getting pretty into cheesemaking, I've made a LOT of fresh paneer in the last few months. As a result of countless trials of making fresh paneer, finding simple and quick ways to use it for dinner became key. Saag Panner was an obvious choice, especially given the amount of swiss chard we have in our garden. This Saag Paneer with Chickpeas is my own take on this dish- I personally love chickpeas as an addition to any dish and by adding them, this became a bit more filling to be a perfect vegetarian weeknight meal.⁠
Specifically, this recipe is adapted from NYT Cooking. In addition to tinkering a bit with the amounts of ginger, I wanted to add in another source of protein to make sure this dinner was plenty filling, for both me and Matt. Chickpeas are one of my favorites and honestly seem to go with just about anything. It's certainly not traditional, but it just works.
Behind the Recipe: Saag Paneer with Chickpeas
A few things I played around with when developing this Saag Paneer with Chickpeas was the spinach. First off, I have used a variety of greens beyond spinach– basically whatever I have on hand. Specifically, I've used kale and Swiss chard. Sometimes the color can be impacted if using Swiss chard and I think spinach is the most tender, but any green works. I personally think using fresh is worth it (rather than chopped frozen spinach), which leads me to my second point…
A food processor is worth using for this recipe. It quickly chops both the spinach and the ginger and garlic. For me, the actual act of using the food processor is easy. Literally, within 30 seconds, you have chopped spinach. The bigger pain is getting it out, setting it up, and cleaning it. So I decided that if I went through that whole process, I might as well use the food processor to do other things, like chop the ginger and garlic.

A quick side note: If you use a lot of ginger and garlic, process more than you will use for this recipe and you'll have it ready for other recipes for the week.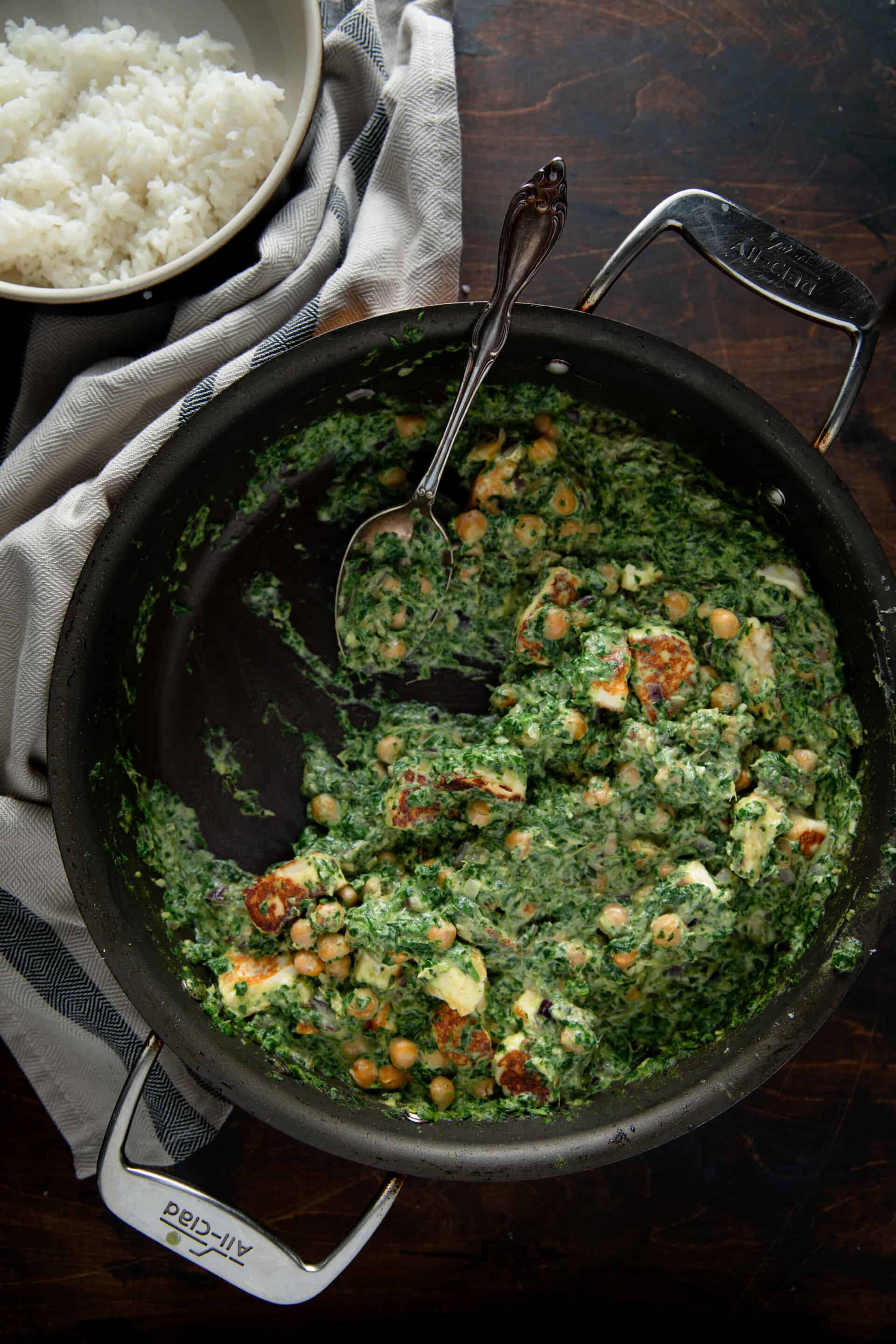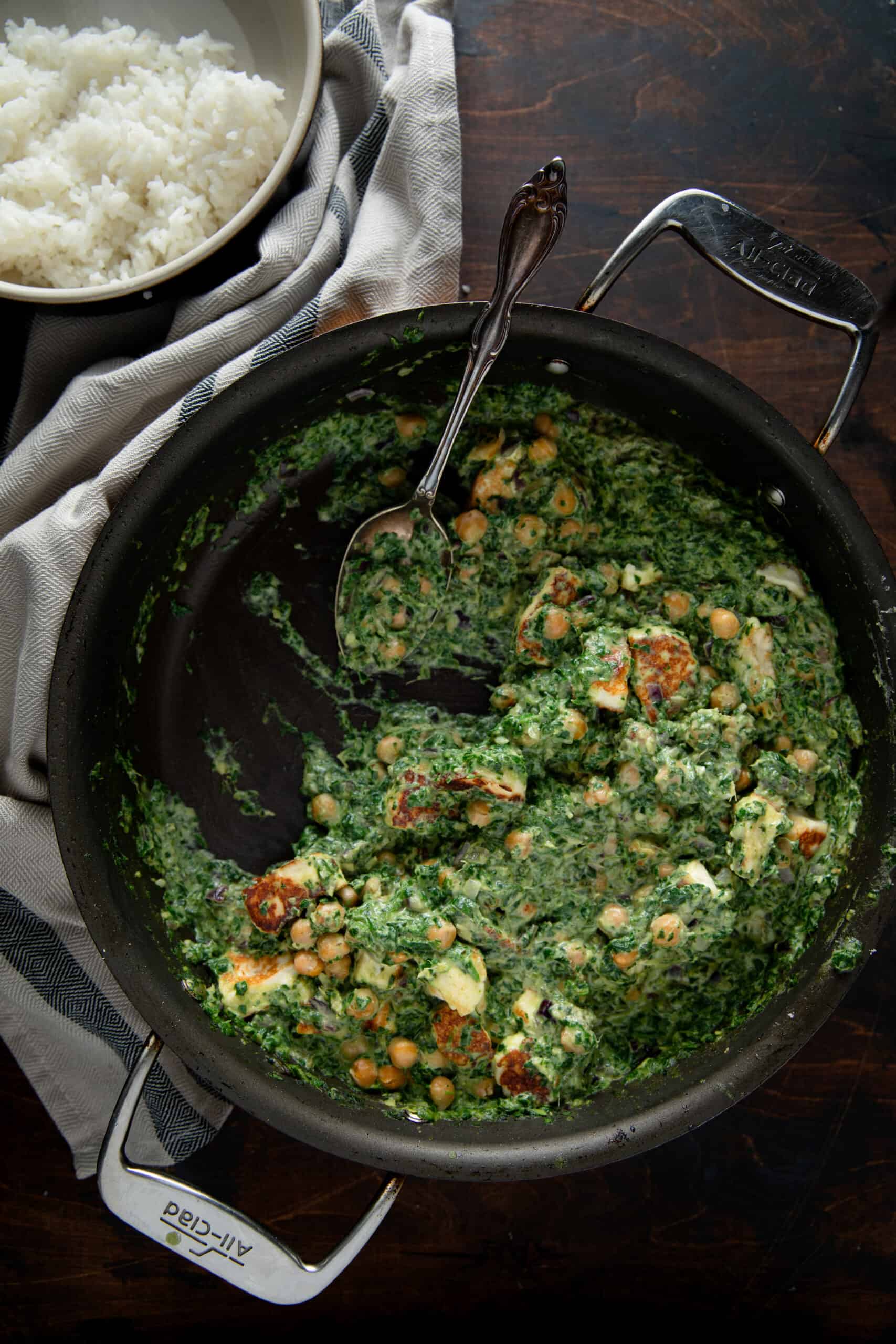 Saag Paneer with Chickpeas
Recipe adapted fom NYT Cooking
2-3

tablespoons

ghee

,

divided

8

ounces

paneer

,

cut into 1" cubes

1

can chickpeas

,

rinsed, drained, and patted dry

1/2

yellow onion

,

diced

Salt

,

to taste (1-2 teaspoons- be generous)

8

ounces

baby spinach or other greens of choice

,

~8 cups

3

cloves

garlic

,

peeled

2

'' inch

piece ginger

,

peeled

1

teaspoon

coriander

1

teaspoon

cumin

1/2

cup

cashew cream

,

see recipe below or heavy cream

juice of 1/2

lime
Heat a large 12'' pan* over medium heat. Add enough ghee to generously coat the bottom of the pan (1-2 tablespoons). Once hot, add in paneer in one even layer. Add in chickpeas** around the paneer.

*You can use a cast iron or nonstick pan. I've done both. I prefer the nonstick pan because I don't need to use as much ghee, but you do need to be careful about not getting the pan too hot (for safety reasons).

**make sure chickpeas are relatively dry or they will pop. Also the residual water defeats the purpose of frying.

Let paneer sit until browned on bottom, about 2 minutes. Flip and repeat for other sides. Stir chickpeas occasionally. Remove from pan and set aside.

In a food processor, add ginger, garlic, cumin, and coriander. Process until finely chopped. Set aside.

Reheat pan over medium heat and add in additional tablespoon of ghee. Add in onion and saute until onion is lightly browned, a few minutes.

Add in the processed ginger, garlic, cumin, and coriander. Stir to coat the onions in the seasoning and saute until aromatic and lightly browned, a few minutes.

While this is all cooking, process the spinach in the food processor (personally I think it's okay if there's a bit of residual ginger/garlic) until finely chopped.

Add spinach and 1 cup of water to the pan. Saute over medium until most of the water has evaporated or been absorbed by the spinach, about 5 minutes.

Turn off heat. Add in cashew cream or heavy cream and stir until incorporated. Add in lime juice and stir until incorporated. Add back in the chickpeas and paneer.