I'll be honest- I wasn't a huge gnocchi person until about three years ago when I had really good gnocchi at Iron Gate in Washington, D.C. They're like light pillows of heaven when done well. Then I tried making sweet potato gnocchi a few years ago, and well. It was a disaster. They were dense, and shaping them was… less than ideal.⁠ So this Basil Pesto Gnocchi has been a recipe in the works for quite some time. Having made a number of so-so batches of gnocchi, I've included all my tips for homemade gnocchi in this post too.
⁠
Homemade Gnocchi: Inspiration & Adaptations
We were lucky enough to make homemade gnocchi when in Italy this June. It was actually perfect timing because I had recently tried out a recipe from America's Test Kitchen. It turned out well, but I was curious to see how it stacked up to a more traditional approach in Italy.
In particular, there were a few things I picked up on in Italy that this recipe includes. First, the use of 00′ flour. If you're familiar with any type of traditional Italian cooking, this type of flour is probably familiar. It's used in most Italian pasta and pizza dough recipes. It's similar to all-purpose flour, but has a finer grain and texture. This results in a lighter, airer final product. I've been able to find it at most grocery stores near the other flours. If you can't find it- don't fret. Just use all-purpose flour as a 1:1 substitute.
I also noticed a difference in how the potatoes were prepared. How to prepare the potatoes is actually part of the recipe that required the most testing on my end. Cook's Illustrated gives an approach that involves both microwaving and baking. It worked, but I preferred to just have one method to keep it easy. I tried boiling the potatoes (which is what they did in Italy), but found that it resulted in a slightly water-logged potato that gave the gnocchi a slightly gummy texture in the end. The same went for just using the microwave. Baking gave me the best result because I think it dries out the potato just slightly while still keeping some moisture.
The biggest thing I learned from my experience in Italy? To let go of trying to get those perfect ridges on the gnocchi. This by far was the most time-consuming piece of the process. While it's not just purely for aesthetics (some argue that the ridges give places for the sauce to cling to), the family we learned said this wasn't essential. I'll be honest- I had some relief. Last time I had tried to make a big batch of gnocchi for a dinner party and found myself (and our guests) desperately trying to create ridges in each individual gnocchi. Most had odd shapes and it quickly became a laborious process. Removing this step made this recipe so much easier and actually feasible to do for a small dinner party- without much stress.
Tips for Homemade Gnocchi
A number of these tips draw inspiration or are the result of testing out multiple recipes and methods. See above to learn more about them.
Flour: Potato: Egg Ratio
Normally I don't put measurements in ounces, but the reason I did here is to highlight the ratio of potato:flour. It's a 4:1 ratio. 1 pound (16 ounces) potatoes to 1/4 pound (4 ounces) flour. So you can use this ratio if you prefer to use all the potatoes you have riced. You can also easily scale this up, although you do need 1 egg for this recipe, so it just requires a bit more math (1 large= 50g).
While generally I'll either do 1 or 2x the amount, last time I made 2.5 batches of this and so we just had to measure out the eggs after whisking. America's Test Kitchen warned me- and while the first time I was fearful enough of it not working out, I followed their recipe exactly. On the second time I tried out their recipe, I was a bit bolder and wanted to see if I could get away with using more potatoes. And guess what- I ended up just adding in more and more flour to compensate. And it became a less than ideal, quite sticky guessing game. Lesson learned: stick to the ratio.
Helpful Tools
If you can, get the right tools. There are a few simple tools that really make a difference here.
Pastry Cutter: One of the best $5 purchases I've made. It makes a world of a difference in cutting the gnocchi and allows you to cut multiple strands at a time. If you enjoy baking or breads at all, this is a handy tool to have around anyway. I also use it to help clean the counter at the end. It comes in handy for trying to remove the dough that sometimes sticks to the counter.
Ricer: Not as universal or inexpensive as the pastry cutter, but I finally decided to get this once I realized how much Matt and I both enjoyed gnocchi. You can grate potatoes instead, but this makes this part of the process much easier.
Spider Strainer: I used my spider strainer to easily put in and remove large batches of gnocchi at a time. I also use this for most of my other pastas. It's a useful tool that can be used in a variety of ways.
Focus on Flavor and Texture, not Aesthetics
See above for how I got to this conclusion, but I've found that not worrying about creating ridges on each individual gnocchi is an absolute time-saver and guess what: not a single guest says anything. Instead, I focus on creating a solid dough and making sure each gnocchi is the same size for even cooking.
Making Homemade Gnocchi for Larger Groups
Having done this Basil Pesto Gnocchi a number of times for guests, here's the way I like to make this recipe feasible and not take me all day.
Make it with an easy-ish sauce or one you can make ahead of time. That's why I personally love doing this pesto, but I can even make the pesto a day or two in advance. Just add the room-temperature pesto in at the end, and the hot gnocchi will warm it up.
Bake the potatoes earlier in the day. This doesn't take much active time, but it does take time for the potatoes to bake and slightly cool. I personally like to do this a few hours in advance and then will make the dough closer to dinner time
Involve your guests. I don't also do this, but I've found that a number of our friends enjoy seeing how gnocchi is made. Once you've done this a few times, you can show them how to cut it, and they can help.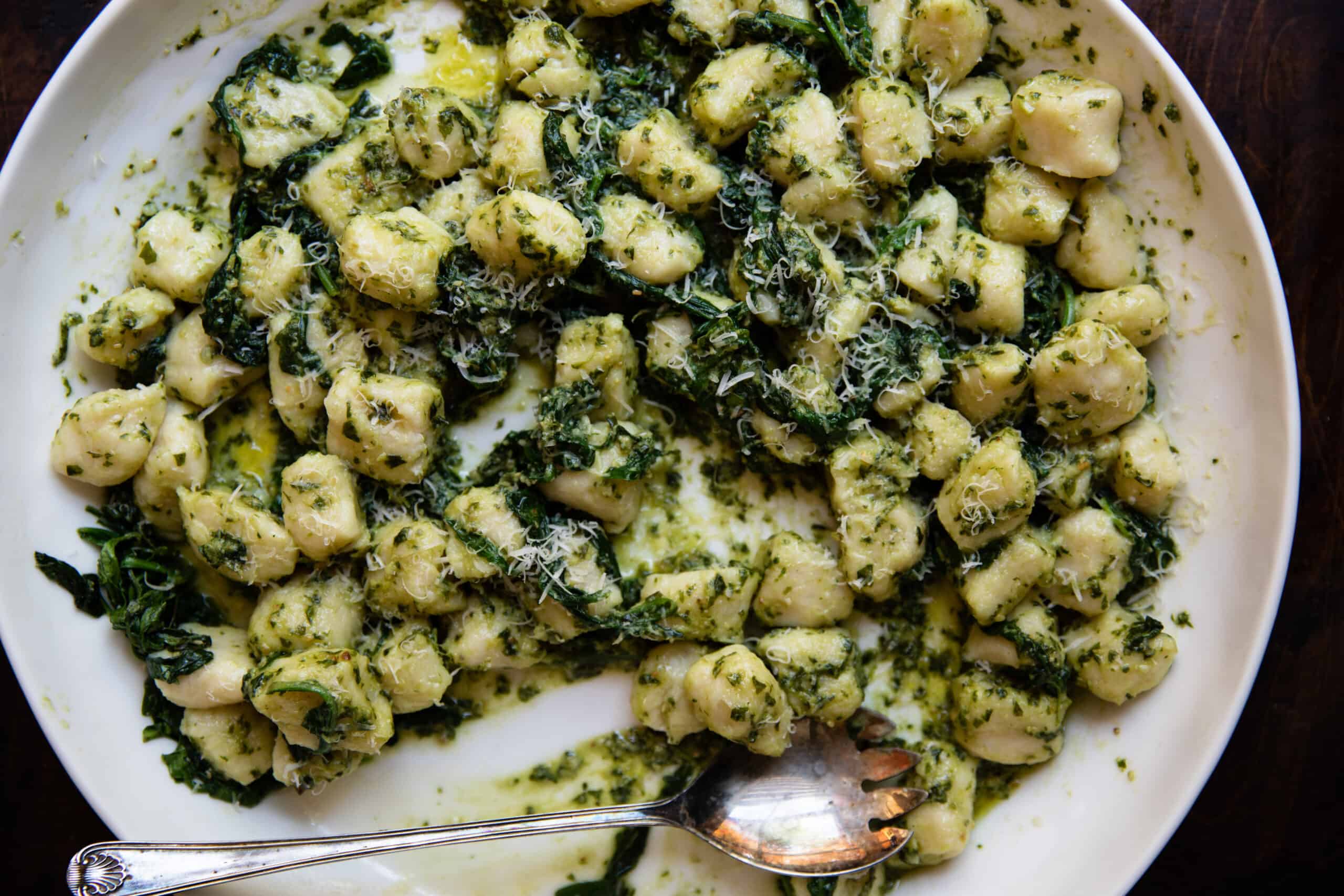 Rustic Homemade Gnocchi
Potatoes
2

pounds

russet potatoes

,

(about 4-5 potatoes- this will result in about 1 pound total of riced potato, which will be used in the dough recipe below)
Gnocchi Dough
16

ounces

riced potatos (from potatoes above)

1

medium egg

,

(50g)

4

ounces

00' flour or all purpose flour

,

(~3/4 cup)

2

teaspoons

diamond kosher salt (if using any other salt, use half the amount)
Preheat oven to 400. With a fork, poke about 5-6 holes in each potato. Bake until tender, about 60 minutes. Let cool briefly before peeling.

Peel potatoes and then place in a ricer. Rice potatoes into a large bowl until you have 1 pound of riced potatoes.

Discard any extra potatoes (or feel free to do the math using the ratios above to use up any flour- 16 ounces potatoes: 4 ounces flour: 50g egg)

Make a small well in the center of the large bowl. Add in egg and whisk until completely mixed. Using your hands, toss to coat the egg in the potato mixture.

Add in flour and salt. With your hands, mix and knead until you have a dough. Once it comes together in the bowl, knead for a minute or two on a lightly floured countertop. It should be slightly tacky, but not overly sticky. Add more flour as needed.

You can add more flour if needed, but ideally, you don't want to add too much flour (more flour= aless tender and gummier final product)- just enough to make it easy enough to handle. It should not stick to your hands or the counter.

PREPARE EVERYTHING BEFORE CUTTING THE GNOCCHI:

Prepare a parchment-lined baking sheet and a good amount of space out on your counter to roll out the gnocchi. Lightly flour the parchment-lined baking sheet and the counter. Continue to sprinkle with flour as needed to make sure the gnocchi don't stick to the counter, pan, or each other.Bring a large pot of water to a boil while you make the gnocchi. Lightly salt the water, but not as much you would for pasta (since there is salt already in the dough).

Cut off a small piece of the dough and roll into a log with a 3/4'' diameter. Using a pastry cutter (or knife if you don't have one), cut off pieces in about 1'' long pieces- the key is to be as consistent as possible with sizing so they cook at an even rate. Lightly sprinkle with flour and toss the gnocchi so they don't stick to one another.

Place on parchment lined baking sheet in an even layer and try to not have them touch each other (and definitely don't stack!). Lightly sprinkle with flour to prevent sticking.

Repeat the process until all dough is used. To speed up the process you can create 2-3 logs at a time and then cut them all at the same time.

Boil gnocchi. I try to put in about 1/3 to 1/2 of a batch at a time. Cook for 3 minutes. When the gnocchi floats, that is a sign it is done, but I've found that letting them float for an extra 30 seconds or so results in a slightly better texture. Repeat until all gnocchi is cooked.

Toss in sauce (pesto is my go-to!), top with freshly grated parmesan, and serve.