If you've ever had khachapuri, you know just how delicious it is- who doesn't want to pull apart a piece of this super cheesy bread? I've modified this to transform it from a decadent appetizer to a healthyish dinner by bumping up the protein and whole grains and adding in some greens (one quarter of this is only 380 calories and 31g protein and 9g fiber!). The dough isn't quite as fluffy and puff up as much as the traditional, but the cheese is there in all its glory (and the dough is great too!)
Watch this video to see me make this bread and see the written recipe below.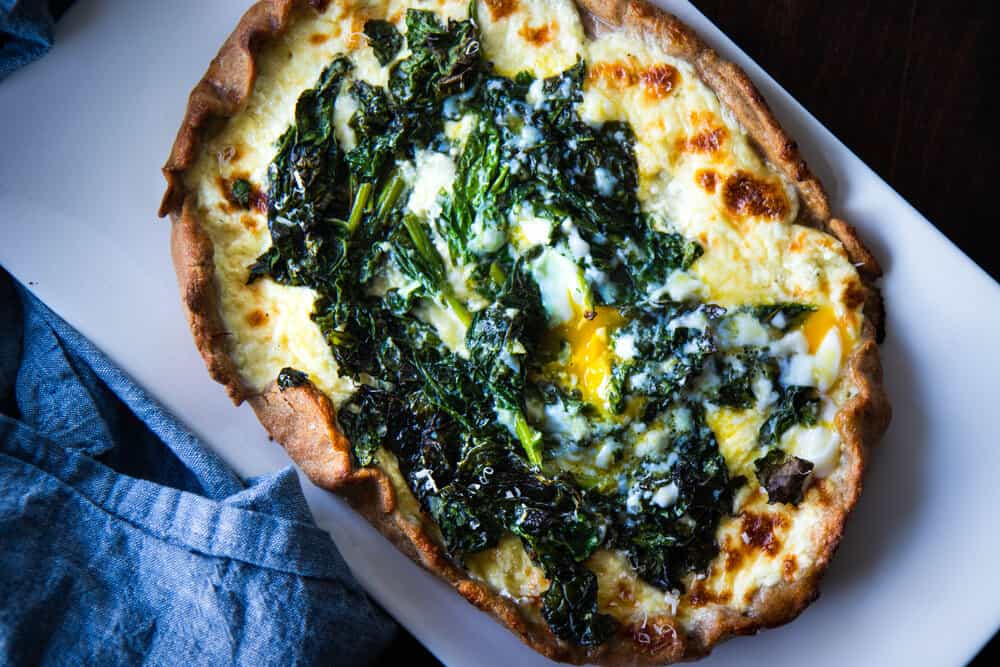 Khachapuri (Georgian Cheese Bread)
3-5

ounces

spinach

,

(I personally love spinach and can't have enough, so I'd probably do 5 for myself, and 3 for when cooking for others. The picture above is 3 ounces worth)

1-2

tablespoons

extra virgin olive oil

5

ounces

part-skim ricotta or low fat cottage cheese

,

(ricotta will be creamier; cottage cheese has a bit more texture, but is higher in protein- you do you.)

6

ounces

shredded assorted cheese

,

(I used 4 ounces mozzarella, 2 ounces white cheddar- you could also use gruyere, provolone, or even some goat cheese or feta)

1

ounce

fresh parmesan

,

(for topping at the end)

2

eggs + 1-2 eggs on top

1/2

teaspoon

sea salt

Sea salt

10

ounces

of pizza dough or flatbread dough

, (see HERE my fav high protein one!)
Preheat oven to 425.

Saute spinach: Heat a large skillet over low to medium heat. Add oil, spinach, and 1 tablespoon of water. Continue to cook over low heat until wilted but still bright green, about 5 minutes.

In a small bowl, combine cottage, shredded cheese, the 2 eggs, and sea salt. Stir to combine. Set aside.

Roll out pizza dough into a long oval shape.

Place cheese mixture in the center of the dough. Spread out using the back of a spoon or your hands so it is one even layer and covers almost all of the dough, leaving a 1'' border on the edge.

Fold the edge of the dough over to create a crust and small wall surrounding the cheese.

Top with spinach. Place in oven until cheese is mostly melted, about 7-9 minutes.

Remove and crack an egg (or two) on top- be delicate and try to keep the egg whites together with the yolk.

Turn up oven to 450. Place back in oven until egg whites have just set and cheese and crust has browned, about 5-8 more minutes.

Top with freshly grated parmesan before serving.