This One Pot Parmesan Polenta with Eggs is great during the winter and spring months on a busy weeknight. Cooking the polenta in the oven gives it more body and makes this a mostly hands-off cooking process. While you could simply use this method to cook polenta on its own, my goal was to create a satisfying meal that could hold its own- with no additional pots or pans. To do this, I simply added in some spinach that easily wilts and mixes in and dropped in some eggs at the very end- almost like a shakshuka.
While this type of meal is enough for me, I often will add in a side salad for someone like Matt. I make it quick- just toss together some peppery arugula, blueberries, and a nut with some extra virgin olive oil and lemon juice.
Behind the Recipe: One Pot Parmesan Polenta with Eggs
I originally got the inspiration from this recipe from Food 52: A New Way to Dinner which has a polenta recipe that uses the oven to cook the polenta. For me, the oven resulted in a significantly better and richer polenta. As a huge fan of shakshuka and adding eggs to the top of dishes (like this Green Shakshuka or One Pot Green Rice with Poached Eggs & Coconut), it just felt like a natural fit to round out the dish.
Tinkering and Adapting
There are many ways to tinker and adapt this recipe.
You could use a different green instead of spinach. Just keep in mind the reason I used spinach here is it's tender enough that it doesn't need additional cooking- most other greens will need to be sauteed in oil before mixing in with the polenta to make them tender enough (you could also do this with the spinach for additional flavor, but then it's another pot!).
Add in more or less butter or olive oil depending on the type of night. For maximum cozy vibes, add in another tablespoon.
Same goes for the cheese. You could play around with different types of cheese, adding in the cheese when you add the eggs so it melts, so and so forth.
The real key to this recipe is making sure you cook the eggs just right– nothing beats a slightly runny yolk. This may take some checking with your exact oven, pot, etc. so just check a few times the first time you make it.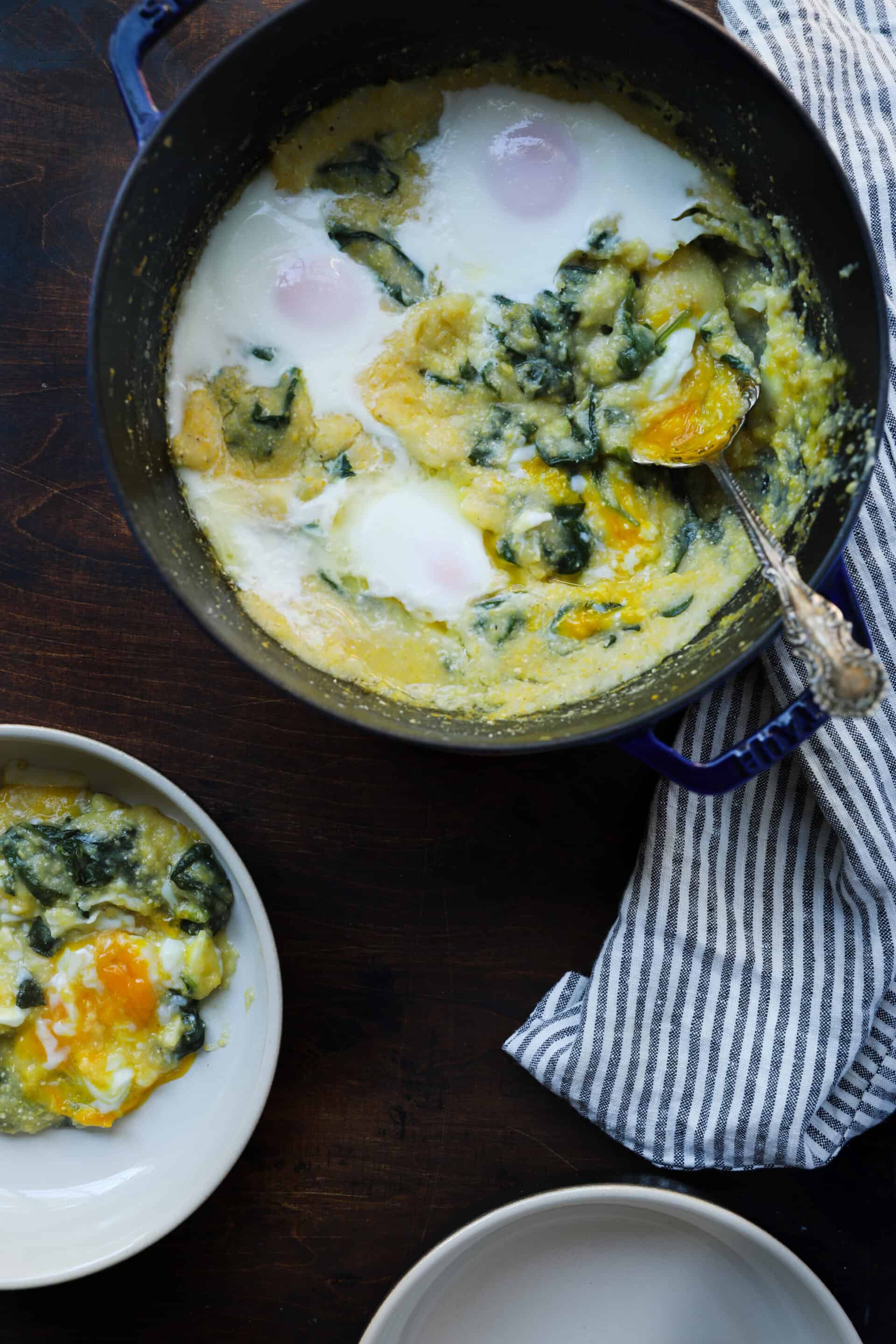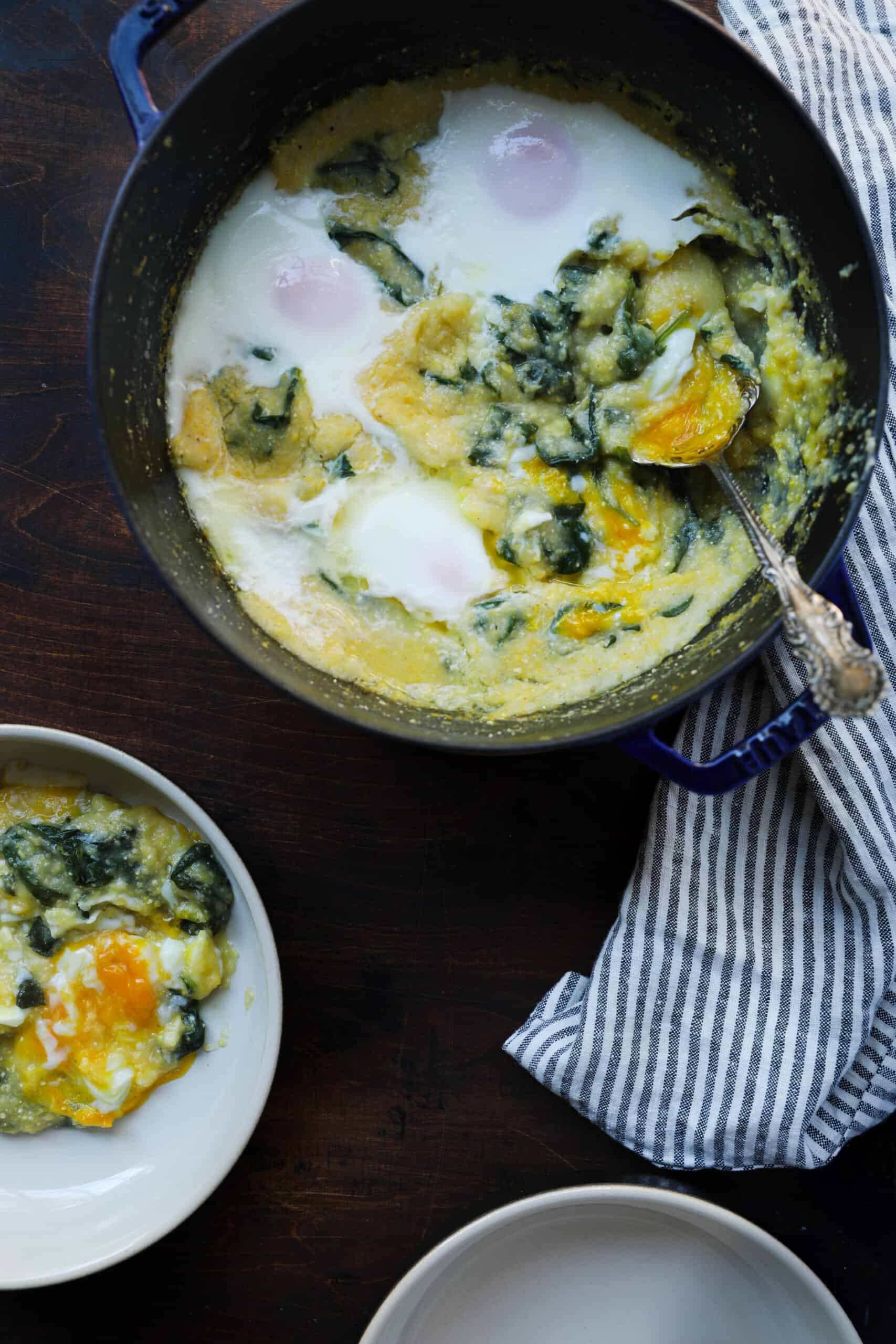 One Pot Parmesan Polenta with Eggs
4

cup

water

2

teaspoon

diamond kosher salt

1-2

tablespoons

extra virgin olive oil or unsalted butter

1

cup

polenta

,

coarse grain

2

large handfuls of spinach

,

~2 loosely packed cups

1/2

cup

freshly grated parmesan
Preheat oven to 350 degrees.

In a medium dutch oven pot, combine water, oil/butter, coarse cornmeal, and salt. Place in oven, uncovered, for 35 minutes. At 20 minutes, stir.

Add in spinach and cover pot. Cook for an additional 5 or so minutes, until spinach is wilted. Stir to incorporate spinach into polenta.

Using the back of a spoon, create divets for eggs. Add eggs and bake, covered, until egg whites are no longer translucent but egg yolks are not fully cooked, about 7 minutes.

Top with parmesan before serving.