The weather is getting warmer, and summer vibes are beginning to set in. Enter all the vibrant colors and refreshing salads. I've been eyeing all the mangos for a while at the grocery store and now is the time for them- it's peak mango season (well I'm actually a little late but better late than never). To be honest, the kick in the butt I needed was a look at my Instagram profile and seeing very little green and almost no salads over the last few months. I took this as a wake up call: I need more salads! And this Mango and & Avocado Salad with Cotija and Tangy Basil Dressing did not disappoint. So if you're in a bit of a salad rut like me, this is the perfect salad to jump back into the mix.
The base of this Mango & Avocado Salad with Cotija and Tangy Basil Dressing is a combination of slightly crisp and mellow butter lettuce, sweet mango, and creamy avocado. Cotija and the tangy basil dressing add a burst of tangy contrast, and the cotija is nice for a change in texture too (also it looks beautiful). While not everyone loves raw red onion, I personally like the pop of color and flavor they add. I dice or slice them into very thin slices to mellow out their astringent flavor.
Behind this Creamy Tangy Basil Dressing
I developed this dressing recipe several years ago for Edible D.C… and somehow I never got around to actually putting it on the blog! In this recipe, I say you can use any herb you want (cilantro, parsley, basil), but I'm biased toward basil. I'll be honest- I was slightly worried because I've somewhat forgotten about this dressing and haven't made it in a while and sometimes our palettes change. Luckily, it was just as I remembered. Perfectly tangy and creamy.
Looking for Other Salads?
P.S. Liking the flavors in this Mango & Avocado Salad with Cotija and Tangy Basil Dressing? Here are a few other salads you may enjoy….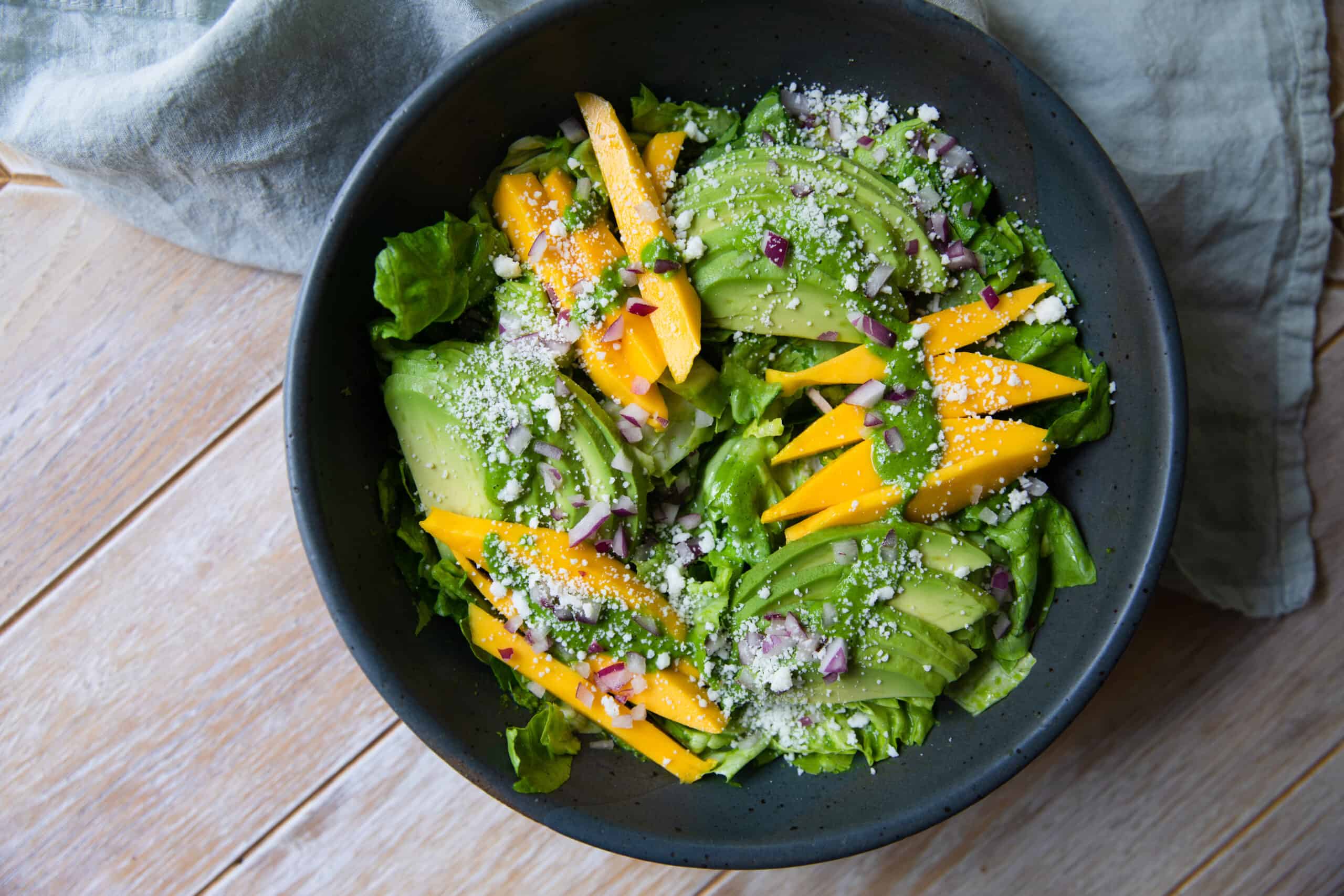 Mango & Avocado Salad with Cotija and Tangy Basil Dressing
Tangy Basil Dressing
½

cup

tightly packed

,

~1.5 ounce or 1 ½ bunches fresh parsley or other herb of your choice (while the leaves are the best part, it's okay to use some of the stems here too)

2

tablespoons

white balsamic or champagne vinegar

2

tablespoons

fresh lemon juice

,

~1/2 lemon or a bit more

1/4

cup

+ 2 tablespoons

,

80g plain 2% fat or higher content greek yogurt or skyr

2

garlic cloves

,

whole and unpeeled

1/4

cup

olive oil

,

60g

1/2

teaspoon

sea salt

black pepper

,

to taste
Salad
2

avocados

,

sliced

2

mangos

,

sliced

2

heads butter lettuce

,

chopped roughly

1/4

cup

diced red onion

,

(about 1/4 red onion)

1/2

cup

cotija cheese
Make the dressing
Place all ingredients in a blender and blend until smooth.
Make the salad
Pour about 1/4 cup or so of the dressing in the bottom of a big bowl.

Add in butter lettuce and using tongs, toss to lightly coat the lettuce in the dressing.

Add mango, red onion, avocado, and cotija on top, along with a bit more of the dressing. Serve immediately.