If you've been following my stories, you know I've been averaging about 3 batches of cookies a day this week. I love taking this month as an opportunity to explore some new cookies and have been going through my favorite cookbooks to find some particularly unique cookies. These Crispy & Thin Lemon Cookies (technically called Cats' Tongues) have quickly taken a spot on the podium in our household.
I was searching for a cookie that highlighted lemon and citrus and contrasted heavier flavors with a lighter ones. These are adapted from Ottolenghi Sweet and out of this world. While the recipe begins with a classic creaming of butter and sugar, that's where the traditional methods end. Egg white and piping the batter onto the baking sheet results in a super thin, crispy cookie that has quickly become a household favorite. I upped the amount of zest and added in the zest of 1 whole Meyer lemon and 1 medium grapefruit.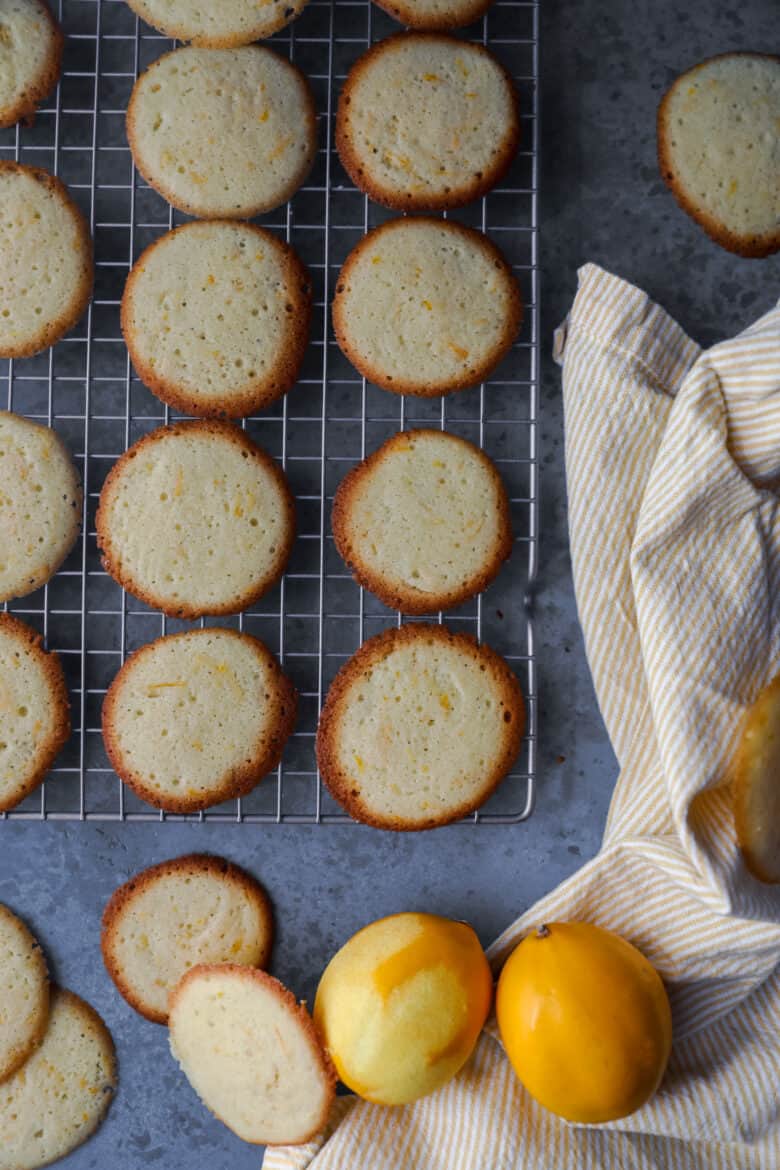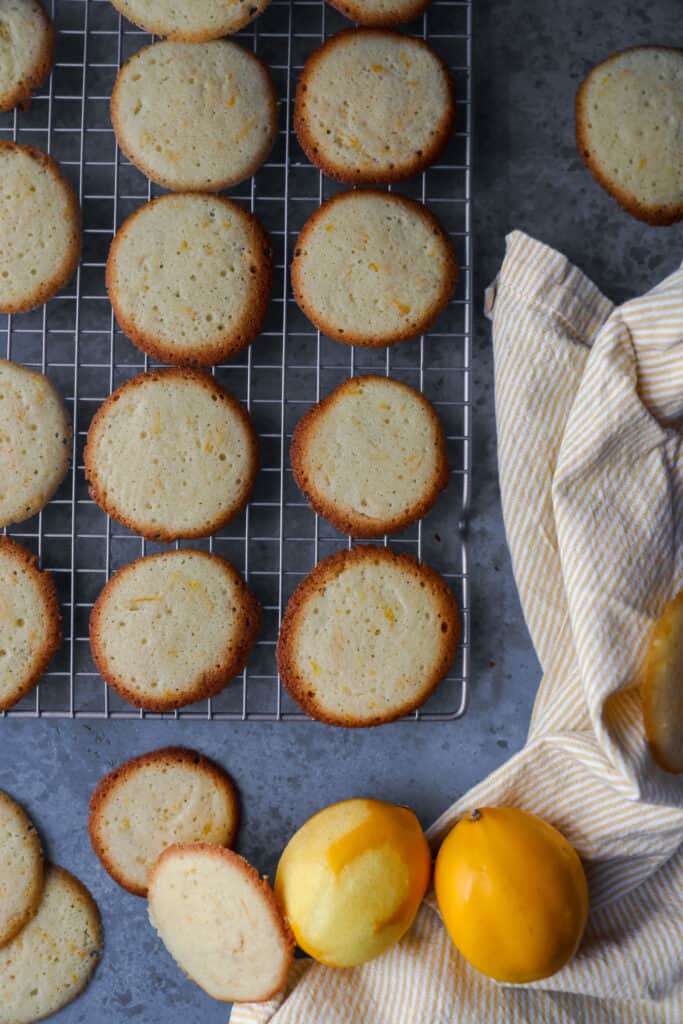 Behind the Recipe: Crispy & Thin Lemon Cookies (Cats' Tongues)
No resting time: One of my favorite things about this recipe is that you don't need to rest the dough in the fridge. This means you can have these cookies from start to finish in about 30-40 minutes.
Piping Bag: While using an actual piping bag with a tip is the easiest and smoothest, you can use a ziploc bag and cut off a corner to create your own piping bag.
Egg Whites: The key to keeping these light and crispy is due to egg whites. I found that whipping them for an additional minute or two helped this light texture too.
Ratios: When a recipe has this few ingredients, the ratio and amounts are really important. Don't change them unless you're fully prepared to have a different cookie! If you have a scale, use it.
Success: All in the Details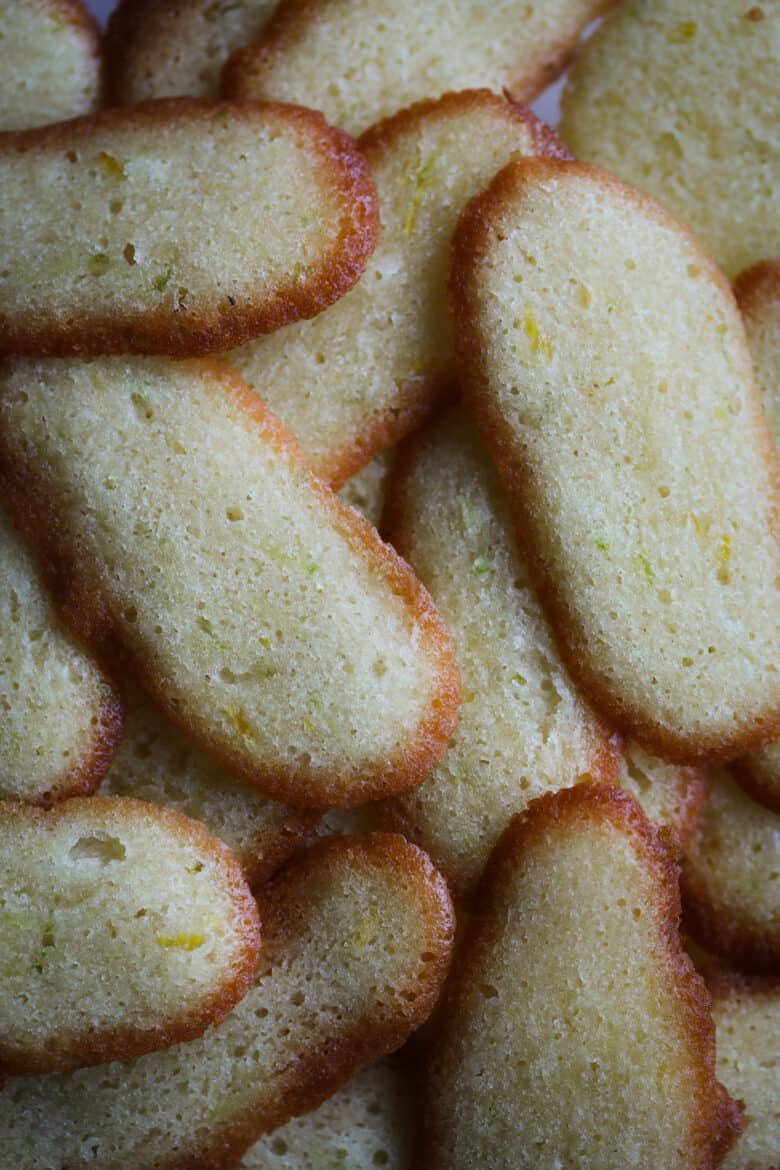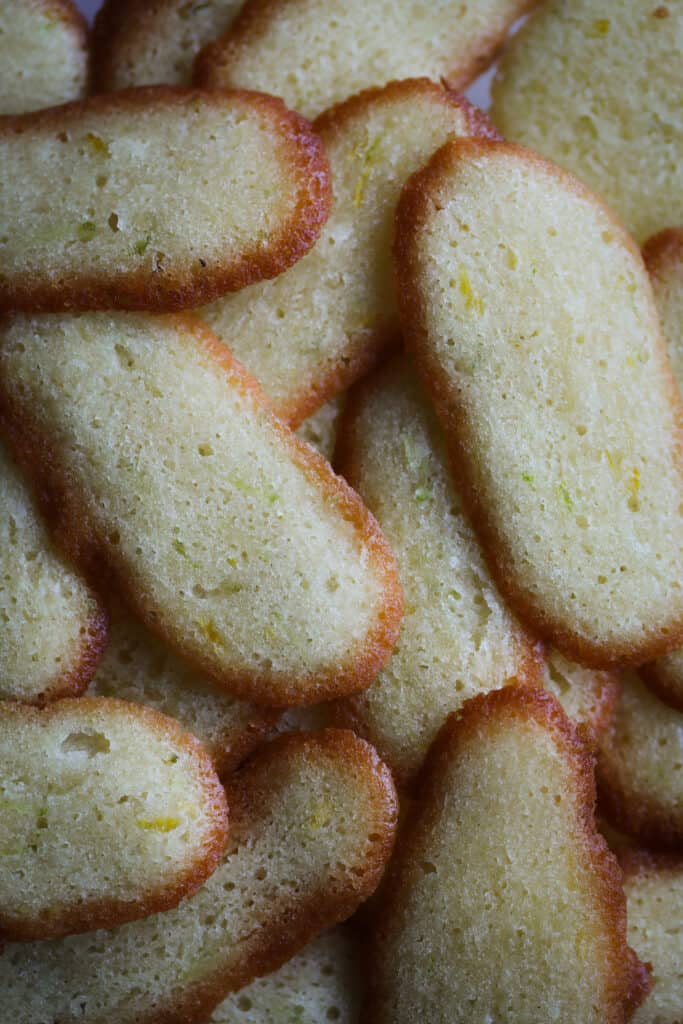 While this isn't a particularly challenging recipe, you do need to be detailed oriented to get the perfect texture! In particular, the piping of the batter onto the baking sheet is key! If not done properly, you'll get a soft, chewy cookie; still delicious, but the texture just isn't there.
The key? Keeping these cookies THIN. Which means when you pipe the batter onto the sheet, you need to be careful to not let the batter get thick. Here are some tips:
Keep the tip of the piping bag SO close to the baking sheet it's just about touching it. Never bring it up when piping a cookie.
Squeeze the batter using the top hand and guide the piping bag with the bottom hand. Don't use your bottom hand to squeeze the batter out, or it will be too aggressive. (This is actually a similar technique to macarons too.)
Pipe an incredibly thin layer of batter onto the baking sheet- it's going to look almost too thin, but it's the key to making them crispy.
Give the cookies a lot of space to spread- they will spread A LOT.
My biggest tip? Do a trial round of about 4 cookies. These take 8 minutes to bake, so it's not too long to wait and you'll quickly get the hang of it.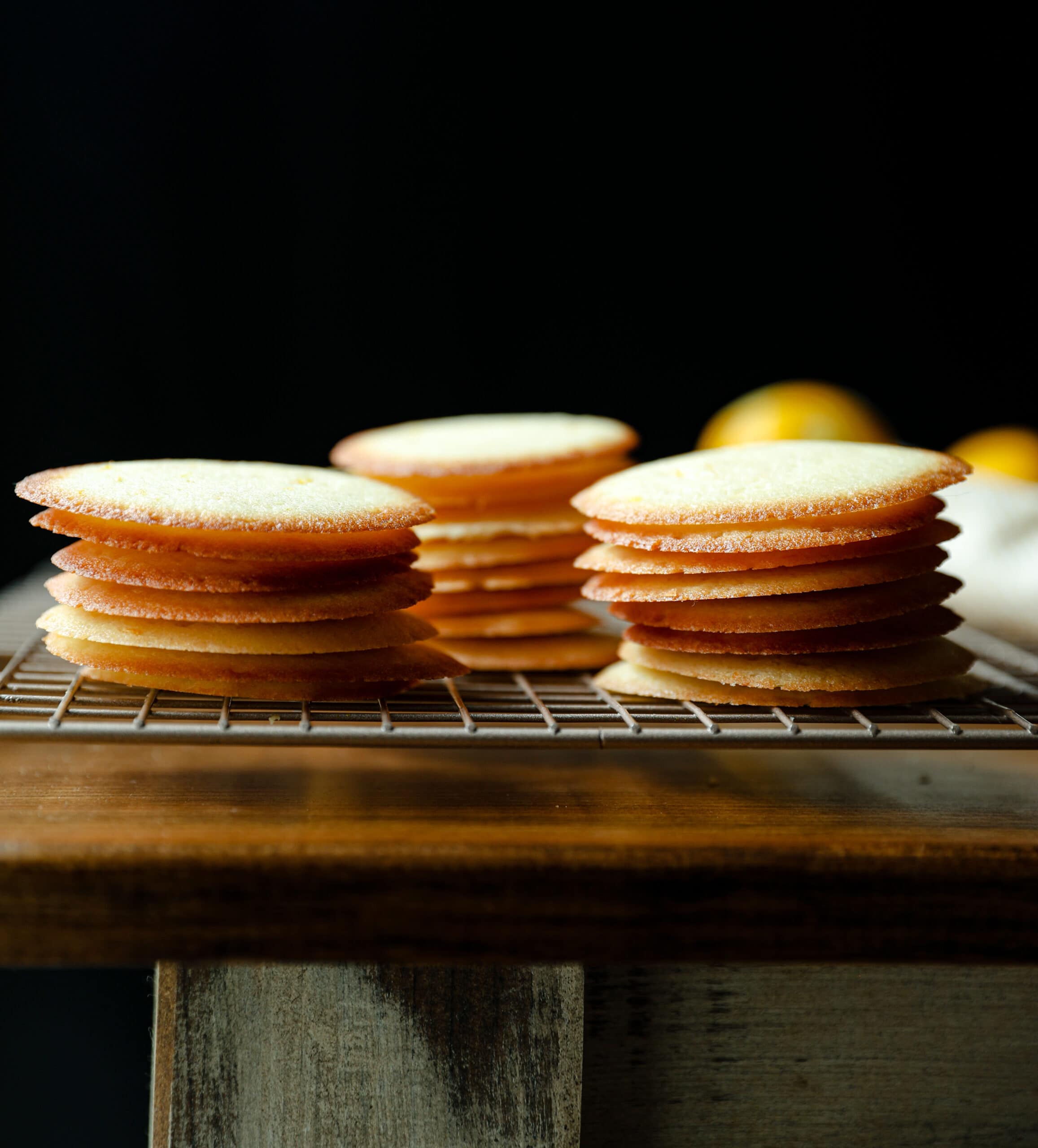 Thin & Crispy Lemon Cookies (Cats' Tongues)
Adapted From Ottolenghi Sweet
1

stick (4 oz)

unsalted butter

,

, at room temperature (on the colder side rather than warmer though!)

1/2

cup (100g)

white sugar

2

egg whites

,

(from 2 large eggs; 60g)

1/2

teaspoon

vanilla extract

zest of 1

lemon

,

(Meyer lemon is a fun add here and often available during the winter season)

optional: zest of 1/2

grapefruit

1/2

teaspoon

diamond kosher salt (if using any other salt, use half the amount)

3/4

cup (90g)

all purpose flour
In the bowl of a standing mixer or large mixing bowl, add sugar, butter, and lemon zest (and grapefruit zest if you using). Using paddle attachment or a handheld electric mixer, cream sugar and butter for several minutes until lighter in color and texture.

Add in vanilla extract and egg whites. Continue to mix until one cohesive mixture, about 5 minutes. This will most likely require that you stop and use a spatula to get the batter on the sides of the bowl.

Sift flour using a fine mesh colander (This is a critical step. I don't like adding another item to clean either, but it is key to the texture of the cookies). Gradually add in flour while mixer is running. Add salt.

Fit a piping bag with a 1/2'' tip. Spoon batter into piping bag- I like to place piping bag into a cup and then add the batter in.

Prepare a baking sheet with parchment paper or silpat. Pipe batter into circles (2'' diameter or 2'' long)- the technique will matter here so see video above for how to do this.

Bake until the outside part of the cookie is golden brown but the rest is still white, about 8 minutes.