In case it hasn't been clear: I'm obsessed with puff pastry. So when I saw this trend of shaping puff pastry into a Christmas tree, I had to try it. I didn't have much in my kitchen at the time, so I went simple: cinnamon sugar. 20 minutes later, my kitchen smelled of Cinnamon Toast Crunch. Another 30 minutes later, I realized I had almost eaten the entire thing myself. This Cinnamon Toast Puff Pastry Star is seriously dangerously addictive. And incredibly easy to make.
All you need is 5 ingredients for this Cinnamon Toast Puff Pastry. And most are pantry staples: puff pastry, white sugar, light brown sugar, cinnamon, and butter. You can use just white sugar if in a pinch, but I like the extra caramel flavor the light brown sugar brings. While puff pastry isn't a pantry staple by any means, it's a great item to have stored in your freezer for last-minute hosting. If you're looking for a savory option, be sure to check out these puff pastry cheese straws!
Puff Pastry Shapes: Cinnamon Toast Puff Pastry
Christmas Tree: Takes a bit of time, but is fun and festive.

How To: Essentially cut into a tree shape and then create branches through twists. See the video!

Similarly, the star shape takes a bit more time to do, but it works for any time of the year.

How To: Create a circular shape. Place a small circular object in the middle and then divide into 10 points. Take two twists (side by side) and then twist them outwards in opposite directions and then join them at the end. See the video!

Don't care about presentation? The simplest method is to just make twists and follow the directions here.
Watch this step by step video to make a star.
Watch this step by step video to make a Christmas Tree. The first part of this video was done with half a sheet of puff pastry (which I later realized was not enough branches and came out too wide), but gives you the idea!
Tips for Puff Pastry
Make sure to defrost in the fridge beforehand- it need about 3 hours in the fridge. If in a rush, you can defrost on the counter for about 1.5 hours and then place in fridge for another hour.
Keep it COLD.

Have everything out and ready to go.
Don't be afraid to put it back in the freezer/fridge to cool down for a second. If at any point it is getting too soft/wilty to handle or to sticky, just place in the freezer for 10 minutes.

Don't roll it out too much and when rolling it out, roll it on parchment paper or silpat and frequently check it hasn't stuck by gently picking it up off of the counter. If it gets too sticky, place it in the freezer or fridge to help cool it and then it will be less sticky.
Use a fork to punch holes so it doesn't puff up like crazy.
Place in the freezer for 10ish minutes before baking to keep its shape a bit more.
If you can, buy a butter-based dough like this one by Dufour.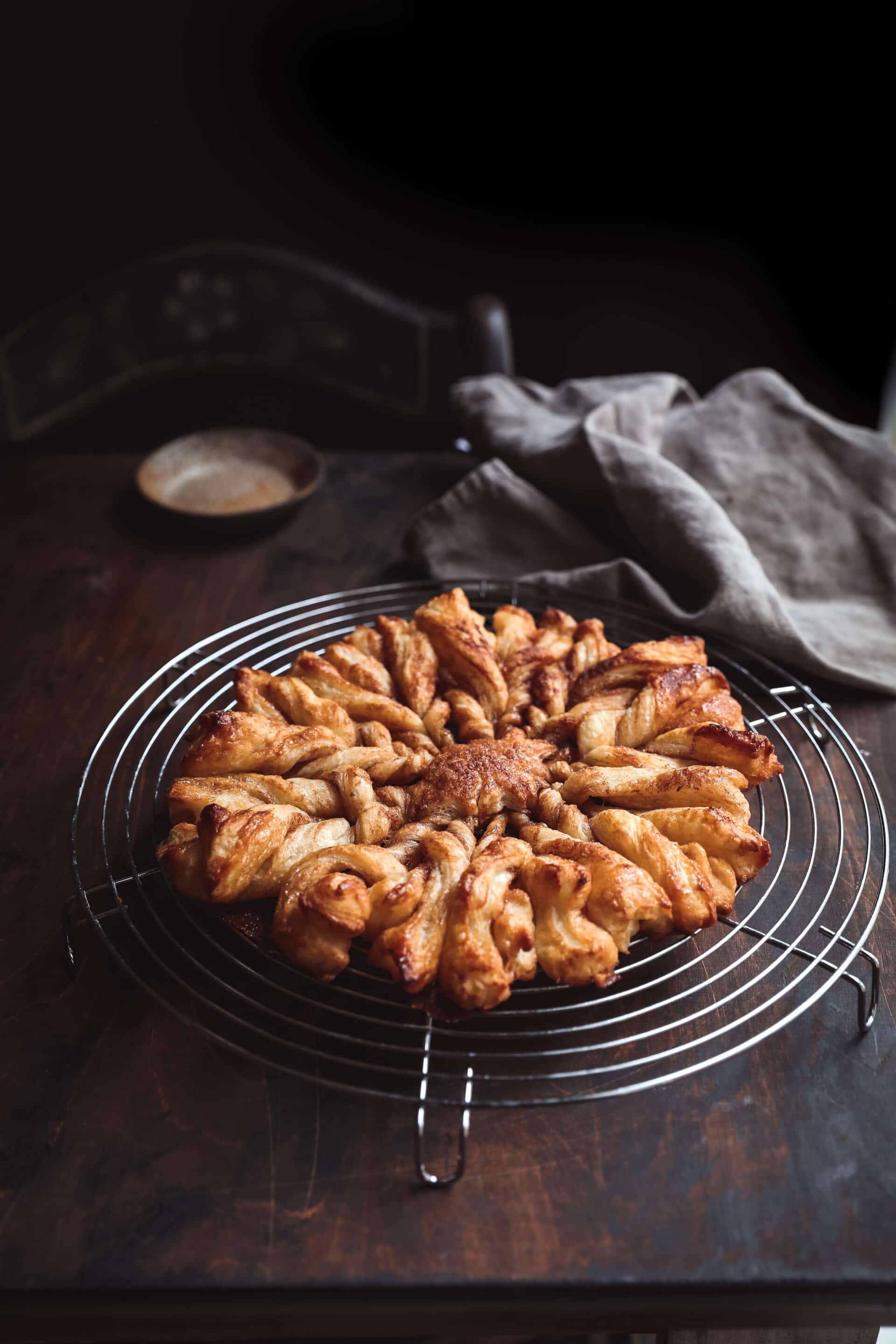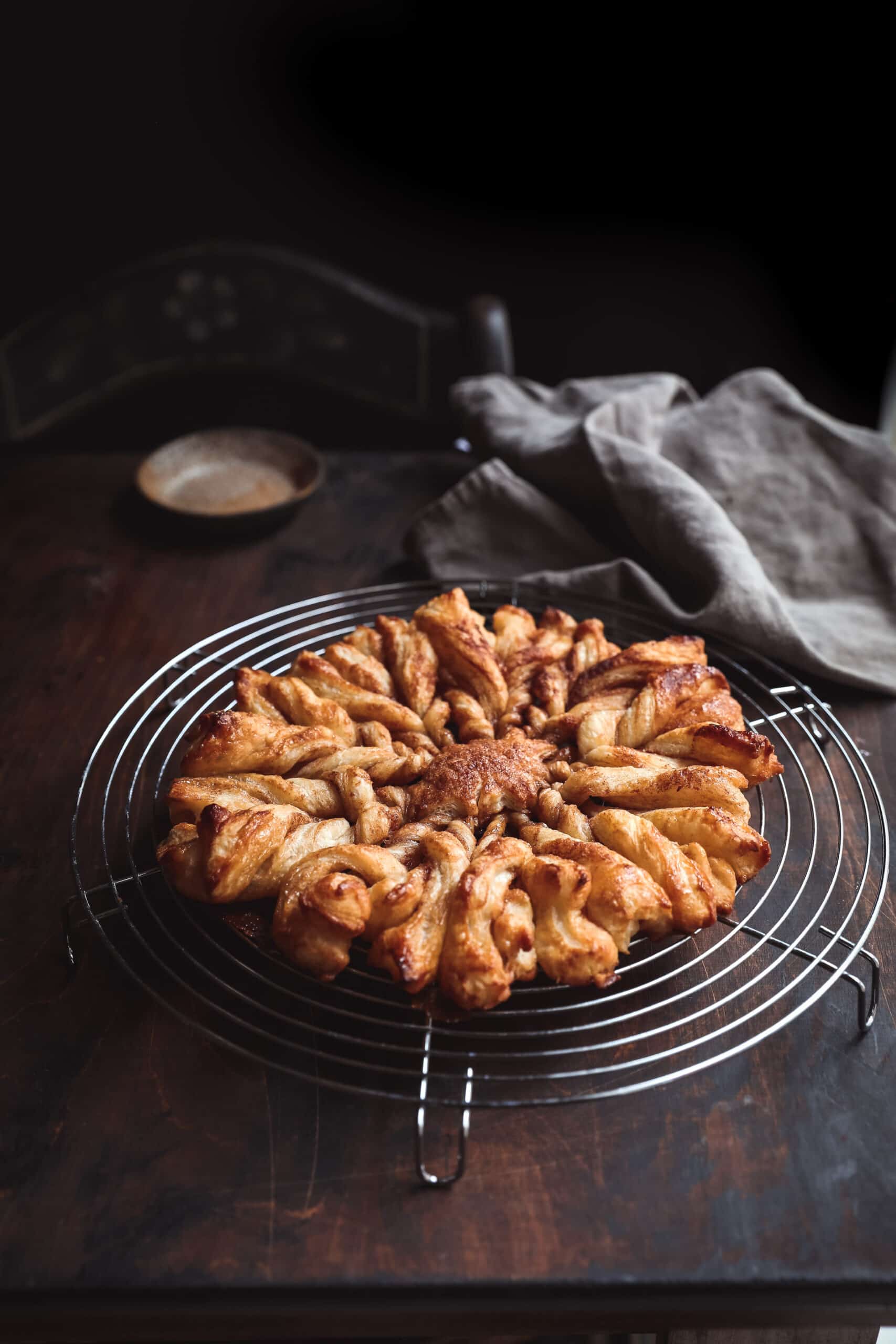 Cinnamon Toast Puff Pastry Star
2

tablespoons

white sugar

2

tablespoons

light brown sugar

3/4

teaspoon

cinnamon

pinch

salt

2

tablespoons

unsalted butter

1

sheet puff pastry
Combine white sugar, light brown sugar, cinnamon and salt in a small bowl.

Place unsalted butter in a small heatproof bowl and microwave until melted, about 30 seconds.

Remove puff pastry and cut in half.

*The key to handling puff pastry successfully is keeping it cold. Place one half in the fridge while you work on the other. See more tips above.

Gently roll out puff pastry to make it slightly thinner and larger. Prick holes into the puff pastry using a fork (this ensures steam can escape the puff pastry so it doesn't puff up like crazy).

– If making a tree or twists, roll it into a rectangle.– If making a star, roll it out into a square and then cut it into a circle by using a circular object and tracing it (see video above).

Brush about half of butter onto puff pastry generously, followed by a generous dusting of the sugar mixture. Place in fridge.

Repeat with other half of the puff pastry. Then place this half of puff pastry on top of the first half.

Cut into whatever shape you'd like (see above for step by step videos!). Brush one last bit of butter on top and one final sprinkling of sugar.

Bake until golden brown, about 18 minutes. Let cool just slightly before serving.