This recipe is from Claire Saffitz from Bon Appetit is a WINNER in my book, especially when entertaining. It can be made ahead of time, works for all ages (even kids), and is surprisingly easy to do. I haven't changed this recipe much at all (the beauty is in its simplicity so I didn't want to tinker with it much). However, I wanted to documented the few small changes and tips I found when doing these. I highly recommend checking out the Bon Appetit website for pictures of step by step directions!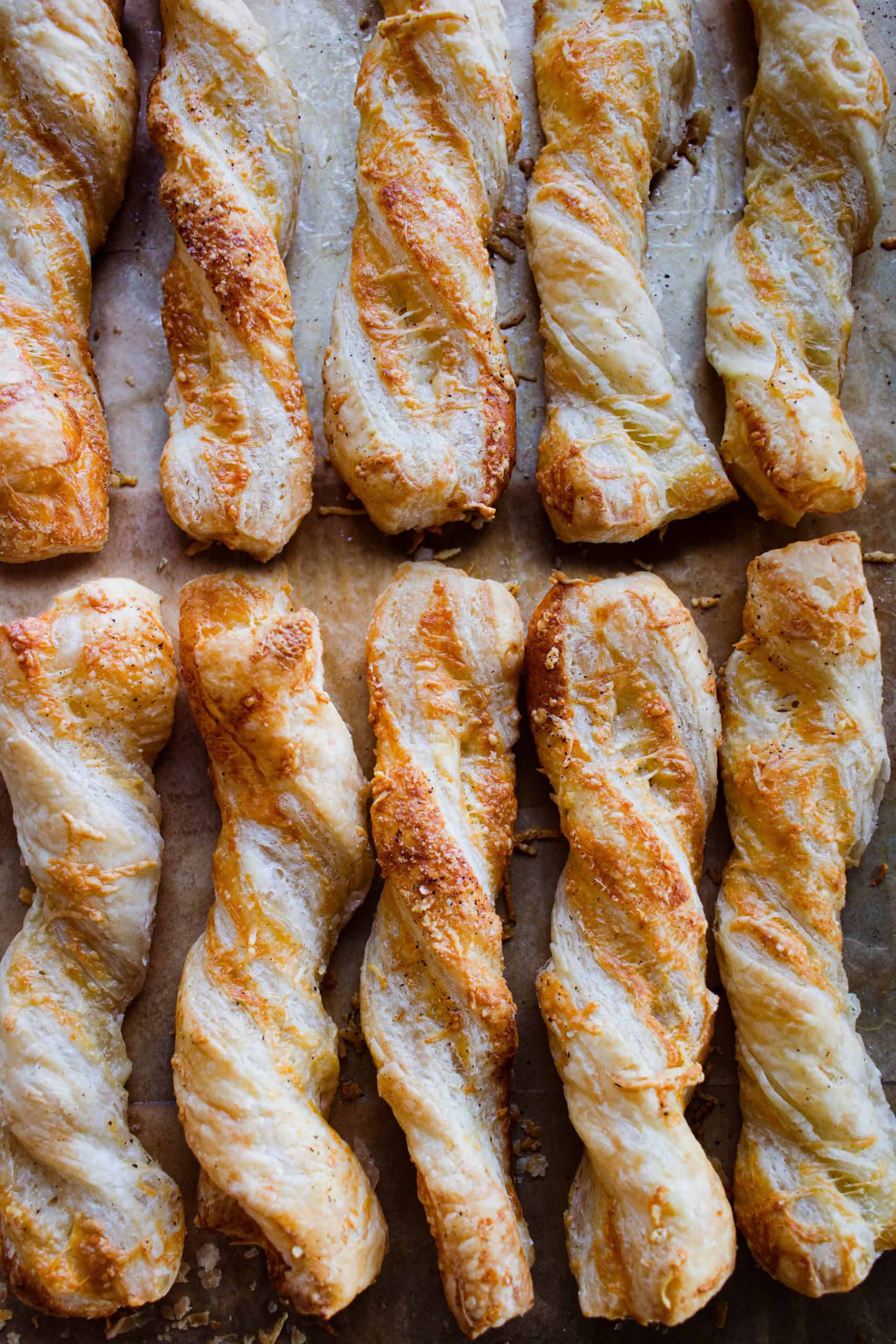 Puff Pastry Parmesan Straws
14

ounces (1 sheet)

puff pastry dough

, (DuFour is my favorite brand because it's all butter puff pastry and it's delicious! However, I've done this with a few different types and it works out. I even did it with a gluten free one! It was a bit tougher to handle, but the end product came out just fine)

4

ounces

shredded parmesan or Whole Food's Italian blend (parmesan, provolone, asiago)

1

egg, beaten

,

(for egg wash)
**Place puff pastry in the fridge the day you want to make this (about 6 hours or so ahead of time). Keep in the fridge and get everything else out and ready to go before removing from fridge. It will quickly get sticky if too warm. This means…

1. Have you cheese shredded and ready to go.

2. Have your egg wash ready to go, along with a brush.

3. Parchment lined baking sheets (you'll need 2)

Throughout these next steps, work quickly. If you find the puff pastry is too sticky or warm, place in fridge for about 5-10 minutes and then return back to the step.

Roll out puff pastry just slightly, adding about 2 inches to the surface area of the puff pastry. I find when I try to roll it out further, it gets too sticky and can rip.

Cut the puff pastry in half. Brush lightly with egg wash and sprinkle with half of the shredded cheese.

Place other half of puff pastry on top of the cheese and lightly press down. Repeat process with egg wash and remaining shredded cheese. Lightly season with salt and roll out with a rolling pin gently to press the cheese into the puff pastry, without pressing too hard.

Using a pastry wheel or knife, cut width wise into 1/2'' thick strips (about 12 or so).

Take each piece and hold at either end. Then twist a few times and place on baking sheet.

If you prefer to keep the twists "tighter" and not expand as much, you can place in the freezer for 10 minutes before baking. Otherwise, place in oven until golden brown, about 13-15 minutes.