This pizza comes together really quickly if you do just a bit of prep beforehand. Make the kale pesto up to 2 days ahead of time (or use previously made and then frozen pesto that's defrosted), as well as the pizza dough. Speaking of… this amazing pizza crust that took me a few years to perfect and is just the best! Watch me make this pizza below for more details!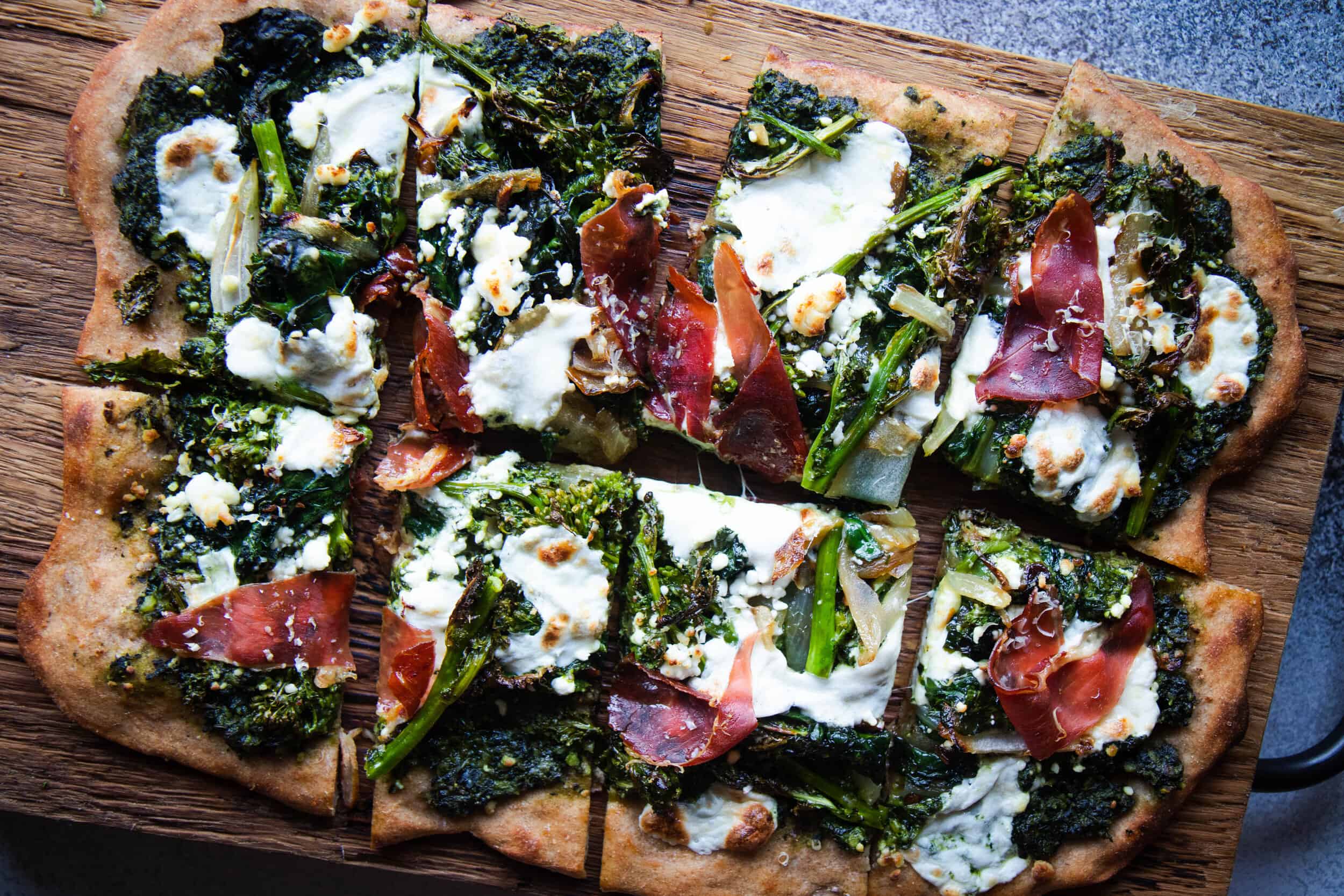 Early Spring Kale Pesto, Prosciutto, & Mozzarella Pizza
Sauteed veggies of your choice: I used…
1/2

small vidalia onion

,

sliced

1/2

bunch spinach

,

(about 2 small handfuls)

1/2

small bunch

broccolini

,

about 4 stems

1

large garlic clove (or 2 small)

,

minced

2

ounces

mozzarella

,

(2-3 ounces)

2

ounces

goat cheese

,

(2-3 ounces)

2

ounces

fresh prosciutto

1

ounce

fresh parmesan

,

freshly grated

high protein whole grain pizza crust,

see link or pizza dough of your choice
Preheat oven to 500 degrees.

Roll dough out into shape of your choice. I use palms to flatten out the dough a bit, and then use a rolling pin to get it very thin. Watch my video in my pizza crust post for more help here.

Spread kale pesto on pizza dough in an even layer, leaving a bit of room on the edges. Add mozzarella and goat cheese, crumbling the goat cheese with your fingers as you add it.

Add veggies- an important note: they should already be sauteed, and not raw. Raw veggies will release water when the pizza is baking, resulting in a watery crust (not ideal!). Add prosciutto before baking if you want it to be crispy or after baking if you prefer it to be soft. Sprinkle with a touch of sea salt.

Bake at 500 for 9-12 minutes, until golden brown on the bottom. Top with parmesan after baking and before serving.