All you need is a lemon and salmon to make these 2 Ingredient Grilled Lemon Salmon Skewers. It's quintessential easy summer grilling. Okay yes- you need olive oil, salt and pepper too, but do those really count as ingredients? I've been working on some form of grilled salmon skewer for over two summers now. I had been trying out different flavors and ingredients and then one night I decided to just keep it super simple- and boom down. Recipe finalized. We were shocked with how much flavor they had despite the fact that all we included was olive oil and lemon juice.
See my reel here for visuals and quick tips/tricks.
A few tips: 2 Ingredient Grilled Lemon Salmon Skewers
Once we make this recipe once, you can totally embrace the "laissez faire" approach. Now when making this, I don't really measure any ingredients and eyeball them all. However, the first time, you do want to pay attention to the details- they will 100% impact the success of this simple recipe. In particular here are some key tips:
Use two skewers instead of one. This helps the salmon cook more evenly, prevents it from breaking apart and falling, and makes it easier to flip. Also make sure to soak your skewers beforehand (this is always the first step I do).
Make sure the grill is hot, but not too hot– otherwise the outside of the salmon will cook way faster than the inside. I've found that around 400 degrees and with a medium flame is best.
Grill for about ~5 minutes/side. Normally I use a thermometer, but it's a bit tricky on this one. You can also break up apart one piece at the end to check. Keep in mind that if the skewers sit for 5-10 minutes after grilling, the residual heat will continue to cook the inside of the salmon so it's better to have it be just a little under on the inside.
What to serve this with:
I always serve this with a side of grilled veggies and generally go to my favorites- zucchini and red peppers.
For a starch, I'll either do rice or sweet potato fries.
Sometimes I serve this with a cucumber & yogurt sauce- still working on the final ratio of ingredients but essentially it's diced cucumber, some yogurt, some olive oil, and lemon juice. Here's my "working recipe" that I'm still finalizing:

8 oz cucumber, diced
4 oz full fat plain skyr or greek yogurt
1-2 tablespoons extra virgin olive oil
juice of 1/2 lemon
salt and pepper, to taste
freshly chopped herbs, if we have some on hand (dill, if we have it. otherwise I like basil)
Other Recipes You May Like: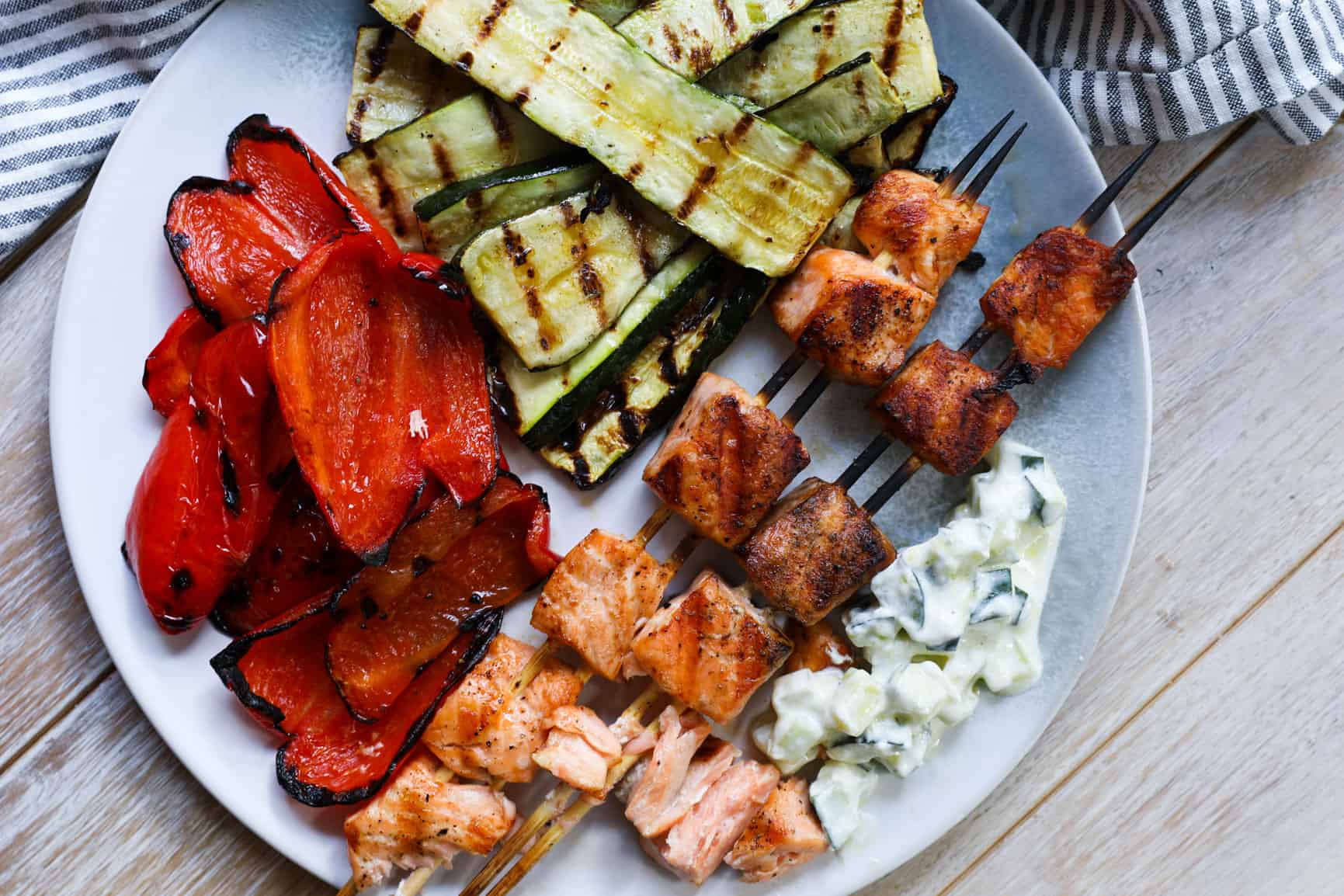 2 Ingredient Grilled Lemon Salmon Skewers
1

pound

salmon

,

(try to get a piece that is fairly even in thickness)

1

lemon

1-2

tablespoons

extra virgin olive oil

1

teaspoon

diamond kosher salt (if using any other salt, use half the amount)

black pepper
Optional, Easy Sides
2

zucchini

,

cut into 1/4'' thick planks

2-3

red peppers

,

cut into large slices

extra virgin olive oil

salt and pepper
Preheat grill to about 350-400 degrees and soak wooden skewers for at least 30 minutes (okay, sometimes I can't get away with 20 minutes, but not sure I can officially recommend it)

Remove skin from salmon and cut into 1'' cubes. Drizzle extra virgin olive oil on salmon.

Place onto two parallel skewers (see my reel above for guidance). Season generously with salt and pepper. Squeeze fresh lemon juice directly over skewers (up to you how much, but I generally do half of a lemon).

Spray grill with oil or oil grates and make sure grill is over medium heat. Add skewers and cook for about 5/sides. The outside should be browned and slightly crispy and inside fully cooked. Serve immediately.
Optional Veggie Sides:
Prepare the vegetables while you prepare the salmon. Just toss in olive oil, salt and pepper and grill at the same time as the salmon.