If cooking a whole fish intimidates you, you're not alone.  I hadn't cooked a whole fish since culinary school and for some reason, I just felt like it was too much. Guess what- it's not. This Grilled Lemongrass Cilantro Branzino & Watermelon (and a side of grilled okra) on the side took about 20 minutes to make. And in some white rice for a full meal. This combo of fresh herbs and lime hits the spot on a warm summer night.
How to Cook a Whole Fish on the Grill: Tips & Tricks
Make sure to generously oil both the outside and inside cavity of the fish.
When buying, ask to get the fish gutted and cleaned. Every time I've bought a whole fish, it already is, but it doesn't hurt to double-check and ask.
GET A THERMOMETER! I say this with every fish recipe. It takes the guessing game out of it and you'll be confident that your fish will be perfectly flakey.
Grilling a Whole Fish: Why You Need to Try it
Still not convinced you can grill a whole fish?
If you've grilled shrimp before, you can grill this. Trust me. It's just as easy. Just like shrimp, you'll place the entire fish on the grill and then flip halfway through cooking. Just like shrimp, you need to make the grill is oiled and there's some oil on the shrimp/fish to prevent sticking.
Worried it's too expensive? You can actually get a pound of Branzino (which is generally one filet) for the same price as fairly budget-friendly shrimp (this was $11/pound).
Worried about the tiny bones? Yes, there will be some, and you may occasionally get a few in a serving. It is what it is. But I've never found it to be so much that it's annoying.
Behind the Recipe: Grilled Lemongrass Cilantro Branzino & Watermelon
I've spent most of this post talking about the whole fish, since that's definitely the main star of the show. But let's take a second to talk about these herbs.
First, this is a quintessential "flexible" recipe. You can very easily add more or less herbs, mix up the types of herbs, and use what herbs you have on hand (within some reason). Example: I've done this with and without cilantro, and both tasted great. If you don't have any of these herbs on hand and don't use them that much, my recc is to just get two, rather than all three.
Leftover with some herbs and not sure what else to make? Here are some ideas:
Lemongrass: This is the one herb that requires a bit more preparation to make sure it's tender. Here's how to prep it:

Remove the tough outerstalk and only use the more tender inner stalk. (P.S. I've read that you can use the outerstalk for things like tea, but haven't actually done this myself)
When I say tender inner stalk, it's all relative. This still needs to be tenderized. You can do this with a knife, but I've found the results to be not that great. Enter: the food processor. Whipping it up in the food processor is an extra step, but it also is a great way to chop up all the other herbs. It also will ensure that your lemongrass isn't going to be tough in the final product. Adding in the lime juice will also help.
How to Make this a Full Meal
About half the time I've made this, I'll also grill another veggie simultaneously. Generally, there's another room on the grill to fit it all and it's an easy way to add more veggies to dinner. My go-to's are usually zucchini, summer squash, green beans, or asparagus (p.s. wondering how to grill something like green beans or asparagus? See my whole post on how to use a grill basket).
White or brown rice is also a great addition. In particularly, white rice cooks very quickly. Start with the rice and it'll be ready by the time everything else is done. Or… even better- just pull it out of the fridge if you have some leftover from a previous meal!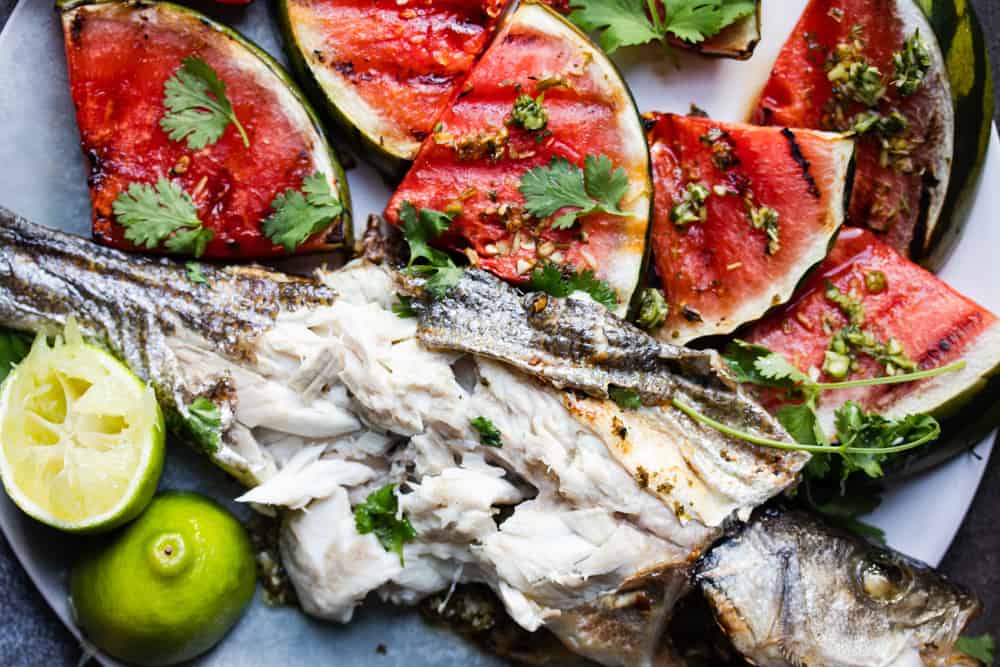 Grilled Lemongrass Cilantro Branzino & Watermelon
1

stalk

lemongrass

1/4

cup

cilantro leaves

,

, lightly packed

1/4

cup

basil leaves

,

, lightly packed

juice of 1

lime

,

(about 1 oz)

1.5

teaspoons

kosher salt

,

, divided

1

filet

whole branzino

,

(about a 1 pound, make sure it is gutted and cleaned)

2

tablespoons or so

olive oil or grapeseed oil

1/2

watermelon

,

, sliced in large wedges that are 1'' thick

optional: 1 additional

lime

,

, sliced in half and to be served on side (to squeeze directly onto fish if people want)
Preheat grill to medium-high (about 400-500 degrees).

Remove outer peel of lemongrass and only use tender stalk. Cut off fibrous top part (about 1/3 of the top part). Then chop up the rest of the tender stalk roughly and toss this in a small food processor.

Add in cilantro, basil, fresh lime juice, and 1/2 teaspoon kosher salt. Chop in food processor until fine. Set aside.

Pat fish (both outside and inside cavity) dry with a paper towel. Then generously rub oil on the outside and inside of the cavity and season with the remaining teaspoon of kosher salt.

Stuff the cavity with 3/4 of the lime-herb mix (reserve 1/4 for the watermelon).

Make sure the grill is also well oiled/sprayed before placing fish directly on grill grates. Gently place fish on grill. Grill until you have slight grill marks on the bottom, about 6 minutes, and then flip. Continue to grill until internal temperature reaches 145 degrees.

Meanwhile, grill the watermelon: Spoon rest of lime-herb mix over the watermelon and then place watermelon directly over the grill (again, well sprayed/oiled before putting watermelon on).

Grill watermelon about 5 minutes per side, until you have char marks. You can't really mess this one up and it's quite forgiving.