This might be one of my favorite recipes to date. I've done so many variations of this miso glaze for the last five years, but this one is my best yet (and I've tried this exact recipe four times to double check!). It strikes the perfect balance of being simple and easy and also delicious. I've minimized both the ingredients and method- all you do is put the ingredients in a bowl and whisk.
Cooking the salmon takes about 15 minutes total, making this meal that can easily be done in about 30 minutes (and 20 minutes if you're quick). I often add in some brown rice and a sautéed veggie (detailed in my blog post) to make this a perfect weeknight meal. Leftovers are good for one day after.
Miso paste can be found in most grocery stores and packs a punch quickly. It also lasts for a long time in your fridge so it won't go to waste.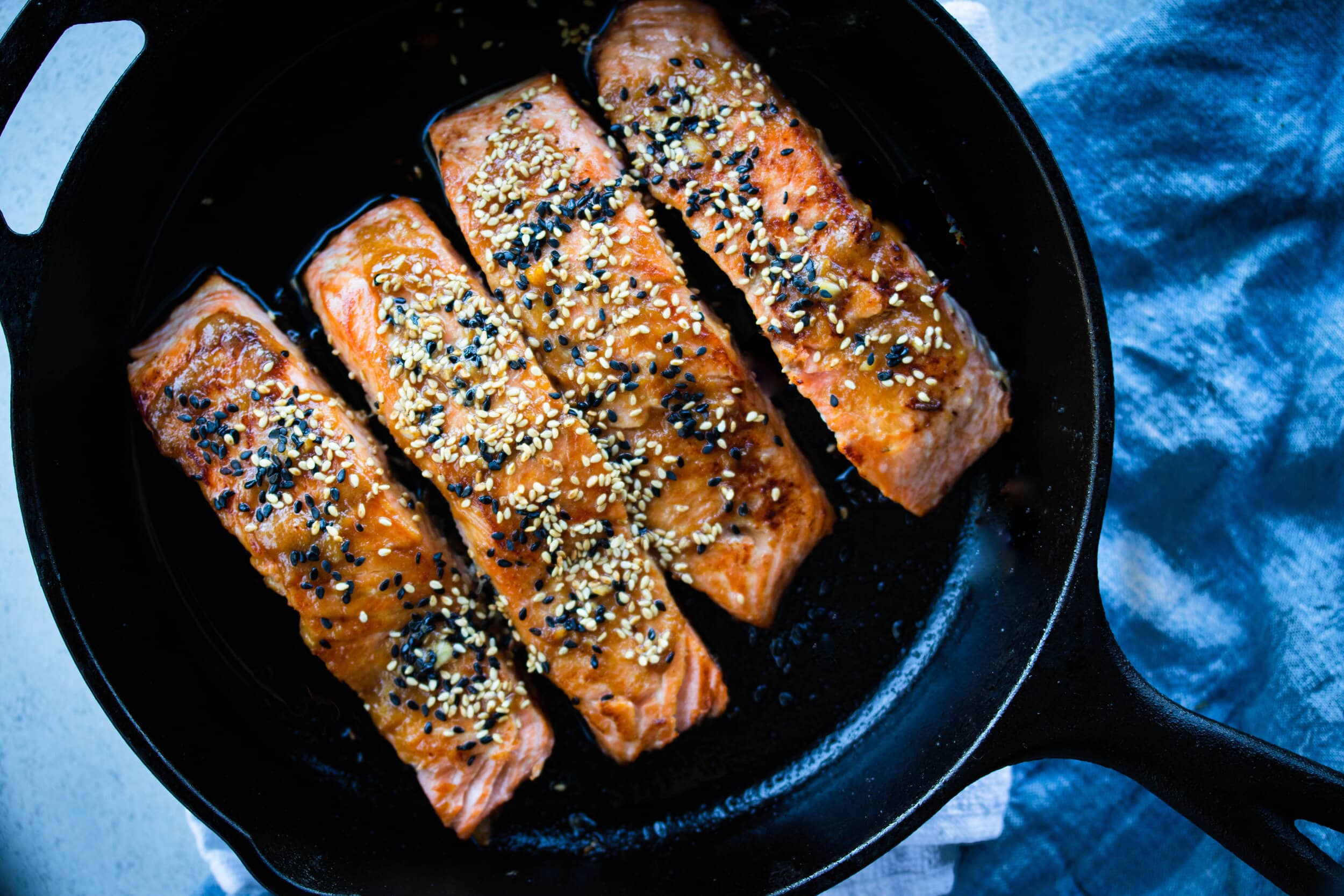 Miso Glazed Salmon
Serves 4-6
1

tablespoon

white miso paste

,

(found near tofu in most grocery stores)

1 1/2

tablespoons

oil

1/2

teaspoon

honey

2

teaspoons

soy sauce

1

teaspoon

ginger

1

teaspoon

garlic

1/2

teaspoon

sesame oil

1 1/2

pounds

salmon

1-2

tablespoons

sesame seeds

,

black or white (or both)
Preheat oven to 425.

In a small bowl, whisk all ingredients except salmon and sesame seeds.

Brush some of the marinade on the top of the salmon (about 1/3 of the marinade).

Heat a cast iron skillet (or something that can go in the oven ideally, otherwise just transfer it to a baking sheet when putting it in the oven) over medium heat and add in enough grape seed oil/butter to coat bottom of pan. Once pan is hot, add salmon skin side up. It should sizzle immediately.

When pan searing, don't move salmon- just let it sit and brown for about 3 minutes, until you see the bottom becoming pink. Flip the salmon over and brush more marinade onto the salmon.

Place in oven until it the inside registers 135-140 degrees, about 6-7 minutes for 5 ounce fillets (and 10 minutes for larger ones). The salmon should flake off easily and be opaque and pink (also it will continue to cook to about 145 while resting so don't worry if temperature increases a bit).

Brush remaining miso glaze on top of salmon one more time and top with sesame seeds. Serve.