Love seeing all the amazing breads being made during this quarantine time, but looking for something super simple? This easy whole grain & yogurt banana bread is your answer. I've been making so many yeasted breads recently that the ease and simplicity of this recipe was a pleasant surprise. Just toss everything into a bowl, mix it, and bake it.
Plus… have you ever met anyone who didn't like banana bread? Not only is it universally loved, but it's perfect to have in the kitchen for a dessert, quick snack, or maybe even breakfast. On the spectrum of healthiest (a dessert I've only serve myself or those really looking for that) to full indulgence, this is somewhere in between.
Behind the Recipe: Easy Whole Grain & Yogurt Banana Bread
My goal with this easy whole grain & yogurt banana bread was to make it one I could serve to anyone, but has a few healthier touches, without feeling like a "healthy" banana bread. This recipe is adapted from a banana bread I spotted by Ottolenghi online.
Sugar Content: This recipe has about half the sugar you'd normally see in banana bread (but still enough to be quite sweet thanks to the bananas). Having served this to my husband and some friends, I can safely say it was sweet enough for a variety of people considering it a snacking bread. It's the perfect amount of sweetness for a morning or afternoon treat. Add 1/4 cup more if you like things on the sweeter side.
Skyr/greek yogurt: One of my absolute favorite ingredients in almost all baked goods. Yogurt not only adds some protein, but it also keeps the bread very moist, even after the first day. I recommend using a yogurt slightly higher than nonfat, but I've also done it with nonfat and it's been fine.
Whole wheat pastry flour: The key to using whole grains without being tough or too dense. You can also just use all-purpose flour or if you only have whole wheat flour and not whole wheat pastry, use half all purpose and half whole wheat flour. This will include whole grains while keeping it nice and light and fluffy.
Love this? You'll also love these Healthy One Bowl Banana Chocolate Muffins.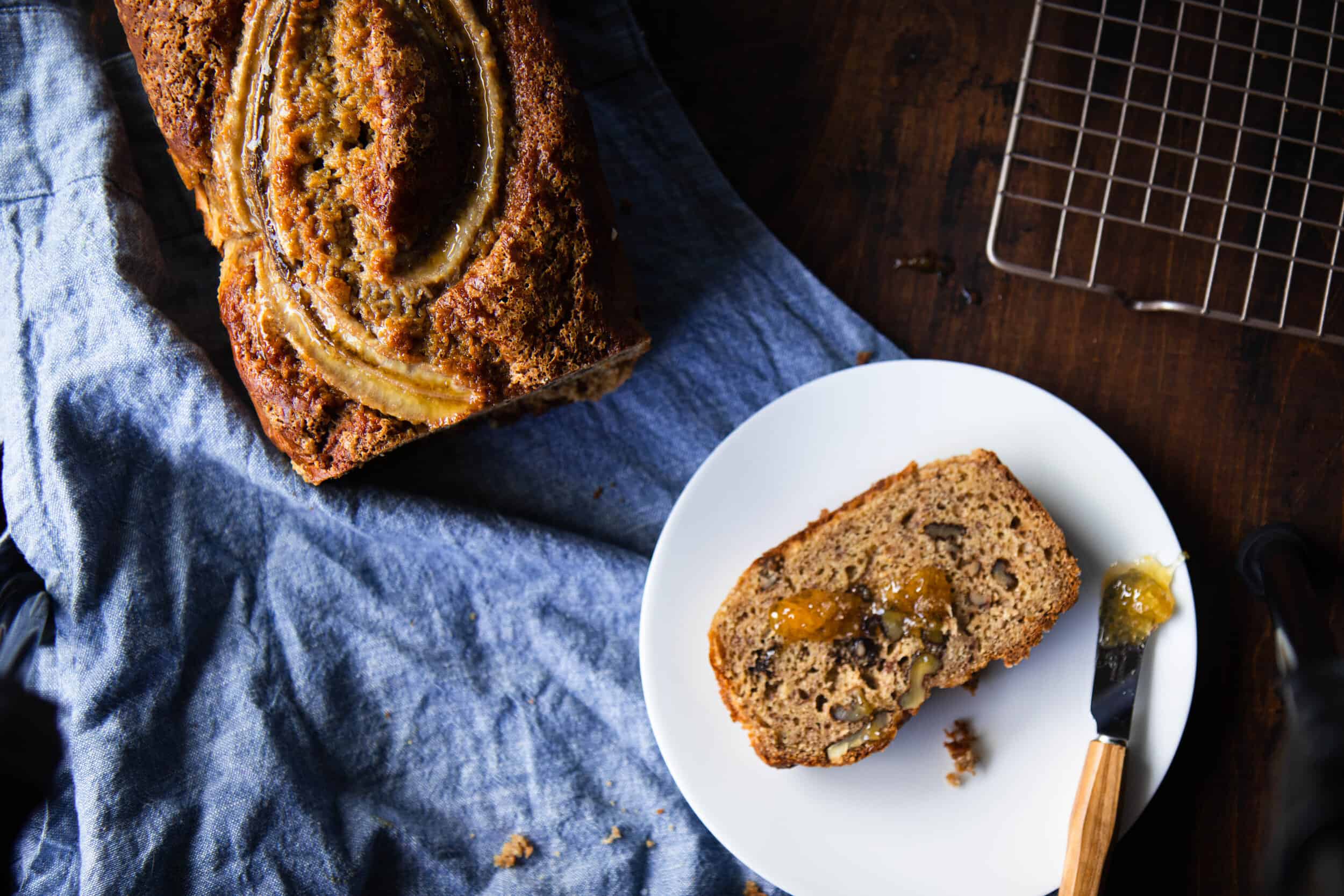 Super Easy Whole Grain & Yogurt Banana Bread
Adapted from Ottolenghi
3

very ripe bananas

,

(300-350g) banana + optional 1 banana for topping

3/4

cup (150g)

light brown sugar

,

*I found this plenty sweet, if you like things on the sweeter side, add 1/4 cup

3

eggs

,

lightly beaten

2/3

cups (170g)

plain 2% or higher fat skyr or greek yogurt

1/3

cup (60g)

grapeseed oil or other neutral oil

1

teaspoon

kosher salt or 1/2 teaspoon sea salt

scant 2

cups(technically 1.9 cups; 275g)

whole wheat pastry flour

1

teaspoon

baking soda

1 1/2

teaspoons

baking powder

1/2

teaspoon

cinnamon

1/2

cup (56g)

pecans or walnuts

,

, chopped

optional: 1/3

cup (53g)

semisweet or dark chocolate chips
In a large bowl or standing mixer, add in banana, sugar, eggs, yogurt, and oil. Whisk until well mixed with a handheld electric mixer, regular whisk (by hand), or whisk attachment in standing mixer.

Add in salt, flour, baking soda, and baking powder. Using a standing or handheld mixer, mix until combined.

Add in pecans/walnuts and chocolate chips and just lightly stir until mixed in.

Pour into bread loaf pan (9'') lined with parchment paper.

Optional: Slice a banana lengthwise. Place each half on the top, cut side up.

Bake until a toothpick comes out clean in the middle, about 70-80 minutes. Let cool for 20 minutes on a cooling rack before removing from pan. Let cool an additional bit before slicing. Serve with butter or honey.