Healthy banana chocolate muffins that can be made in one bowl – they are finally here. No equipment. Just a whisk and one bowl. These also happen to be gluten-free and refined sugar-free,.
After two solid years of more traditional baking, I can confidently say these healthy one bowl banana chocolate muffins ignore a lot of "traditional" methods. They are all about the shortcuts- BUT shortcuts that don't compromise quality or the final product. Even though baking can often be very precise, I purposely made these flexible. A big win in my book!
Another win- these don't have any white sugar in them. Furthermore- my mom (who's quite critical of "healthier" desserts) liked them. So if you're a fan of more traditional muffins, you'll still love these too.
Behind the Recipe: Healthy One Bowl Banana Chocolate Muffins
The bananas: It's super important to use bananas that are quite ripe. Quite ripe= They have a good amount of black spots on the outside peel, but aren't fully black. The riper the banana, the sweeter they will be. They will also be easier to mash and incorporate into the batter.
Flour options: All of this function in similar ways to all-purpose. I've done these muffins with all three. My favorite is the whole wheat pastry flour for a whole grain option.
Sugar: Normally I wouldn't say maple syrup and coconut sugar can be substitued for each other, but it just works here. The recipe is that flexible. I can say this confidently because I've done it with both. If you prefer to use normally sugar here, you can probably use light brown sugar. I suggest brown sugar to give more flavor/complexity than white, but you could do white sugar in a pinch. I'd probably start with 1/3 cup because coconut sugar is less sweet than normal sugar. You can also taste the batter and then add more if you think it's not sweet enough.
Oil: This is key for keeping this muffins moist (I hate the word, but it's the best way to describe it). Especially beyond the first day. You can use a lot of different oils here, but it shouldn't have a strong flavor. In addition to grapeseed or canola, you can also use vegetable oil or avocado oil.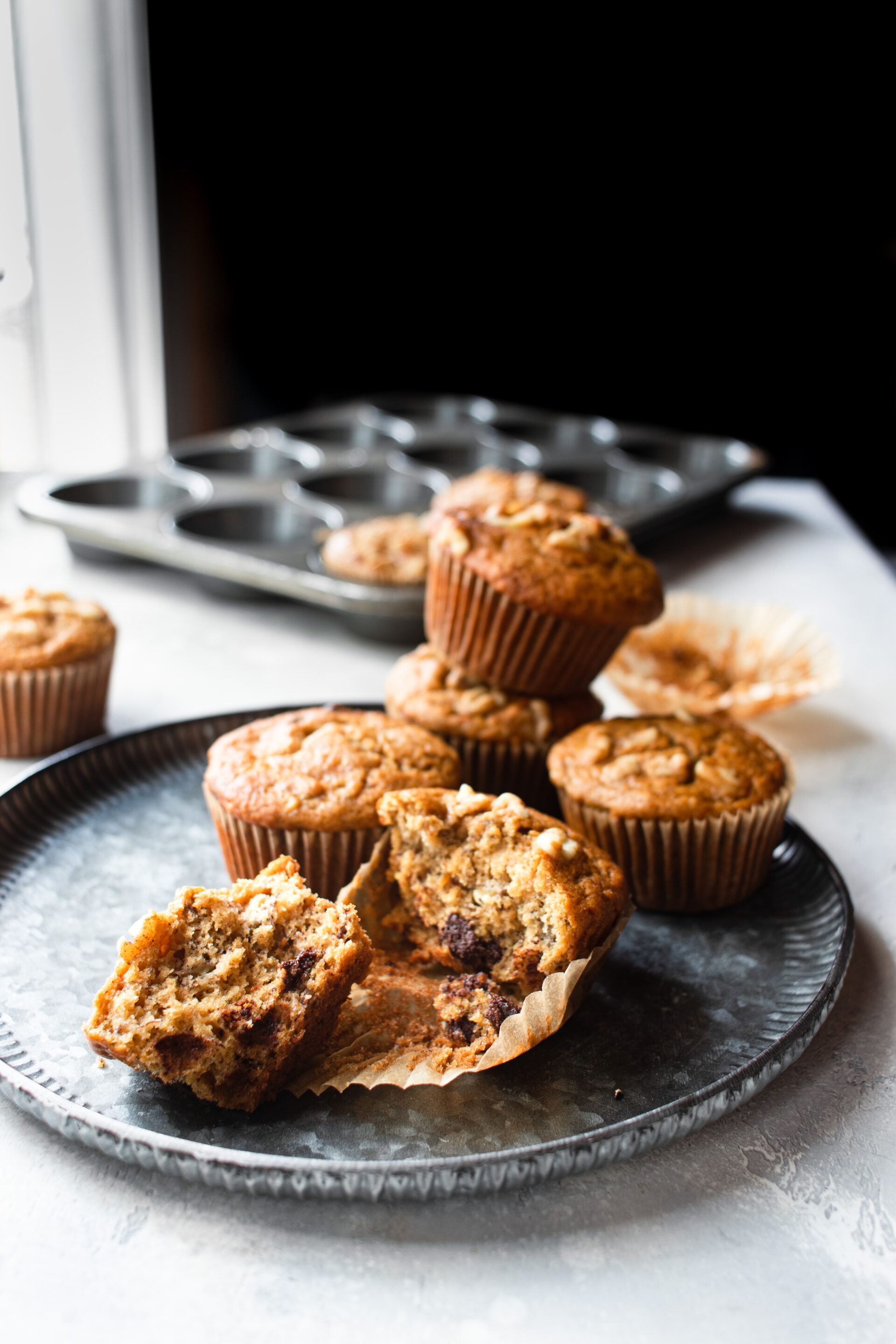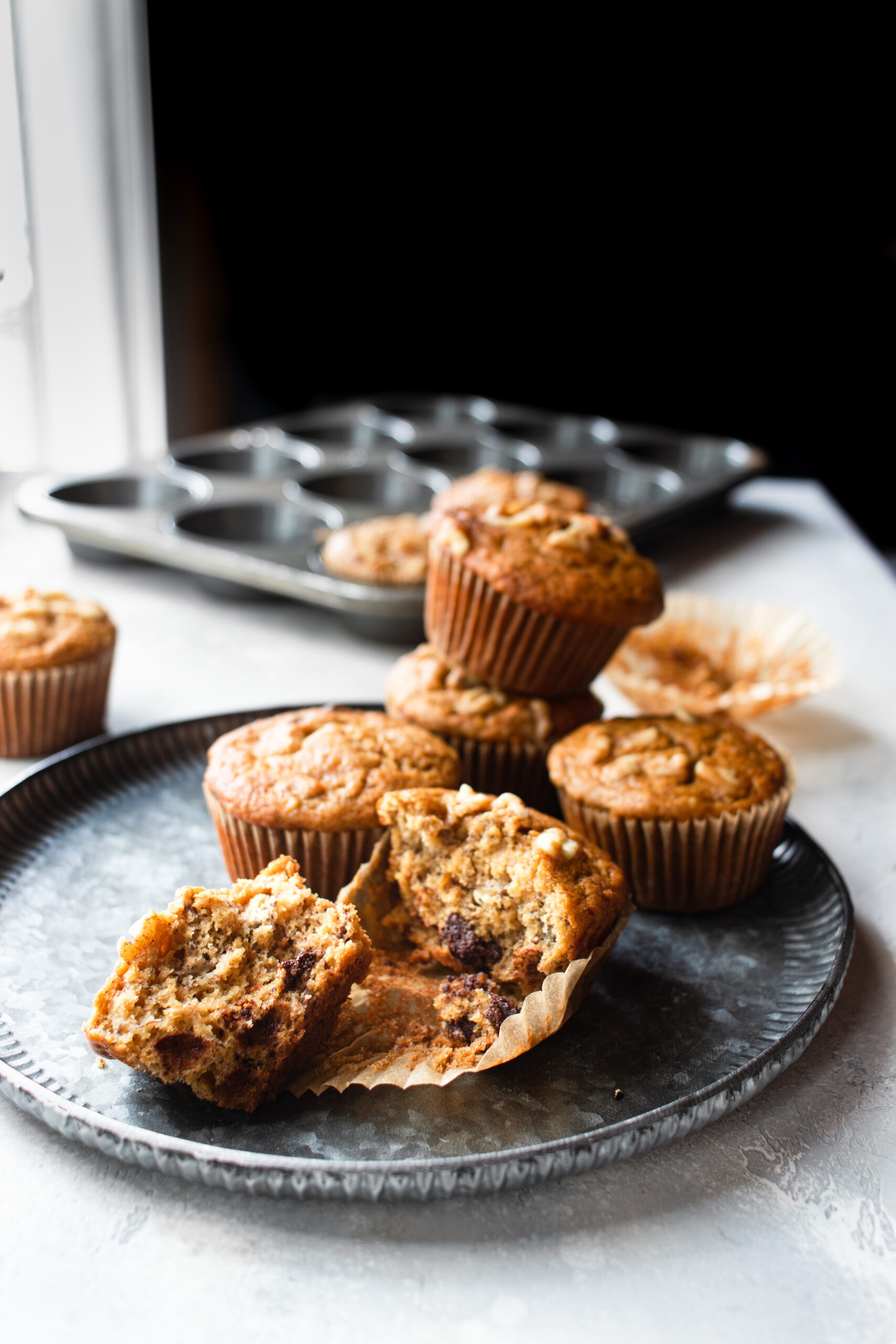 One Bowl Banana Muffins
Gluten and refined sugar free, but everyone will love these. Also you only need a single bowl and whisk.
2

eggs

2

quite ripe bananas

,

~300g

1

teaspoon

vanilla

1/3

cup

maple syrup OR 1/2 cup coconut sugar

,

I've done both- see above for notes if you prefer to use normal sugar

1/4

cup (51g)

neutral oil (grapeseed or canola)

1.25

cups (150g)

whole wheat pastry, AP, or gluten free AP flour

,

(I've used bobs red mill gluten-free flour and it worked great!)

1

teaspoon

baking powder

1

teaspoon

baking soda

1/2

teaspoon

kosher salt

1/2

teaspoon

cinnamon

1/2

teaspoon

ginger

1/4

cup

chocolate chips

1/4

cup

chopped walnuts (optional- you can also add more chocolate chips if that's your thing)
Place bananas in a large bowl. Use a whisk or fork to mash the banana as much as possible.

Add in eggs, vanilla, syrup, and oil and whisk vigorously to combine.

Add in flour, baking powder, baking soda, salt, cinnamon and ginger. (When adding the spices and baking powder/soda, I try my best to sprinkle and evenly distribute rather than pour in one spot). Stir to combine.

Stir in chocolate chips and walnuts.

Pour into cupcake molds that are lined with paper until mostly full (this makes 10). Bake at until a toothpick comes out cleanly, about 20 minutes. Let rest for 10 ish minutes before eating. Store in airtight container or bag for up to 5 days in the fridge (tbh you could probably do outside at room temperature because these don't have dairy, but I prefer fridge).