These seriously addictive cornflake krispie cookies are the cookies I wish I had had as a kid. They have the essence of a homemade rice krispie treat, but in a cookie. The first time I tried these, I was immediately brought back to my childhood memories of eating homemade rice krispie treats. So buttery. And with marshmallows that seem to just continuously stretch into sticky goodness. Even just the smell brings me back.
As soon as I took a bit of these I realized I could easily eat at least four (and these are seriously big cookies) within minutes. This meant: 1) I had a winning recipe and 2) I need to give these away ASAP 😂. Seriously addictive cornflake krispie cookies seemed like the perfect name. These are great to give to others. They're familiar enough to classics that most will enjoy them, but their unique flavor and texture piques interest.
Behind the Recipe: Seriously Addictive Cornflake Krispie Cookies
Marshmallows: Just see above. And trust me.
Cornflakes: In addition to marshmallows, the other factor in these seriously addictive cornflake krispie cookies are the cornflakes. Almost like rice kripsies, they add a perfect crunch and dimension to these cookies. I've always been curious to add them into cookies, and they just work so well with the marshmallows.
Brown and White Sugar: I (almost) always use both in my cookies. White sugar is key for texture and smoothness, while brown sugar adds caramel undertones and dimension.
Unsalted Butter: Give me a choice between a cake-like cookie and thin crispy cookie, and I'll always go for thin. Hence why I like a good amount of butter in my cookies. A high ratio of butter to other ingredients helps give these that thin and crispy texture.
Butter and Eggs, at Room Temp: YES. You need to do this. It helps the consistency and smoothness of your batter. If you're like me and are impatient, you can microwave your butter in segments of 20s at about 30% power until it's soft, but not even close to melting. For you eggs, place the eggs in hot tap water at the beginning of the recipe. By the time you're ready to add, they'll be at room temp.
Kosher Salt: Just like any other dish, these need seasoning. If you don't have kosher salt and are using sea salt or table salt, half the amount. Why? Kosher salt is a coarser grain so it has more volume and is less dense comparatively.
Chocolate Chips: These still have to have a traditional touch. I haven't added in quite as many as you often would for a classic chocolate chip cookie, but that's because these have a lot else going on.
The Inspiration
While I'm proud to say the recipe for these cookies is completely my own (not adapted. Well I guess technically it's adapted, but from my own original recipe- these thin and crispy customizable cookies), the idea for this combination came from an episode of Chef's Table about Milk Bar.
In this episode, I also learned a bit more about the importance of creaming butter and sugar. In particular, most people shortcut this and don't do it for long enough. You need time to really get air incorporated. While these aren't fluffy cookies but any means, they do have a lot of butter in them, so they'll spread a lot. Creaming helps give it a bit structure.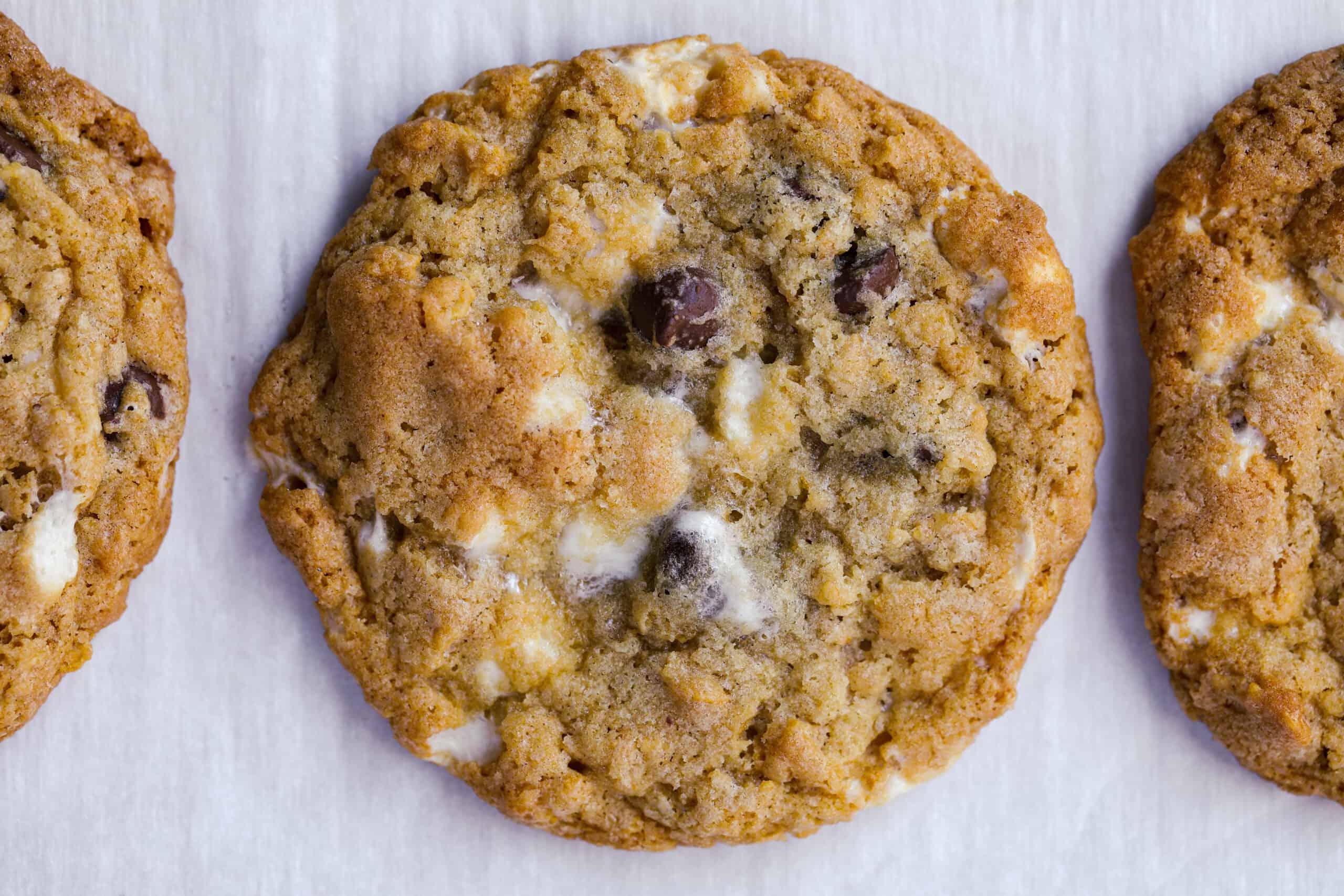 Seriously Addictive Cornflake Krispie Cookies
1/2

cup (4 oz)

butter,

,

, at room temperature

1/2

cup (100g)

sugar

1/2

cup (100g)

brown sugar

1

egg

,

, at room temperature

1

teaspoon

vanilla extract

1.25

cup (156g)

all purpose flour

1/2

teaspoon

baking soda

1/2

teaspoon

baking powder

1

teaspoon

kosher salt

1.5

cups (47g)

cornflakes

1/2

cup (45g)

mini marshmallows

1/3

cup (53g)

bittersweet chocolate chips
Cream the butter and sugar: Place butter and sugar in a large bowl or bowl of a standing mixer with paddle attachment. Whisk together butter and sugar until light and fluffy, about 5-6 minutes (yes, really that long- I've learned from Milk Bar that this is a crucial step that many people overlook and do for far too short).

Add in egg and vanilla extract. Continue to mix at a medium speed for an additional 3-4 minutes, until light and fluffy.

Combine all dry ingredients in a bowl. Add in flour, baking powder, baking soda, and salt into a medium bowl. Stir to combine thoroughly. Add cornflakes on top and then crush with your handles until they are quite crushed and like crumbles. Stir to incorporate into flour mixture.

Add dry ingredients into the bowl with the sugar, butter, and eggs. Mix just enough to incorporate and not see any dry flour bits, but try to minimize how much you mix (overmixing will deflate all the air you just worked to build in with creaming).

Add in chocolate chips and marshmallows and pulse once or twice to evenly distribute.

The next step is to refrigerate the dough for at least an hour or up to three hours.

*If you have the space in your fridge, I recommend scooping out the dough into balls, placing onto a baking sheet or plate, and placing the whole sheet/plate in your fridge (see details in step below). If you don't have enough space in your fridge, you can put the whole bowl of dough in the fridge and then scoop the dough into balls after it's been refrigerated.

Using 1/4 cup scooper or measuring cup, scoop dough into twelve 1/4-cup portion balls onto a parchment lined paper (if storing in fridge, you can place them close together, but be sure they are far apart when baking).

Preheat oven to 350. Make sure cookie dough balls are quite far apart from each other- I'll usually put only 6 on a tray. They will spread a lot.

Bake for 16-17 minutes, until lightly golden brown on top and on bottom, but still soft. Store in an airtight container. These are best eaten within about 2-3 days.