I'll be honest- I realized that for someone who loves ALL the stone fruit and buys one to two quarts of peaches, nectarines, and/or pluots a week, the number of recipes I have featured them is actually quite small. Luckily these Caramelized Peaches with Mascarpone Whip Cream is right up my alley. Here's why:
I've been exploring and testing out recipes, only to reach this epiphany: the recipes I've loved most are the simplest ones that let the fruit shine on its own (bonus points: that usually means they're super easy to do and have minimal ingredients).
And let's be real- if I have a perfectly ripe peach, my favorite way to eat it is just on its own. But sometimes we want something a little extra OR finding that perfectly ripe and full of flavor peach is harder to find than we'd like. That's where a recipe like this really comes in handy to help bring out its natural flavors and beauty and makes a "meh" peach into a delicious one. A little butter and caramelization go a LONG way.
Better yet, this "recipe" requires so little time and prep you can do it on the spot or on a whim. Simply cut some peaches in half and grill them or pan-sear them on a cast-iron skillet doused with some butter to get a beautiful caramelization. Add a luxurious and creamy mascarpone whip cream on top and you have the perfect summer dessert. Top with fresh berries for an extra treat.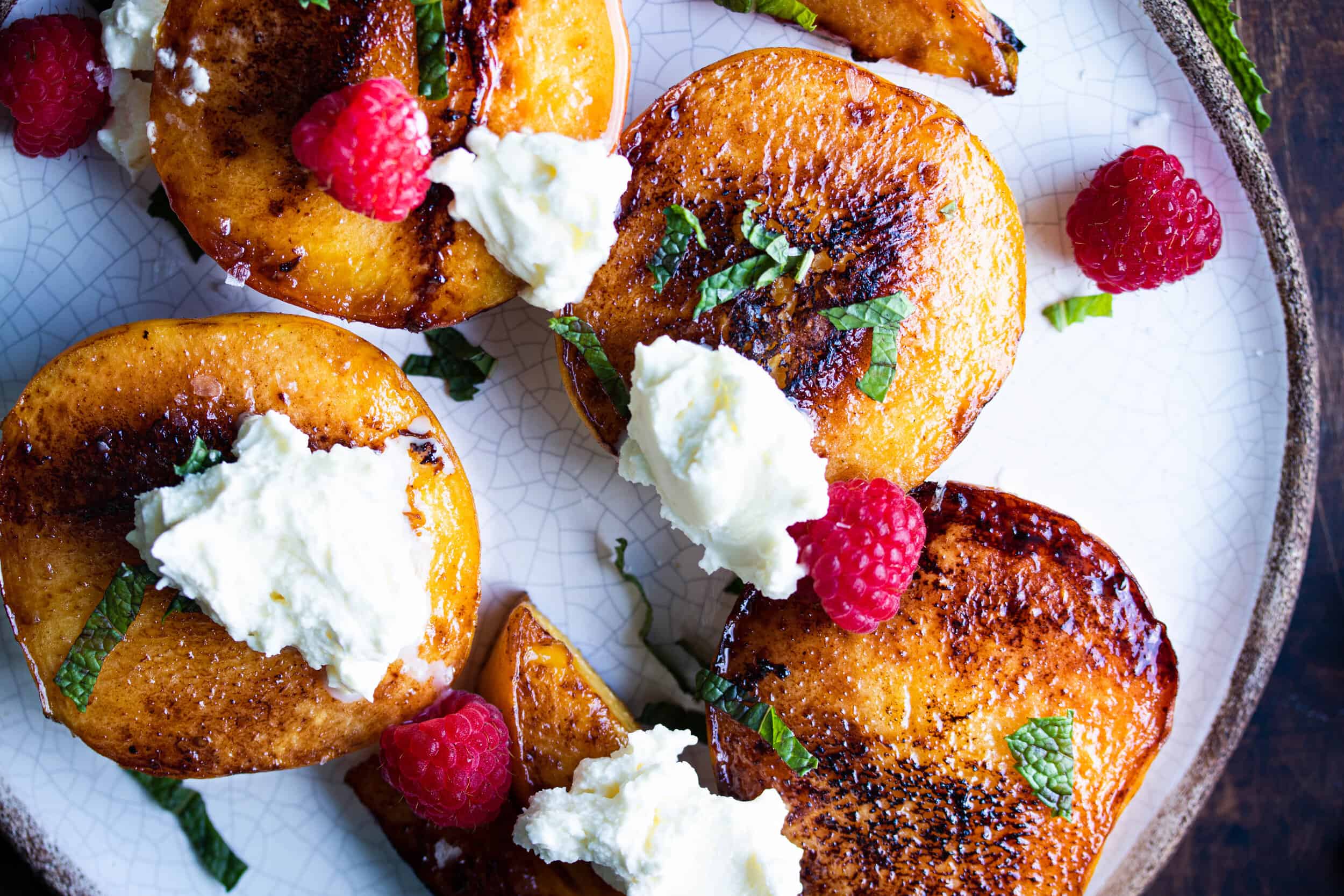 Simplest Caramelized Peaches with Mascarpone Whip Cream
Grilled Peaches
2

ripe peaches

,

, pit removed and cut in half

1

tablespoon

unsalted butter

,

(or coconut oil for a dairy-free option)

optional: 1-2

teaspoons

sugar or honey

,

(I don't add, but if you prefer things on the sweeter side)

sprinkle

sea salt or kosher salt
Marscapone Whip Cream
1/2

cup

heavy whipping cream

2

ounces

marscapone cheese

optional: 1

tablespoon

sugar

,

(or more- you do you! taste as you make it)
Make the Whip Cream
In a super cold bowl (I put mine in the freezer for 10 minutes before), place in heavy whipping cream and mix with an electric mixer on medium-high until soft peaks form. 

Add in mascarpone cheese and sugar and mix again until incorporated.

If you don't finish this in one serving, you can store this in the fridge in an airtight container for a few days.
Grill the Peaches
Heat a cast iron skillet over medium heat. Add coconut oil.

Sprinkle salt (and sugar if using) on peaches. Place face down, skin up, on skillet. Let sit without moving for 2-4 minutes. Use tongs to gently check the bottom. Once browned, flip over gently and let sear for another 2 minutes.

Remove from heat. If you want to remove the skin of the peach, the skin should easily peel off at this point. Serve.