I like to think of this as my lazy pie recipe. It has the essence of a summer berry pie- when that fruit smells HEAVENLY and is bubbling when you pull it out of the oven… with a fraction of the effort. As much as I love pie, I don't always love the sometimes temperamental pie dough and the process of rolling it out. These biscuits could not be more simple. One bowl. No appliances or mixers. And they're very forgiving- even if you think you messed it up, it'll probably still work out.
So if you're looking for a recipe to celebrate seasonal fruit that's a bit less fussy and time-consuming yet still looks festive and is downright DELISH (seriously… my mom can be a bit of a tough critic and fell in love with these in one bite ), try this recipe out. Oh- and add some ice cream on top before serving.
P.S. This would be great for a summer cookout or gathering- it's foolproof and easy to make ahead of time. Just warm in the oven before serving (and get some vanilla ice cream to serve it with!).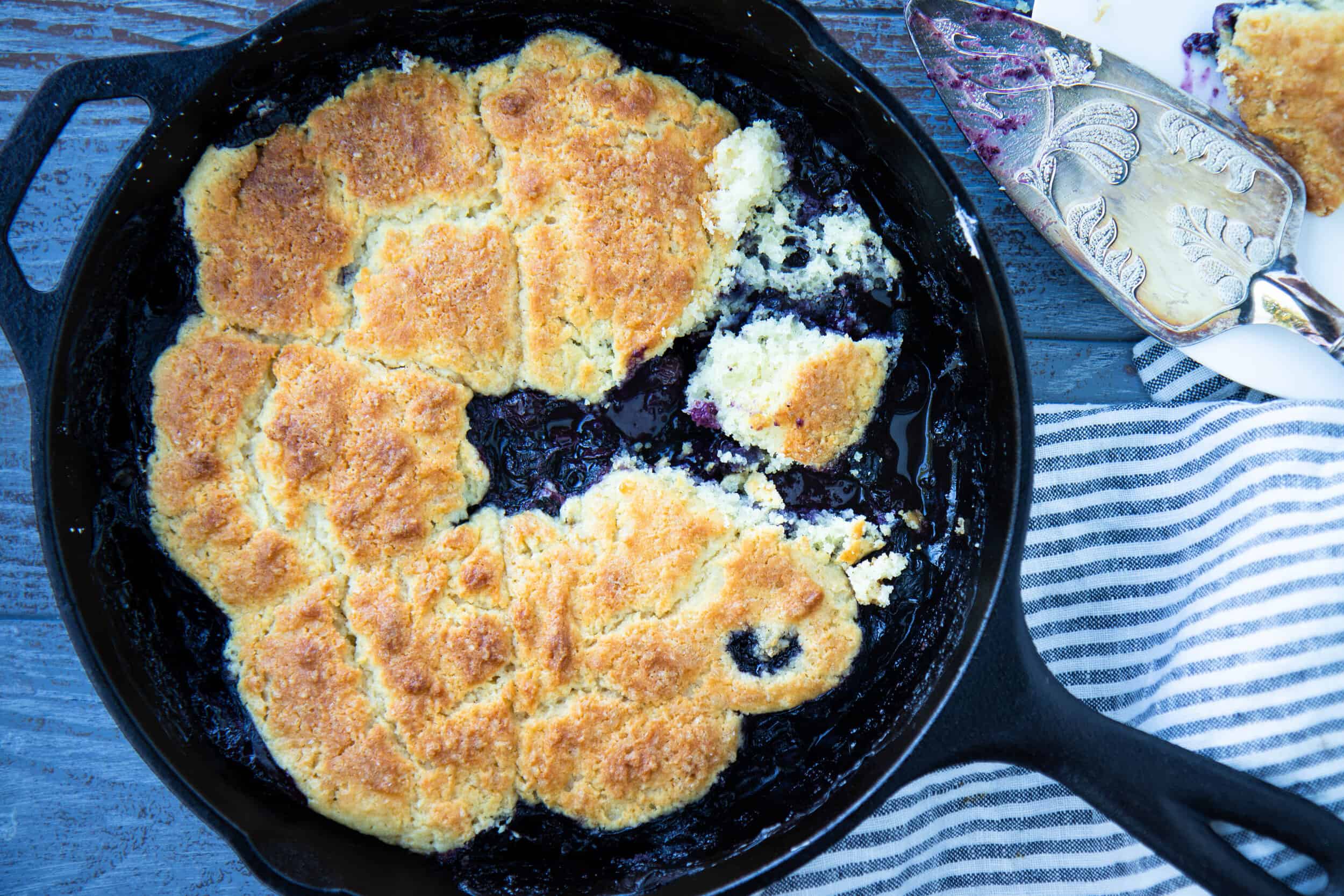 Blueberry Spelt Cobbler
Adapted from Food and Wine
1

cup

spelt or all purpose flour

,

128g

1/4

cup

28g + 1 tablespoon (7g) cane sugar or white sugar (divided)

1/2

cup

almond flour

,

56g

2

teaspoons

baking powder

1/2

teaspoon

sea salt

6

tablespoons

3 ounces very cold unsalted butter (place in freezer for about 10-30 minutes before you make the dough!)

3/4

cup

180g whole buttermilk

4-5

cups

blueberries **see note below

1

teaspoon

cornstarch or arrowroot

Turbinado sugar

,

for sprinkling
Preheat oven to 375.

In a large bowl, add in spelt flour, almond flour, 1/4 cup sugar, baking powder, and sea salt. Mix to combine.

Take butter out of freezer and using a cheese grater, grate butter into flour mixture. Lightly toss with your hands to combine and mix in the butter as much as possible- try to coat the butter in the flour and not directly touch the butter (you want to keep the butter cold). Pour in buttermilk and using a wooden spoon or your hands (eventually you'll probably just need to use your hands), mix to thoroughly combine. The batter will be quite wet- much wetter than a typical biscuit. Don't freak out if it seems very sticky and wet (I did the first time. And the second time. And they both worked great. Have faith). Place in fridge while you prep the blueberries.

Place blueberries directly into baking dish- that can be a 8'' or 9'' cast iron skillet or a 8 or 9'' baking dish. Sprinkle on the remaining 1 tablespoon of sugar and 1 teaspoon of cornstarch/arrow root and just a touch (1/8 teaspoon or so) sea salt. Toss lightly to thoroughly coat blueberries in sugar/cornstarch.

Using a large scooper (I use my 1/4 cup ice cream scooper and make it a heaping amount of batter) or a 1/2 cup measuring cup, scoop batter on top of blueberries. You can place the batter however you like, but I like to try to make a circle of the biscuits on the outside. They will spread quite a bit in the oven and it's okay if they touch each other.

Sprinkle a bit of turbinado sugar on top and place in oven until golden brown on top, about 35-40 minutes. Serve within the hour if possible. And with ice cream!
Notes
*I've done this with 3.5 cups and with 5 cups- both work. Really just depends if 1) you have that many fresh blueberries (I often find 5 cups ends up being a LOT and then more expensive) 2) what you want the blueberry to biscuit ratio to be. I'd say ideally you'd want at least 4 cups, but if you only have 5, don't fret. It will still work.