Every time I make these small batch whole grain mini doughnuts, I'm reminded why I like them so much. They take about 30 minutes to make and as far as a doughnut goes, are quite light- making them the perfect sweet treat to make on a weekend morning. Often times when I make desserts, I'm good with just a couple of bites and then letting others enjoy the rest. With these, I can easily eat a whole batch. They are sweet without being overbearingly so and their texture is perfect. To see how they are made, check out my Instagram Reel.
Small Batch Whole Grain Mini Doughnuts: Why Small Batch?
Originally, I had this recipe in larger quantities. Then I realized that this amount is perfect for the weekends when it's just family. The recipe makes just a bit over a dozen. Since these are best eaten the day of, I've found that a dozen is the perfect quantity. Although I have eaten these the next day and still ate several! They just lose some of their contrast in texture. Of course if you need more, it's easy to just double the recipe.
Tips for Frying
First off, you can't get away with baking these or trying another method besides frying- I tried baking once and it was not the same! When frying, using a heavy bottomed cast iron pan- it will help keep the temperature of the oil steady and consistent. I also highly recommend using a thermometer (I've never done the recipe without one) and once you've reached about 340F, lower the heat so it doesn't get too hot. If the oil is too hot, the outside will cook way before the inside is fully cooked. I also highly recommend trying out doughnut first to check the time because sometimes they can look fully cooked on the outside, but need more time on the inside. I found about five minutes does the trick.
After Frying
My favorite way to finish these small batch whole grain mini doughnuts is with a light coating of granulated sugar, but I've also done it with powdered sugar or some melted chocolate. If you like these, you may also enjoy these chai spiced donuts.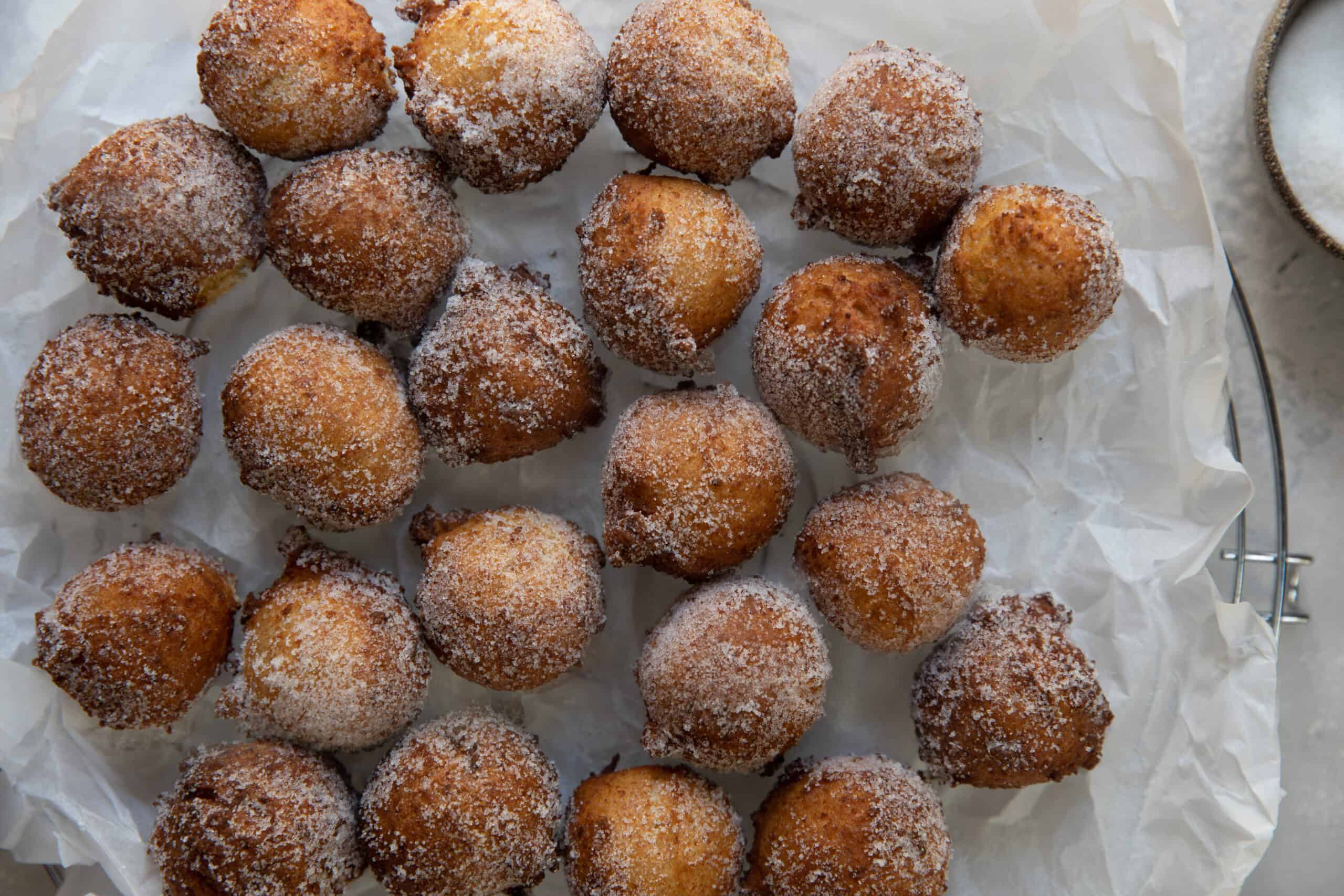 Small Batch Whole Grain Mini Doughnuts
1

egg

4.5

ounces (125g)

whole ricotta cheese

2

tablespoons

light brown sugar

3

tablespoons

white sugar

1

teaspoon

vanilla extract

1/2

teaspoon

diamond kosher salt (if using any other salt, use half the amount)

zest of

1

lemon

77

g

all purpose flour

,

(1/2 cup + 1 tablespoon, sifted)*

56

g

whole wheat pastry flour

,

(1/2 cup, sifted)*

3/4

teaspoon

baking powder

3/4

cup

neutral, high heat oil like canola

,

for frying
Prepare your frying set up: Pour oil into a small dutch oven pot- you'll need about 1.5 to 2'' depth total. Prepare a cooling rack with a paper towel on top to place doughnuts when done frying and a small bowl with about 1/4 cup additional white sugar to roll doughnuts in.

In a medium bowl, add in egg, ricotta cheese, sugars, lemon zest, vanilla, and salt. Whisk until smooth.

Add in flour and baking powder and using a spatula, fold until fully incorporated.

Heat oil until it reaches 350F over medium heat. Turn down heat slightly and while frying, monitor temperature of oil- it should stay between 340-375F.

Using a small cookie dough scooper or your hands, scoop batter into 2-tablespoon balls. Place balls in pot and be sure to not crowd the pot too much- I usually do 2 batches. Fry until balls are quite golden (you want to make sure the inside is fully cooked- you can always do a test batch with 1-2 first to check!), about 4 minutes. Place onto paper towel-lined baking rack to cool slightly before rolling in sugar mixture.

These are best enjoyed fresh!