The best thing about this simple cozy dessert: it's completely customizable. You can be as minimal as you want or get creative with your filling. The key ingredients: cinnamon, some form of sugar (coconut sugar, light brown sugar, maybe even maple syrup?), and a touch of butter (or coconut oil if you prefer). Point already proven- even the key ingredients are flexible.
Last time I made these, I added a bit more in: chia seeds, oats (that turn a little crispy in the oven so it's almost like granola), and a touch of cardamom. Really, you can't go wrong. See my instagram stories for a step by step of how this is made.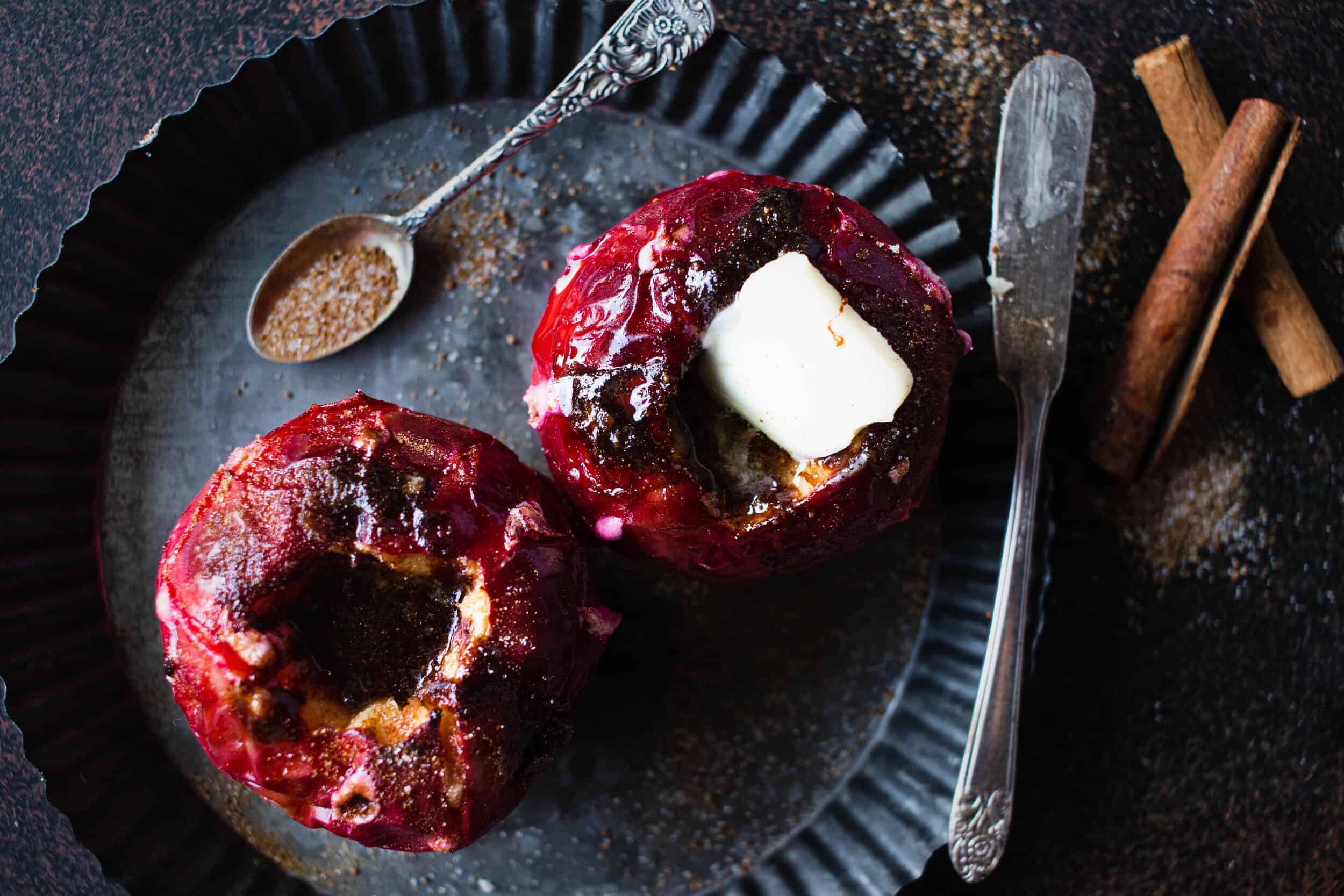 5-Ingredient Cinnamon Baked Apples
Difficulty Level: 1
2

apples

1

tablespoon

butter

1/8

teaspoon

cinnamon or pumpkin pie spice

1

tablespoon

coconut sugar or light brown sugar

pinch

salt
Keep it simple, or add in those (I highly recommend, but to each her own)
1

tablespoon

(10g) hemp seeds or other nut/seed of your choice

1

tablespoon

(10g) oats

1/8

teaspoon

cardamom
Core apples. This can be a bit tricky, but here are my tips:

1. Use a small pairing knife.

2. Make a large incision than you think- I start with a square around the core, then pop off the top.

3. From there, I insert the pairing knife into the hole I just created and kind of carve out the inside of the apple by twisting it. I repeat this until I'm able to see the seeds. If the apple is soft enough, I'll switch to a small spoon to scoop out the seeds and any remaining tough flesh.

4. You don't need to cut through to the bottom of the apple.

5. It's okay if it's not pretty

6. If you prefer to. just cut the apple in half, that's fine! This works too, but just don't add water before putting in the oven.

Place all ingredients in a small bowl. If butter is not at room temperature, place bowl in microwave for 30-40s to mostly melted. Stir to combine.

Scoop mixture evenly into the 2 apples. Place apples on a small baking dish.

Add in about 1/2 cup or so (enough to go up 1/4 of the way on the apples) of warm water in the pan.

Place in oven for 30-40 minutes, until apples are tender.
Notes