The best recipe is one that is seemingly simple and humble, but loaded with intention and thought behind it. Ever since making a broth purely with parmesan rinds, I knew I wanted to incorporate it into a soup like this. While every time I tried this it was good, the perfect recipe was all about the perfect balance of amounts, herbs, and timing.
Using the instant pot/pressure cooker prevents this from being a long process in which you're tied to the kitchen while something simmers forever. I'm not very patient. This method not only cooks the beans quickly, but also infuses the broth with parmesan efficiently.
Similarly, this recipe doesn't require you to soak the beans ahead of time. Yes, it quickens the cooking time, but with the pressure cooker, it's not needed. Lastly, I wanted to feature some vegetables that don't always get the spotlight to change it up a bit. You can also easily adjust and add vegetables based off of what you have. Enjoy!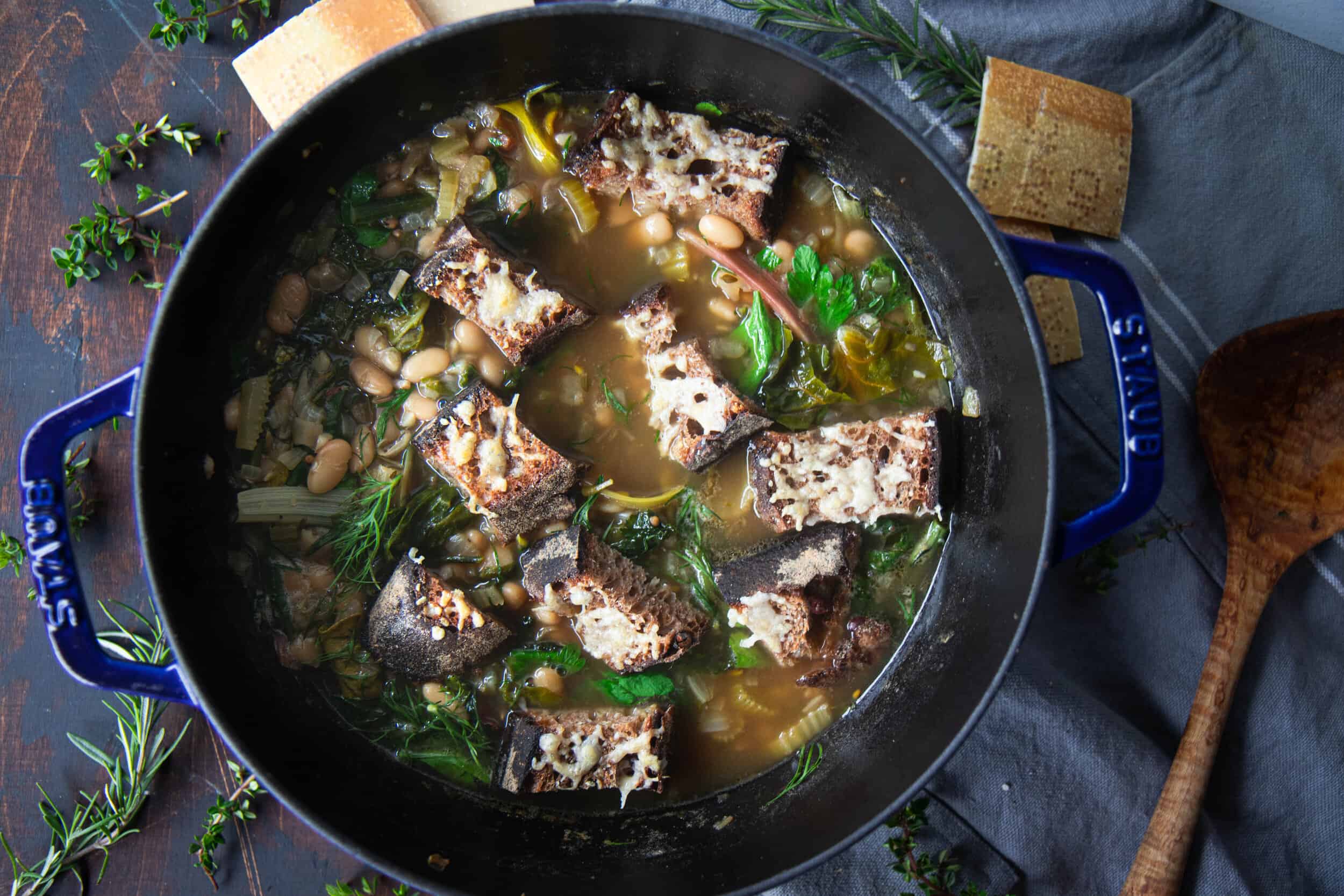 Green Parmesan Minestrone
1

cup

dry white northern beans

6-7

ounce

parmesan rind

3

sprigs

rosemary

4-5

sprigs

thyme

2

sprigs

oregano

1

teaspoon

salt

1

bay leaf

5

cups

water

2-3

tablespoons

extra virgin olive oil

1

fennel bulb,

,

sliced thinly (add an additional two celery stalks if you don't have fennel)

1

yellow onion

,

diced

2-3

celery stalks

,

sliced thinly

4

garlic cloves

,

minced

1

teaspoon

fennel seeds

1

teaspoon

mustard seeds

1/4

teaspoon

black pepper

Sea salt

,

to taste

2

handful of greens

,

5 ounces

4

slices

rustic bread

,

cut into bite size croutons

1/4

cup

grated fresh parmesan or gruyere cheese

Fresh herbs

,

for topping and garnish
Make the Broth & Cook the Beans:
In instant pot, add beans, parmesan rind, rosemary, thyme, oregano, salt, and bay leaf.

Add 5 cups water. Cook at high pressure for 32 minutes and let naturally release. The beans will be cooked, but have a bit of a tie to them- don't worry. You'll be cooking them further. IMPORTANT: You want to save both the cooking broth and the beans!

Removing the herbs and parmesan: I personally found it easiest to use some tongs to remove the sprigs and the parmesan rinds. If a few leaves get loose, it's fine. If that bothers you, you can choose to pour this into a bowl and strain with a colander; then pick out the herbs.
Make the Rest of the Soup:
While you can continue this in the instant pot, I personally feel like finishing this in a pot is worth it- yes, it's another pot to wash, but you can control the heat a lot more. The saute method on the instant pot only has one option, meaning you can't adjust it as much.

Get a 3 1/2 to 4 quart pot and put over low to medium heat. Generously coat with olive oil. Once hot, add in fennel, onion, celery, and garlic. Stir occasionally and saute until onion is beginning to brown, about 5ish minutes.

Add in fennel seeds, mustard seeds, black pepper, and sea salt. Saute for an additional minute.

Add in beans and cooking liquid. Simmer for 30 minutes.

Add in greens and simmer until greens are wilted, about 2-3 more minutes.

Preheat broiler. Sprinkle grated cheese over bread and place on top rack. Broil under cheese is melted and just beginning to brown.

Add fresh herbs (optional- I just tossed in some dill and parsley) and top with cheesy croutons.