These paleo meatballs are one of my weekly dinner go to's during a busy week: they're easy, require just a single bowl to prep and one skillet to cook, and are packed in flavor. Tons of fresh herbs and lemon zest brighten these up, making no dried spices necessary. 
While you don't need everything on this plate to make this a full meal, I highly recommend this 5-minute dill yogurt sauce- my play on tzatziki.
I quickly chopped some red onion, cucumber, and red pepper (I would have added tomato, but didn't have it on hand at the time) for a quick Greek side salad and used leftover homemade naan (use store-bought to make this quicker or serve with rice). Roasted carrot fries, while not quite as essential, are one of my favs and add in a smoky charred flavor that compliments the brightness of everything else.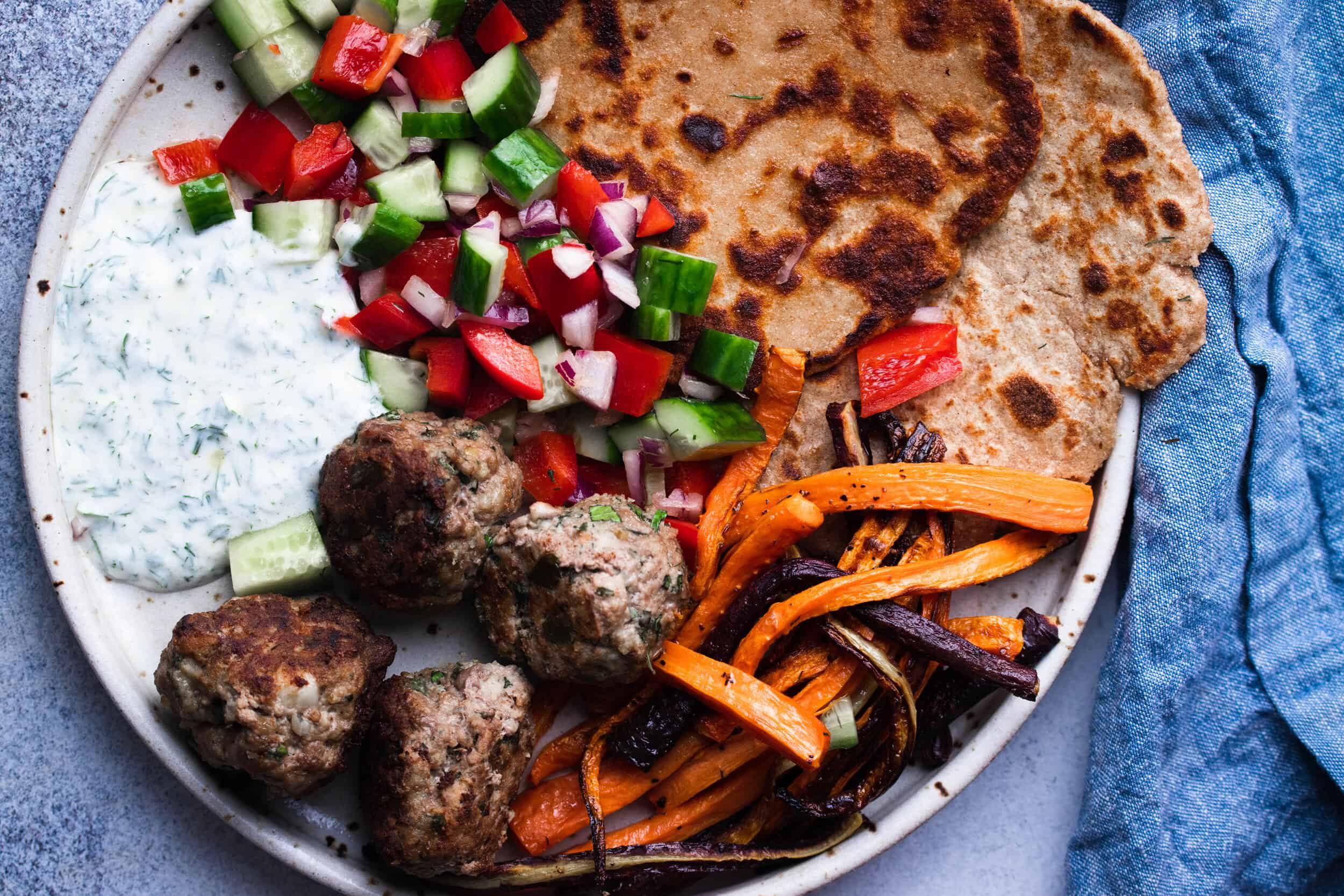 Mediterranean Paleo Meatballs with Tangy Dill Tzatziki-Ish Sauce
Serves 3-4
A note: This sauce is quite strong on the dill, so you gotta like dill to enjoy this! You could easily sub in another fresh herb like basil, cilantro, or parsley if you have those on hand or are speaking to you more (you could also do a combo like the meatballs).
1/4

cup

almond meal

1

pound

ground beef or lamb

,

I use between 80- 90% lean beef

1

large egg

1

teaspoon

diamond kosher salt (if using any other salt, use half the amount)

2

garlic cloves

,

minced

1/4

cup

chopped red onion

,

use some of the leftover red onion for the greek salad

Zest of 1

lemon

,

(use the juice for the yogurt sauce below)

1/2

cup

fresh herbs

,

I like to do a combination of mostly basil and cilantro with a bit of dill and oregano- use at least two different herbs if you can
Tangy Dill Tzatziki-Ish Sauce
2

packed tablespoons

chopped fresh dill

,

(or mix of herbs like above)

1/2

cup (4 ounces)

plain 2% fat skyr or yogurt

2

tablespoons (1 ounce)

fresh lemon juice

,

(about 1/2 lemon worth)

1

tablespoon

extra virgin olive oil

Sea salt,

,

to taste (don't skimp though! At least 1/4 teaspoon)
Preheat oven to 400 degrees.

If making roasted carrot fries, cut the carrots, toss them in oil, salt and pepper, and place them on a baking sheet. As soon as the oven hits 400, pop them in for about 20-25 minutes. They take longer than the meatballs, so to time this well, I'd pop them in before you start sauteeing the meatballs.

In a large bowl, add ground beef, almond meal, egg, sea salt, garlic, onion, lemon zest, and fresh herbs. Mix well with hands (I like to wear disposable gloves during this) until everything is well incorporated. Divide into 16 equally sized balls (about a heaping tablespoon for each ball). Set aside.

Heat a large oven-proof wide skillet to medium heat. Add in enough oil to generously coat the bottom., Add in meatballs and let sit to brown (about 2 minutes/side; rotate after 2 minutes). Once brown on the outside, place in oven to finish cooking.

Bake until the meat reaches 155 degrees, about 5-10 minutes (this is quite varied because I've done this in a few ovens and they all took very different times (it will depend on the type of meat, the amount of fat in the meat, and the size of the meatball)- use a thermometer to help ensure perfect cooking or cut one in half to see that it is fully cooked).

Combine all ingredients in a small bowl and mix with a fork until yogurt and lemon juice are well incorporated into each other.