This is barely a recipe, but the beauty is in that simplicity. Here I've detailed out my preferred method for poaching eggs to somewhat painstaking detail. Why? Well poaching was one of those things I feel like I should have mastered about 10 years ago, but then was always nervous about messing it up so didn't attempt it. I've started doing it about once/week for a change to my normal fried eggs and after many times, found the method that is most efficient and successful. If this is your first time poaching, have two eggs, just in case one doesn't work out in the way you wanted- it'll still be edible, but perhaps not look as good. And you'll quickly get the hang of it, I promise.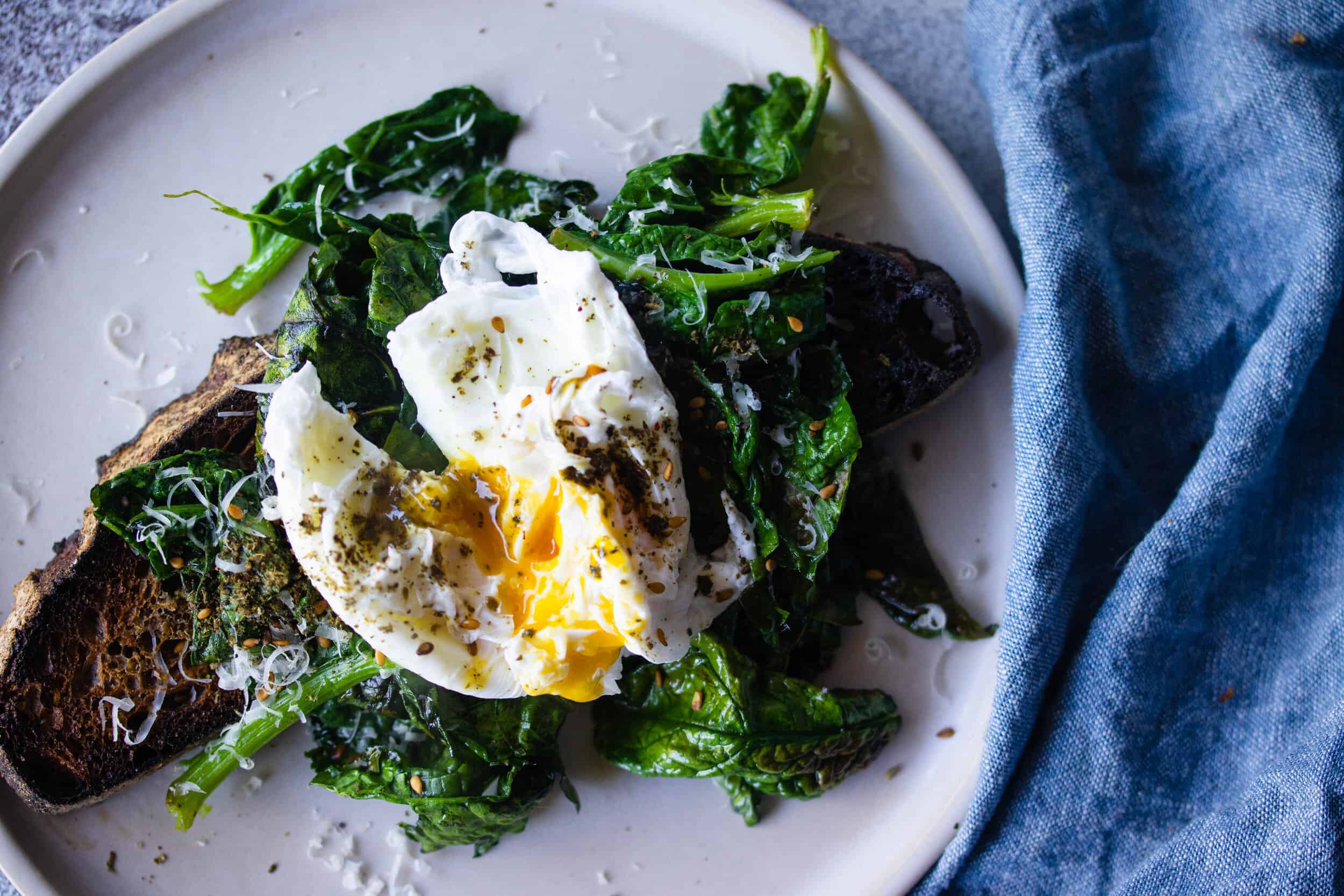 Poached Egg Toast
1

large egg

1

tablespoon

extra virgin olive oil

1

cup

tightly packed spinach

sea salt

,

to taste

1

teaspoon

mild vinegar

,

(white wine, rice vinegar)

1

slice

rustic whole grain bread

fresh parmesan

,

for topping

optional: flaky sea salt and za'atar

,

for topping
Get the egg ready to be poached. Fill a small pot 3/4 of the way with water. Cover and place on high heat until rapidly boiling. While waiting, I will often start sauteing the spinach and toasting the bread (step 5).

Once boiling, remove the cover- it will bubble less vigorously from this point on, which is fine, but keep the heat on high. Add in just a touch (about a half teaspoon) of vinegar (Why? It helps the egg whites firm more quickly).

Using a whisk, whisk vigorously to create a whirlpool. Add in egg. See below for my details on how I like to add in the egg:

You can crack your egg into a separate bowl and then add from there, but I've gotten better results keeping the egg in the shell. The only problem: you need to do it one handed. To do this…

1. Vigorously whisk the water to create a whirlpool.

2. Crack the egg just slightly (without fulling cracking).

3. The whirlpool will have died down a bit, so go back to whisking again for about 5 seconds to bring it back to life. Then very quickly fully crack and add in the egg.

4. ** The key is that there is a "whirlpool" when you add the egg to make sure it collects properly. Even that extra second needed to fully crack the egg is precious time, so by having it partially cracked, the timing will be better.

Cook egg for 3 minutes, uncovered in water. The water should continue to be at a medium boil. Remove with a slotted spoon and set aside.

Toast your bread and saute the spinach. Place a medium skillet over medium heat. Add extra virgin olive oil to coat the bottom of the skillet.. Add in spinach and saute until wilted, but still vibrant green (about 5 minutes). Season and place spinach on top of toasted bread.

Place egg on top of spinach and toast. Top with freshly grated parmesan and za'atar.