This recipe is inspired by a stuffed poblano recipe I've made from NYT Cooking. This recipe showed me the difference adding in fresh tomatoes can make compared to a tomato sauce- they add depth, but are much more subtle so other flavors shine.
I've made this recipe a few times, slowly adjusting and trying out different methods. This final recipe is my favorite because:
It has a LOT more vegetables in it. I've added in a cup of mushrooms, a bunch of kale, and bell peppers. It makes this a whole meal that doesn't need a side but also doesn't feel super heavy.
It cuts corners in the right ways to make this convenient and simple. The original recipe had a few things I found inconvenient- ground cloves? I have a pretty extensive spice cabinet, but cloves don't make the cut and I don't like buying a spice I'll only use for one recipe. 1/4 cup chicken stock? Wasteful and not convenient since most containers are at least 4 cups.
Bell peppers add a new flavor and texture which I'm loving (and are easier to find)! I originally tired these as stuffed, but realized this method is better for cooking and serving.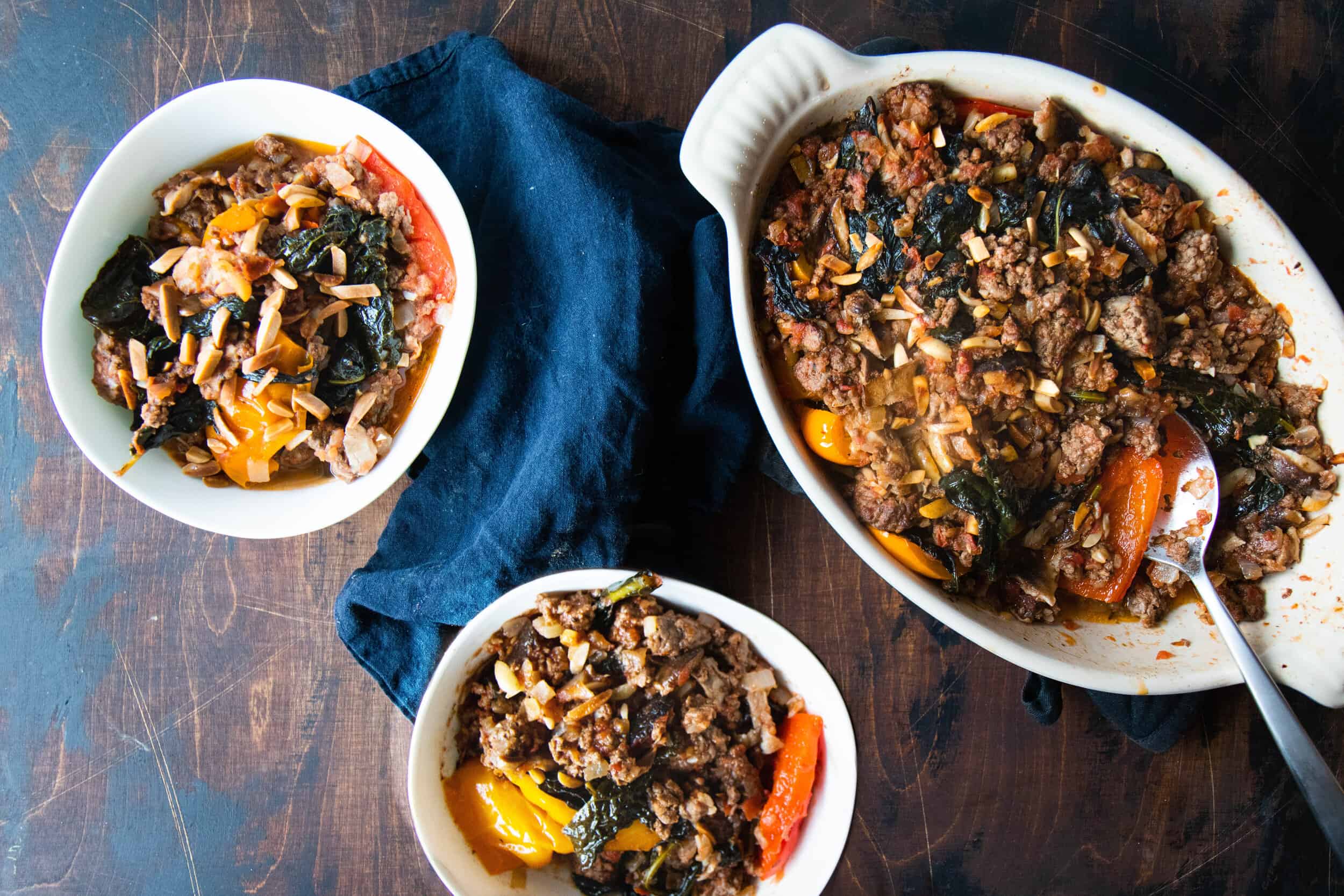 Spiced Tomato Stuffed Pepper Casserole
3

medium or 4 small bell peppers

,

any color works or poblano peppers

3 to

matoes

,

chopped

3

garlic cloves

,

chopped

juice of 1 lime

1

yellow or white onion

,

chopped (divided- use half in tomato mixture and half to saute)

2

tablespoons

or so extra virgin olive oil

1

pound

ground beef* + 3/4 pound shitake mushrooms

,

diced (can also make this 2 pounds of beef and omit mushrooms if that's more your thing)

2

teaspoons

Italian seasoning or oregano

1/4

teaspoon

cinnamon

1

teaspoon

sea salt or 2 teaspoons kosher salt

1

teaspoon

coconut sugar or brown sugar

optional: 1 small bunch (5 ounces or so) lacinto kale (tough stem removed) or spinach

1/2

cup

slivered almonds

optional: 3/4 cup shredded mexican cheese
Preheat oven to 375 degrees.

Add tomatoes, garlic, juice of 1 lime, half of the chopped onion, and 1/4 cup water into a blender. Blend until fairly smooth and set aside.

Cut the tops of the bell peppers off and cut in half. Remove seeds and any white pulp on the inside. Set aside.

Heat a large skillet over medium heat and add in oil (NOTE: To make this a one pot meal, use an oven-proof skillet like a cast iron). Once hot, add in the other half of the chopped onion. Saute until lightly browned, about 2-3 minutes.

Add in ground beef and continue to saute. Stir occasionally (but not too frequently- it won't brown if you stir too much) until the meat is browned, about 6 minutes.

Add in mushrooms (if using), italian seasoning, cinnamon, sea salt, coconut sugar, & tomato puree from step 2. Bring to a heat high so it is is boiling. Once boiling, reduce heat to a simmer. Simmer until most of the liquid has evaporated, about 15 minutes.

If adding greens: When about 3/4 of the liquid has evaporated (see my pic- after about 10 minutes), add in kale/spinach. Cover pan for 1-2 minutes to help kale steam and wilt down. Then remove cover and stir in. Continue to saute for another few minutes until liquid has evaporated.

Stir in almonds.

Push beef mixture to one side of skillet and add in peppers to bottom of pan and then cover back with beef.

If not using an oven proof skillet, place bell peppers face up into a square 9×12 glass/ceramic baking dish- it should be big enough for all the bell pepper halves to make one layer). Spoon meat mixture over bell peppers.

If adding cheese, add here before you put in the oven. Sprinkle on top!

Cover skillet/baking dish with a top or foil and bake for 35 minutes, until peppers are slightly soft.

Uncover and bake for an additional 5 minutes.