While I don't normally bring out the Instant Pot during warmer months, it's my go-to for any type of shredded meat. Each time, I get perfect results in a relatively quick period of time. It also means you can 1) make this in advance (perfect for small gatherings) and 2) avoid using any other heat source- no oven or stovetop.⁠ I'm not huge on red meat, but I'm a sucker for the barbacoa at Chipotle, and I wanted to recreate my own version of it. By using an Instant Pot, this Instant Pot Chipotle-Style Barbacoa is almost the same amount of active time and effort as actually going to Chipotle itself.
This recipe also comes with some other bonus perks. My favorite: it's great for leftovers (more on that below). And just like any homecooked recipe, you have more control over exactly what goes in it. The results? Better flavor and most likely healthier (no I haven't done the actual research on it, but I'm willing to bet on it). You know and see exactly what's going into that sauce. And because of that, you can tinker and add more or less of certain ingredients based on your personal preference.
Behind the Recipe: Instant Pot Chipotle-Style Barbacoa
My face wrinkles up into a cringe as I write this: This recipe has been sitting in my iPhone notes app for literally YEARS! Why so long? Well recipe testing and development looks a bit different for me these days. It has to be centered around practicality- whatever recipe I test is generally our dinner. I may do a recipe and then not test it out for another 2-4 weeks or so just because having the same dish over and over again gets old.⁠
That being said, years is a bit ridiculous. At first, I was making small tweaks and adjustments. Then I was waiting on a good photo that really did this recipe justice. Then it was just a lack of time. The last few times I've made this recipe, the only note I've had is that this recipe is ready to go.⁠
In terms of those small tweaks and adjustments, there are a few key ingredients here that bring on the smoky flavor and a level of depth in such a quick amount of time. The first: peppers in adobo sauce. I always have at least one can in my pantry. I tend to use the sauce that the peppers are in more than the peppers themselves. Depending on my mood, I'll toss in a pepper or two. The more peppers you add, the spicier it will be. The second: smoked paprika. Yes, smoked paprika is different than regular paprika. Yes, I've used regular paprika in a pinch. But it's really not the same. Get smoked if you can! Lastly: cocoa powder. It may sound unusual, but it works and adds in a subtle layer of chocolate.
Leftover Ideas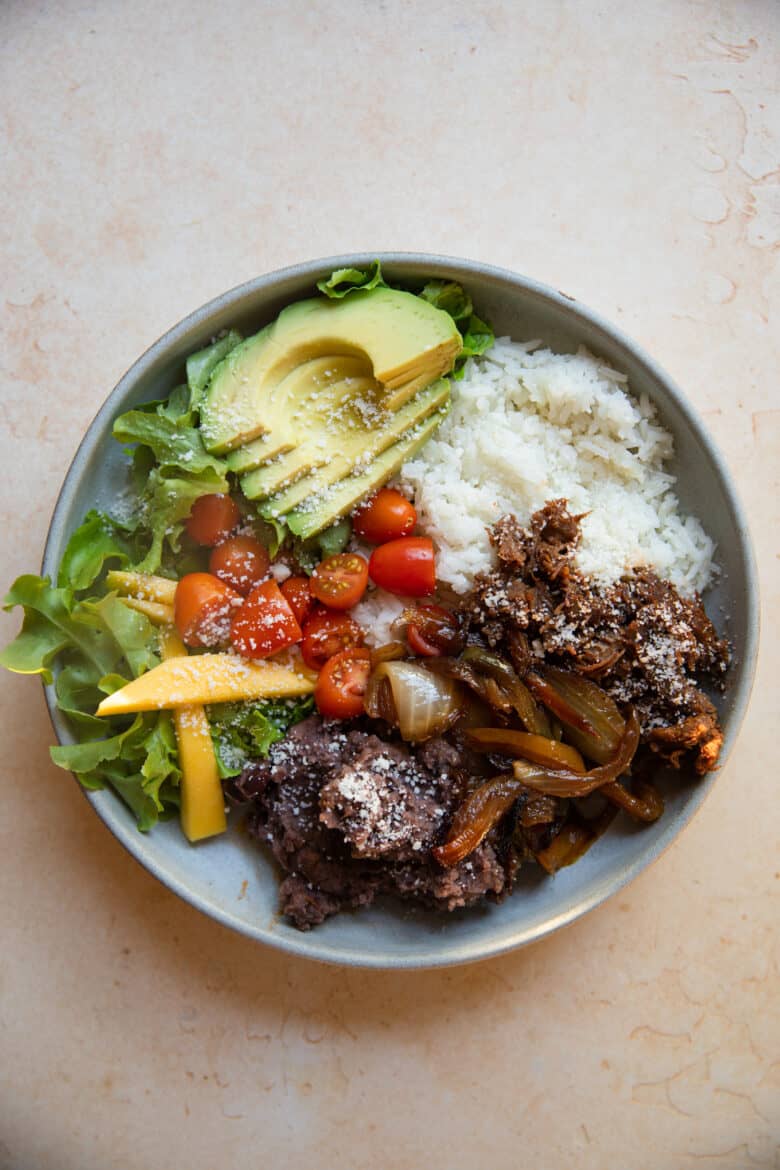 I've used this Instant Pot Chipotle-Style Barbacoa in many different ways for leftovers. Of course, you can make a similar-style taco the next night- that's the easiest. But there are other fairly simple recipes you can do to make it feel like an entirely different meal, but with minimal effort.
My favorite is a Chipotle-Style Burrito/Salad Bowl. I'll saute or roast a veggie or two (sauteed peppers and onions are easy and on theme) and then add in some fresh tomatoes, mango, and whatever else I have on hand (avocado/guac is generally a non-negotiable in my book thought). Add in some rice and lettuce and dinner is served.
Another option is to make a nacho-style dinner. The ingredients are pretty similar, just in nacho form. Load up some nachos with the barbacoa, sauteed peppers and onions, and lots of cheese. Bake until the cheese is melted. Then add some freshly diced tomatoes or salsa on top.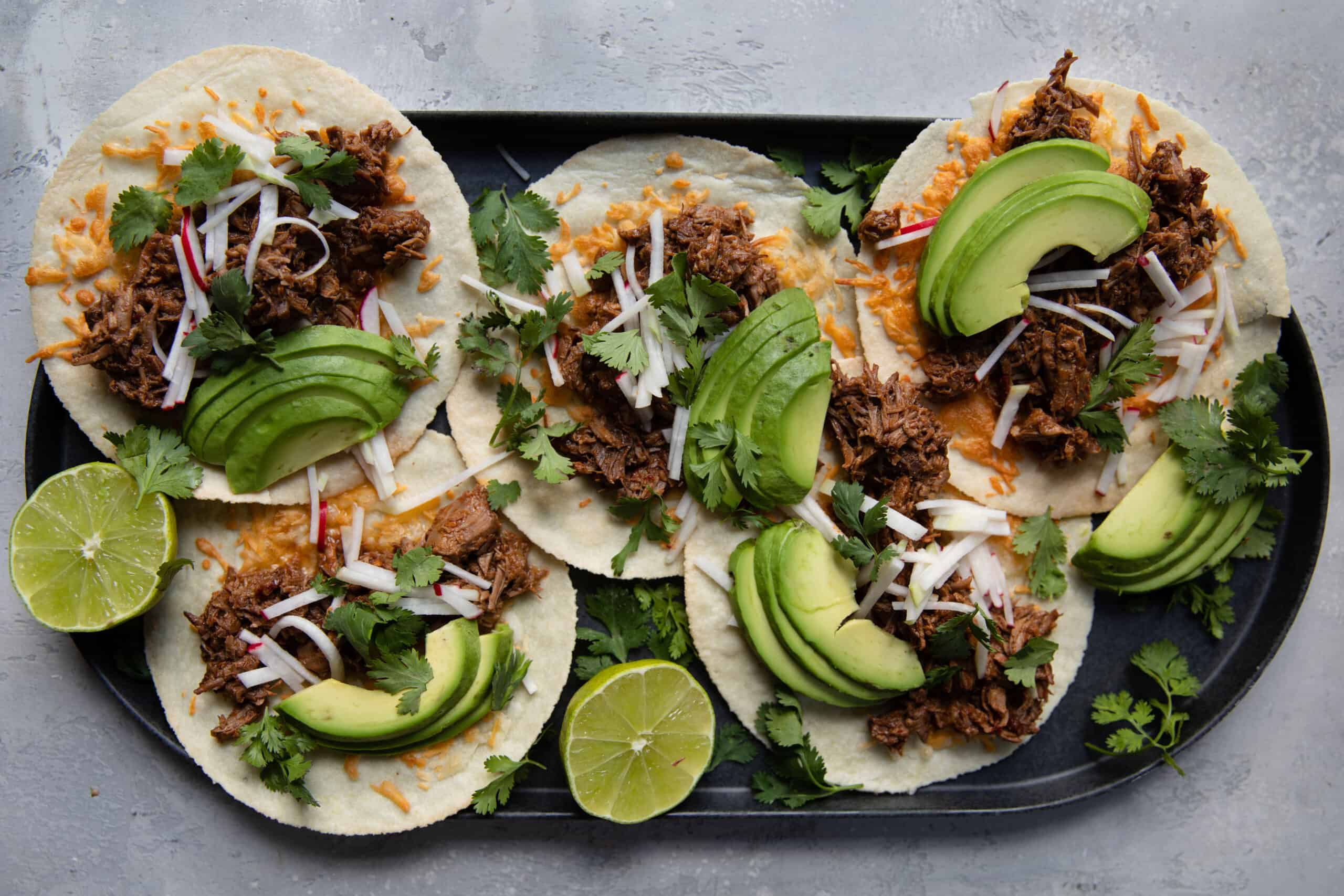 Instant Pot Chipotle-Style Barbacoa
1

pound

chuck roast

,

cut into 1" cubes

2

teaspoons

diamond kosher salt (if using any other salt, use half the amount)

1/2

white onion

,

diced

1

teaspoon

cumin

2

teaspoons

smoked paprika

1

teaspoon

unsweetened cocoa powder

2

tablespoons

adobo sauce from a can of chipotles in adobo sauce (+ 1 pepper)

,

add 2-3 peppers if you like it spicier

1/2

cup

tomato sauce

1/3

cup

water

1

tablespoon

light brown sugar or coconut sugar
Add in all ingredients except chuck roast in instant pot. Stir to combine.

Add in chuck roast and stir to coat it in the sauce.

Cover instant pot and set for high pressure for 38 minutes. After 38 minutes, wait 5 additional minutes and then do a quick release.

Let meat cool slightly before shredding and serving. I reserve some of the sauce if needed, but normally do not use all of it.

For leftovers: Store in an airtight container in the fridge for up to a week.