As I begin to understand the art of baking and dabble in a variety of different bread recipes, I've gained an appreciation for recipes that are simple. At first, this recipe didn't seem approachable, but after a few times, I realized that the active steps only take a few minutes. Most of the work is done by the bread itself- it just needs time to rise.
So yes, this will take about half a day to make and requires a bit of planning to time it right, but the actual steps themselves are super easy. Also- even after doing this recipe at least five times, the surprise of seeing the dough poof up to double its size never gets old. There's something so satisfying and magical about it.
As for this "focaccia garden" trend of decorating it with vegetables on top… totally jumped on the train and don't regret it. Not only does it look stunning, but I loved the addition of flavor from the tomatoes, peppers, and onions.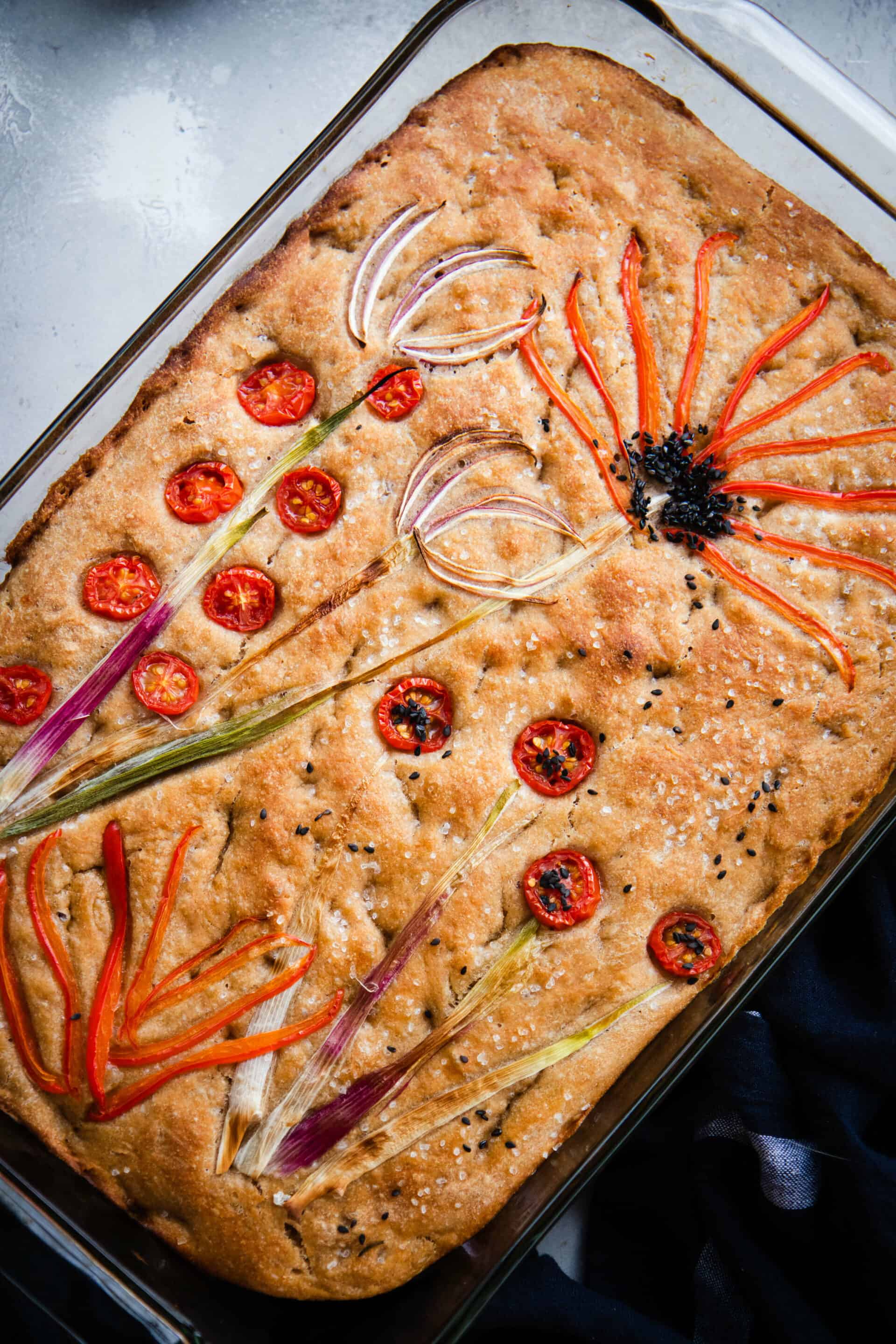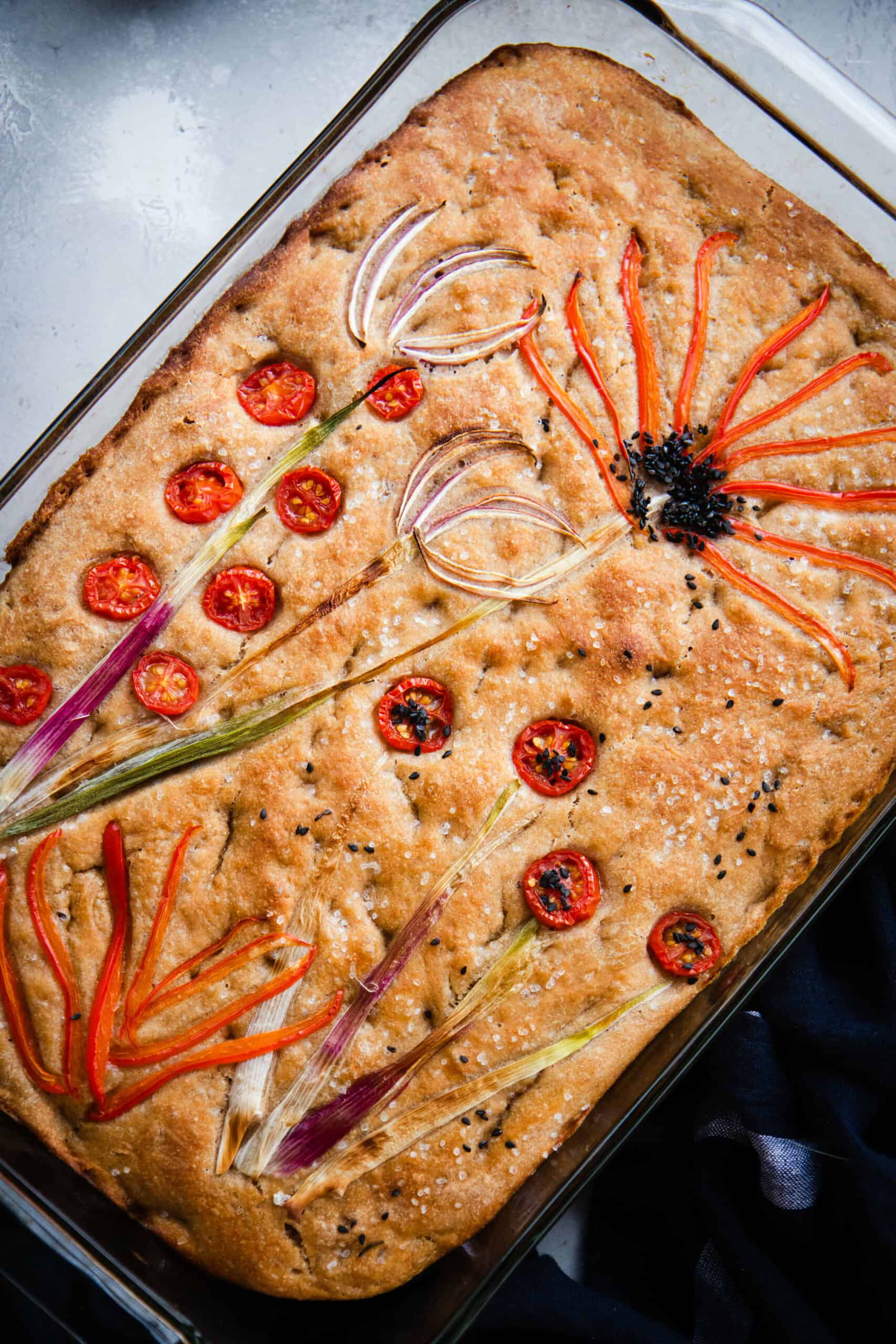 Whole Wheat Focaccia
Adapted from Bon Appetit
Time: 8-10 hours (about 6 hours rise time), 30 minutes active
NOTE: I have halved this recipe because I found the first time I did this, it just simply too much focaccia for a small household. While we ate it for leftovers the next day, this is best eaten within a day or too. Halving it was the perfect amount to have it for dinner and leftovers the next day. If making it for a larger crowd, just double everything and put in a 13×9'' or 18×13'' pan (the smaller pan will result in thicker focaccia).
1 1/8

teaspoons

(2.5g) active dry yeast (half 1 1/4 ounce envelope)

1

teaspoon

(7g) honey

10.5

ounces

(1 cup + 3 tablespoons) warm water (115 degrees or so)

2.5

cups

white whole flour (282g)

, OR 1.5 cups whole wheat flour (170g) + 1 cup all purpose flour (120g)

* If you want a lighter, fluffier foccacia, use more all purpose flour and reduce the whole wheat flour (whole wheat is generally more dense). I've also done 1.5 cups white whole flour and 1 cup all purpose, which resulted in a very light and fluffy bread.

2

teaspoons

sea salt

~1/4 cup olive oil

,

divided throughout the process
Optional vegetable toppings for decoration:
1/4

cup

cherry tomatoes

,

sliced into thirds

2

scallions

,

sliced lengthwise into small strands

1

red or yellow pepper

,

very thinly sliced

1/4

red onion

,

very thinly sliced

1

tablespoon

black sesame seeds
* Bon Appetit has some nice pictures/videos of this step by step which I highly recommend if you're doing this for the first time!
Place yeast, honey, and water in a medium bowl. Whisk well to combine and let sit for 5 minutes. You should hear and see some fizzing, which means your yeast is activated.

Add in whole wheat flour, all purpose flour, and salt. Mix using a wooden spoon or spatula until dough is shaggy and flour is incorporated.

Get a large bowl and place about 1-2 tablespoons olive oil (enough to coat the bowl generously). Place dough into that bowl and lightly rotate and toss the dough with your hands to coat in oil. Cover with wrap and let sit until doubled in size and quite bubbly, about 3-4 hours at room temperature (you can also do this in the fridge for 8 hours-1 day).

Get a 9×9 square baking dish or a 10'' deep cast iron skillet and coat well in oil- this is important- The first time I did it I was too skimpy on this and it stuck to the bottom- coat it well!

"Punch" down the dough by using two forks to gently lift up the edges of the dough and bring to the center. Rotate bowl and repeat two more times (see my video or Bon Appetit's pictures on how to do this). Place dough in baking dish and let sit in a warm spot until doubled in size, about 2-3 hours.

After 2-3 hours, preheat oven to 450. Poke lightly with your fingertips to make small indentations (like dimples) in the foccacia. Arrange vegetables on top to make flowers or a design or your choice.

Bake until golden brown, about 20-25 minutes.