Looking for an easy, relatively quick, and healthy weeknight meal? Okay, let's be real: who isn't. In addition to being all of those things, this 30 Minute Shrimp with Roasted Red Pepper Sauce is one of my all-time favorite recipes (and I have my good friend Tess to thank for her own roasted red pepper shrimp recipe that I adapted from!). The first time I had her dish, I was obsessed with the unique flavors. It was sweet, a bit tangy, and the red peppers SHINE.
In particular, I was intrigued by the use of sherry and sherry vinegar. I hadn't explored these ingredients before, but I discovered that they add complexity and depth to this sauce. Using Tess' recipe as inspiration, I've modified it so 1) it can be cooked within 30 minutes 2) the recipe only needs one pan 3) it has more veggies in it and no added sugar.
Oh and bonus points: You can bottle this sauce and store it in the fridge for up to a week. It's a great addition to anything (eggs, grilled cheese, veggies).
Behind the Recipe: 30 Minute Shrimp with Roasted Red Pepper Sauce
Shrimp: This great protein source cooks super quickly, making it ideal for a 30 minute meal.

Pro Tip: Use frozen shrimp and defrost day before or morning of. Keep some shrimp in your freezer so you can make this more on a whim, since most of the other ingredients are pantry ingreidnets.
How to defrost shrimp:

The best way (if not in a time crunch): in the fridge. Just place in the fridge the day before or in the morning.
The quickest way: under running room temp/warm water in the sink. Keep the shrimp in a bag so they don't get waterlogged. While culinary school will tell you to keep the water running, I often will use warm water and then change out once it gets cold (every 15 mintues or so) to conserve water.

Roasted red peppers: The star. They give this sauce a huge flavor boost. While there are tomatoes in it as well, the peppers give it a totally different feel than your typical tomato sauce.

Jarred or Make Your Own: Yes, you can make your own roasted red peppers if you'd like.
How to make your own: Place the whole pepper over a burner (you need a gas stove) or in the broiler until the skin is completely charred. The place peppers in a covered container and allow to steam for about 10 minutes. Lastly, uncover and let cool slightly until you can peel the charred skin off. You'll be left with a velvety smooth flesh. Cut and remove seeds and use.
Other Shrimp Recipes You May Enjoy: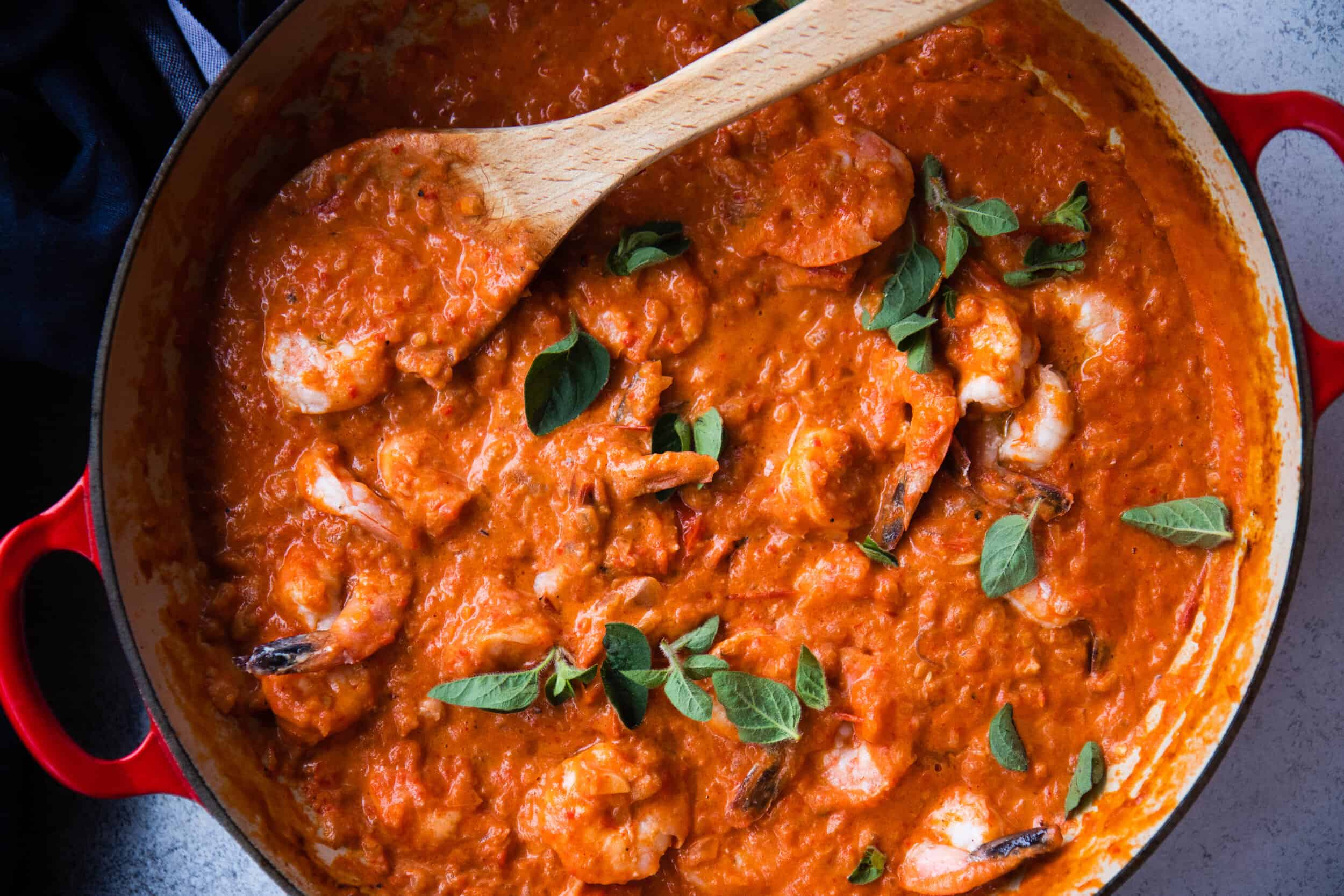 30 Minute Shrimp with Roasted Red Pepper Sauce
1-2

tablespoons

olive oil

1

vidalia onion

,

diced

3

garlic cloves

,

minced

1/2

cup (4.5 ounces)

dry white wine

2

tablespoons (1 ounce)

sherry cooking wine

2 whole (13 oz, about 2 cups, diced)

heirloom tomatoes, diced

,

OR 1 can diced tomatoes (If tomatoes aren't in season, this is what I do- you will need to simmer for longer though, because more water needs to evaporate)

⅔

cup

6 ounces chopped roasted red peppers (about 2 large or 3 small peppers)

2

tablespoons

tomato paste

1/2

cup + 2 tablespoons (5 ounces)

coconut milk

,

or 1/2 cup (4 ounces) heavy cream

kosher salt

,

to taste (about 1 teaspoon)

1

pound

shrimp

,

26-30/pound, cleaned and peeled
Heat a large skillet over medium heat. Add in olive oil, onion, and garlic. Saute until onion is lightly browned, about 5 minutes.

Add in tomato paste, white wine, sherry cooking wine, tomatoes and red peppers. Turn heat up to medium/high until wine is bubbling a lot, and then lower heat to a simmer and it is lightly bubbling. Simmer until wine is mostly reduced into a thicker liquid, most of it evaporated, about 10 minutes (if using canned tomatoes, this will be about 15-20 minutes).

Spoon mixture into a blender and add in coconut milk/heavy cream. If using heavy cream, let the mixture cool a bit (not steaming) before adding in cream. Blend on high until mostly smooth (up to you how chunky you want it).

Using the same large skillet (it doesn't have to be cleaned because the sauce will be going right back in in a second), add a touch more olive oil and the shrimp. Saute, stirring occasionally, until shrimp is just turning pink and opaque, but not fully cooked (about 3-4 minutes). Add the red pepper sauce back in and continue to cook until shrimp is fully done, about 4 more minutes.

Top with fresh herbs and serve.
Notes
Serve with:
Grains:
– Brown Rice or Farro
– Good High Quality Bread (maybe with some oil and broiled for a few minutes in the oven)- perfect for soaking up the extra sauce!
– Focaccia
Vegetables
– Roasted or Sautéed Green Beans
– Roasted Cauliflower
– Sautéed Spinach
– Sautéed or Roasted Broccolini