Cioppino has always been one of my favorite dishes. I love a good tomato broth, tons of seafood, and some crusty bread to soak up any leftover broth. While I have a cioppino recipe on my blog that I personally love, I'll usually only make it on special occasions. It doesn't necessarily take too long or have too many steps, but between buying the seafood and the broth needing 30 minutes to simmer, it's not a weeknight meal.
Enter my shortcut recipe: a slightly abbreviated ingredient list, shortened simmer time, and using just shrimp allows this to truly be a weeknight meal. I've also added in a secret ingredient to give the base a bit of creaminess and body. While coconut milk seems like a slightly odd add when using white wine and definitely isn't traditional, it works here. Due to a quick simmer time, this broth needs some body and the coconut milks does the trick. The end result is a mix between a sauce and a soup. Who cares what you call it, as long as it's delicious, right? (P.S. If you really don't like the idea of coconut milk here, just use heavy cream- although I'd half the amount of cream).
Some tips if making this for one or if you have leftovers: the soup itself holds really well, while the shrimp not so much. When having this for leftovers, I"ll keep the broth and then heat it up in a small saucepan on the stove and then add in fresh raw shrimp directly into the hot soup- it will cook within about 5ish minutes or so. 
While I love serving this cioppino style with a toasted baguette, you can also switch it up entirely by what you serve this main with. I've served it with white rice and a sauteed veggie like zucchini or broccoli and it's also delicious, even though it has a different feel.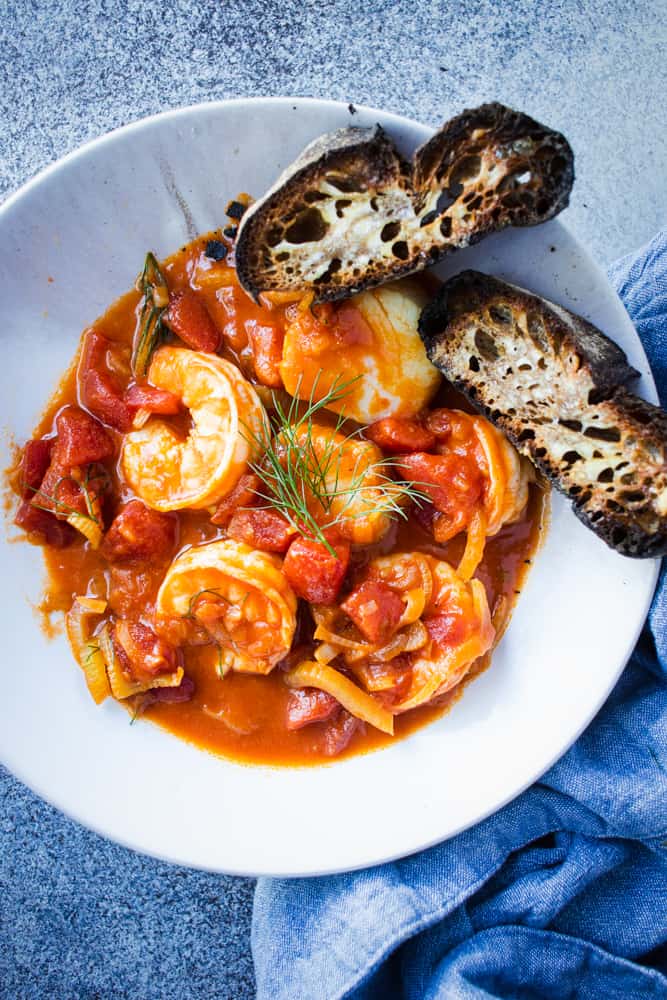 Weeknight Shrimp Cioppino-ish Stew
Ingredients
2

tablespoons

olive oil

(enough to generously coat bottom of pan plus a tablespoon or two for the baguette)

1

small fennel bulb

sliced + 1 few sprigs of fennel for garnish

1

large shallot

diced (about 1/3 cup diced)

2

garlic cloves

crushed (+ 1 garlic clove for baguette if you want)

2

tablespoons

tomato paste

1/2

teaspoon

kosher salt

(or to taste)

1

14-oz

can diced tomatoes

2

tb

dry white wine

4

ounce

coconut milk

1/2

pound

medium shrimp

cleaned and deveined

1/2

baguette

sliced
Instructions
Toasted Baguette:
Preheat oven to broiler setting. Place sliced baguette on a foil-lined baking sheet. Drizzle and rub olive oil onto each slice. You can also add in an extra garlic clove and rub it on each piece if you want!

When adding in the shrimp for the stew (the last step), add the bread and place in the broiler until golden brown, about 2 minutes. **This time can really vary depending on the oven and the height of the rack. Place rack about 6'' away from broiler and check frequently, as it can burn somewhat quickly.
Make the Stew:
Place a medium saucepot (about 4 quart) over low to medium heat.

Once hot, add extra virgin olive oil, fennel, and shallots. Saute over low to medium heat until beginning to brown, stirring ocassionally, about 5 minutes.

Add in garlic and continue to saute an additional minute or two, until garlic is also brown. Season with salt.

Add in tomato paste and continue to saute another minute or two, until the tomato paste has turned a dark red.

Add in diced tomatoes (including the juices) and white wine. Increase heat to medium and stir until liquid has mostly evaporated. Add in coconut milk and stir.

Add in shrimp and continue to cook until shrimp are opaque and fully cooked through, about 5-6 minutes. Serve immediately.