Finding this method of cooking salmon was a serious game changer. Sure, there is a time for sizzling crispy top, but cooking the salmon at a low heat like this results in perfectly flaky and tender salmon that will surprise you.
Additionally, this is so minimal and hands off that even when you're not reaaallly feeling like cooking , you can rally yourself to make this. All you really need is salmon and 1 lemon and 1 orange. No marinating (it essentially marinates while cooking because of the slow cooking time), no chopping, and minimal clean up. Win win win.
It's also perfect for newbies or anyone a little worried about over or undercooking fish because the low temperature makes it easier to monitor towards the end. Serve this with a quick saute of asapragus and rice for a weeknight meal.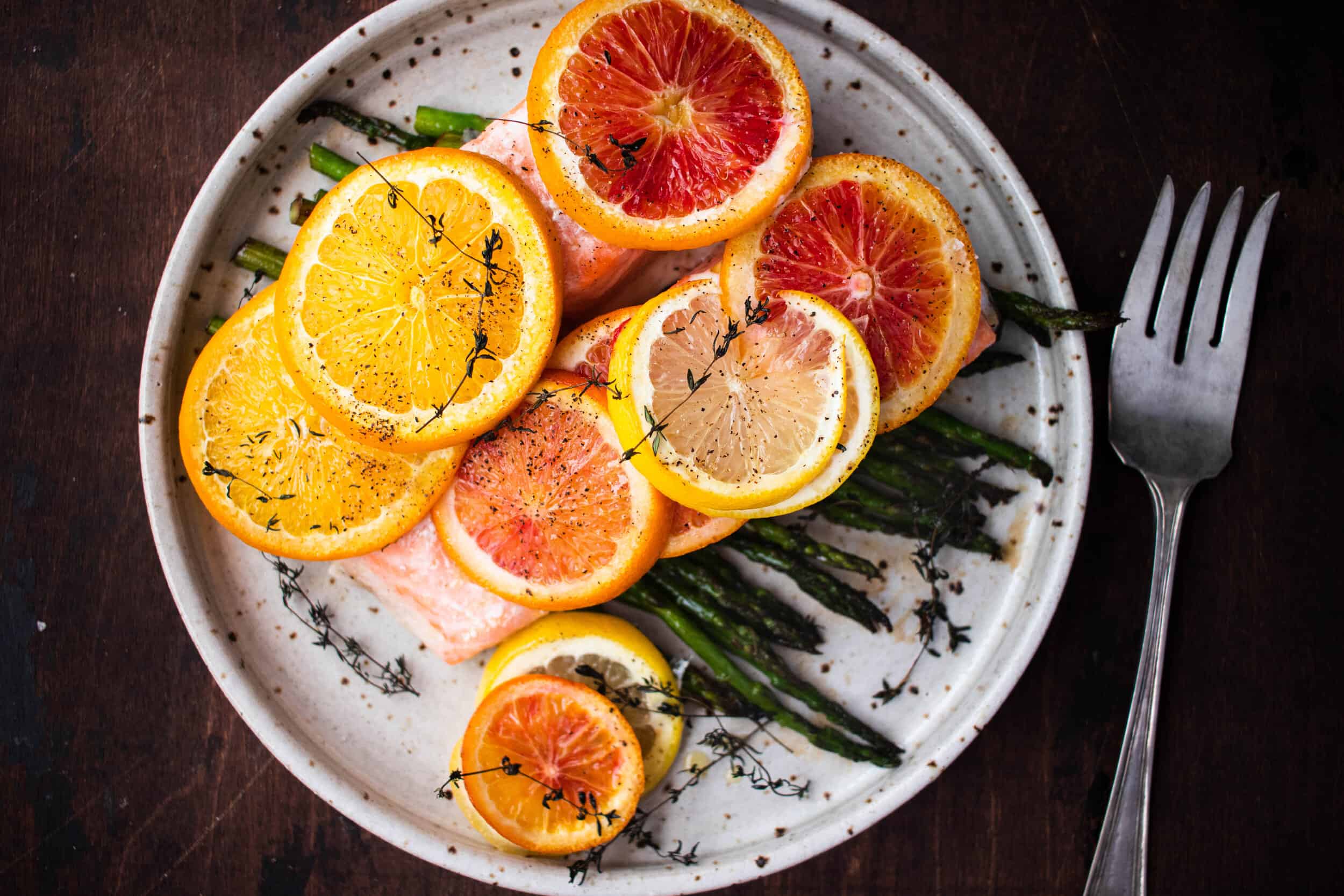 Weeknight Salmon with Blood Orange & Lemon
Difficulty Level: 1Adapted from Alison Roman.
1/2

pound

salmon

1/2

lemon

,

sliced thinly. Use the other half for fresh juice (you'll only use just a bit of it, not all of it)

1

blood orange or regular orange

,

sliced thinly

2-3

tablespoons

olive oil

kosher salt or flaky salt

,

to taste (be generous with your sprinkling)

black pepper

,

to taste

easy sauteed asparagus

,

see recipe below
Pat salmon dry with a paper towel to remove any excess moisture. Place salmon in a deep baking dish and sprinkle generously with salt. Pour or brush about 2-3 tablespoons of olive oil over the salmon- there should be enough that a bit is pooled in the bottom of the dish.

Arrange blood orange and lemon slices over the top of the salmon.

Place salmon in oven and bake until the internal temperature reaches 118-120 for the thickest part (other parts will probably read about 130 which is fine at this point), about 25 minutes.

Squeeze leftover lemon on top of salmon. Serve immediately. You can also use this for leftovers the next day.