As I continue to develop recipes and focus on building a large repertoire of recipes I seriously love, I've discovered there's a "repeat" threshold.
Those recipes that take a long time, have many steps or components, and/or have a lot of cleaning… well they're usually a one and done recipe. Even if I enjoyed them, my motivation to repeat them is pretty low. It just isn't that enjoyable.
So when I found myself 2-3 hours later with an overwhelming amount of bowls, pans, and utensils to clean up after this recipe, I knew it had to be simplified in order for me to make it again. Additionally, I felt like the amount of filling actually in the pumpkin was so minimal given the amount of effort it took.
I've created my own recipe to still enjoy the essence and drama of a stuffed pumpkin, but in a more simple and straightforward way. Fewer steps, components, & cleaning, but still with tons of flavor and more emphasis on the filling.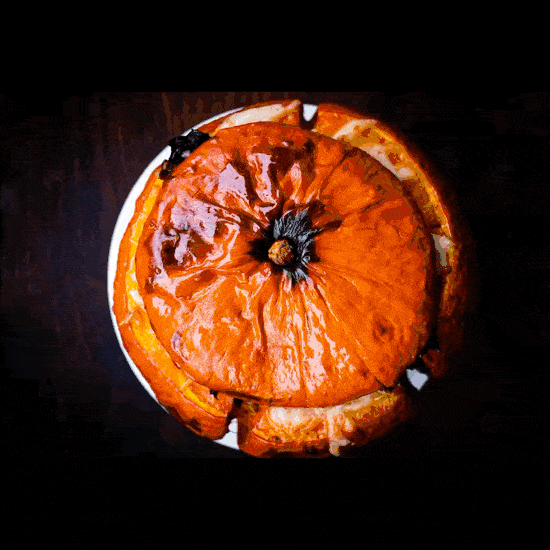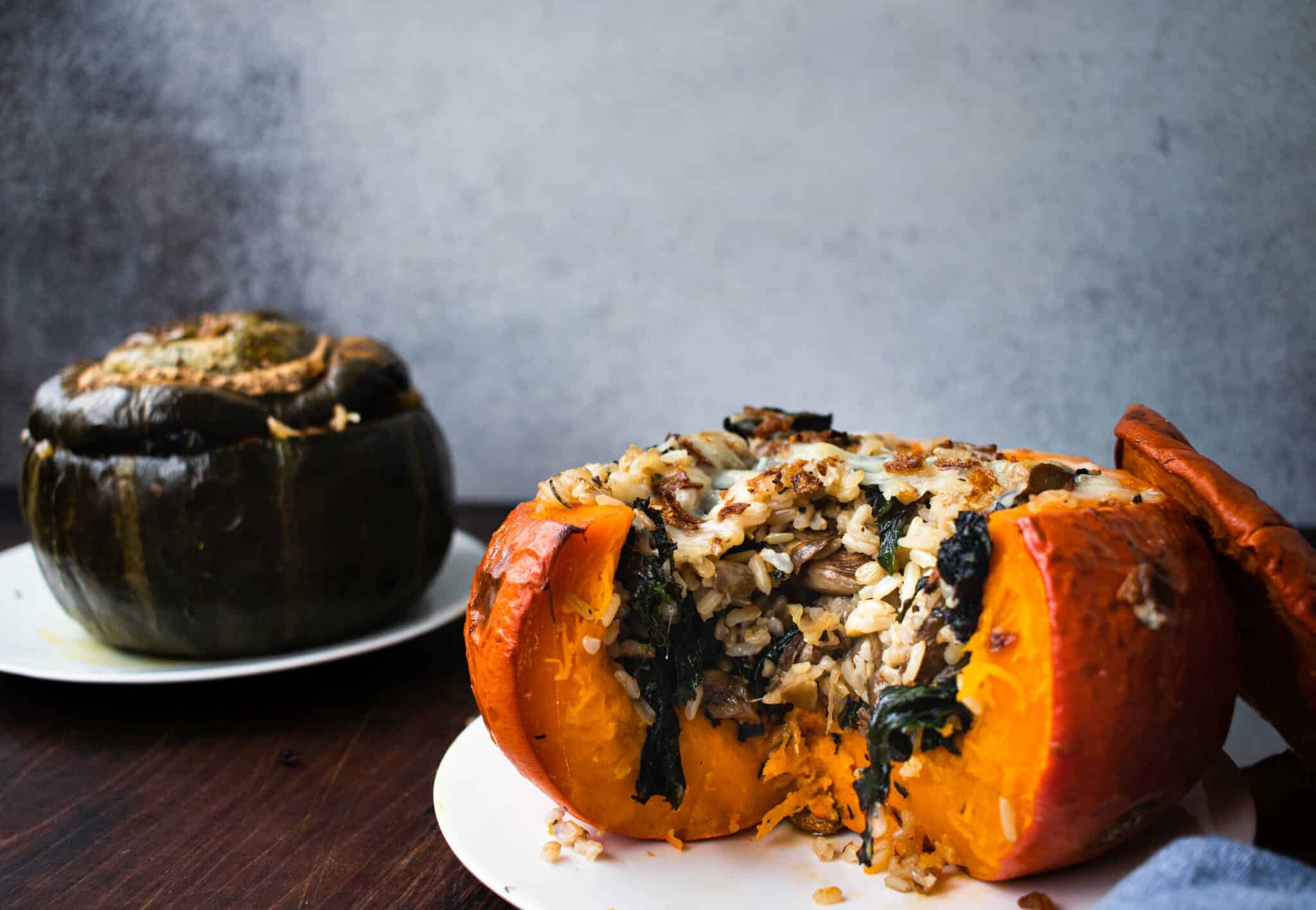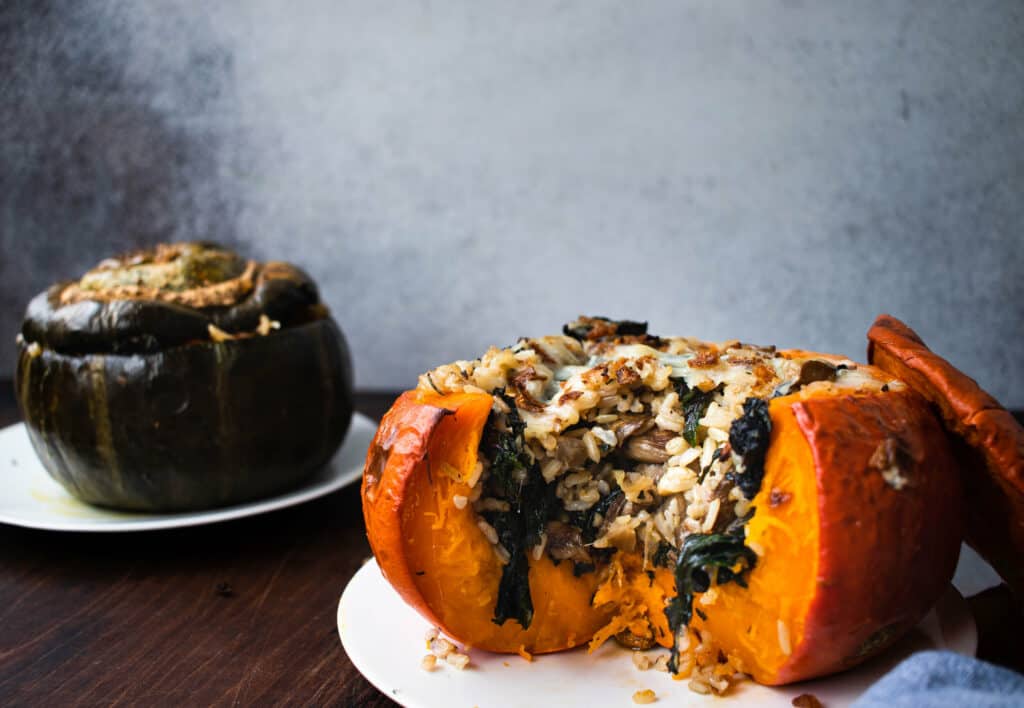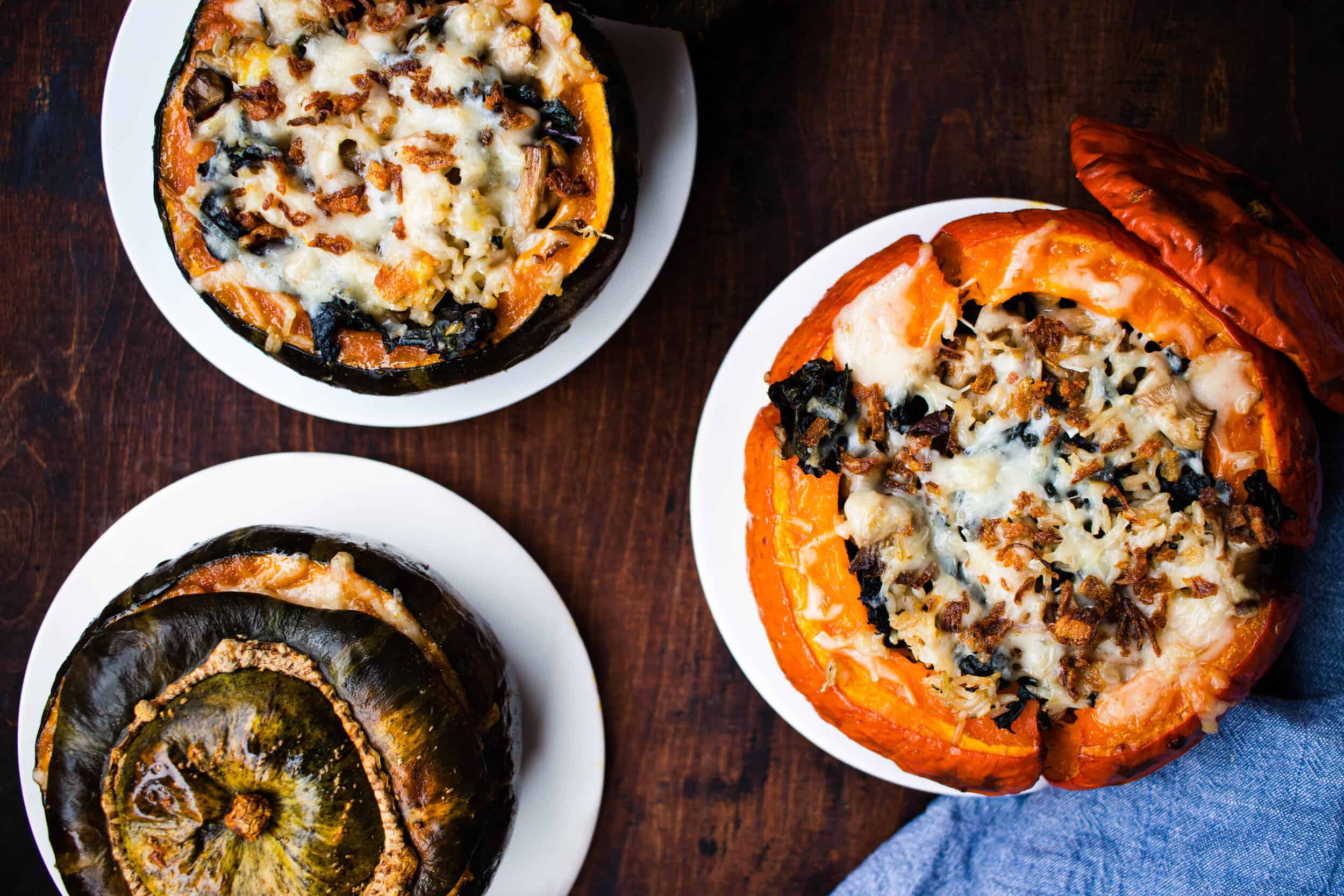 Cheesy Stuffed Pumpkin and Kabocha Squash with Mushrooms, Caramelized Onion, & Kale
Difficulty Level: 2-3
Squash/Pumpkin:
3

small kabocha squash or 2 small calabash pumpkins

1

tablespoon

olive oil
Filling:
3-4

tablespoons

or so extra virgin olive oil

,

divided (You will use about 1 tablespoon for each vegetable when you saute it)

1

pound

oyster or shiitake mushrooms

,

broken up into bite size pieces

4-6

ounces

kale

,

1 small bunch, cut into ribbon strips (you can cut either before or after cooking- either works)

2

shallots or 1 small yellow onion

,

sliced

2

garlic cloves

,

minced

1

tablespoon

chopped fresh thyme + rosemary

,

you can also just choose one if you prefer

2

tablespoons

red wine or sherry

2

cups

cooked brown or white rice

3-4

ounces

gruyere

,

shredded

optional: a few tablespoons crispy fried onions on top
Prepare the Pumpkin/Squash:
Preheat oven to 350. Slice tops of pumpkin/squash- make sure to take off about 1/2'' to 1'' inch- the diameter should be wide enough that you can access the majority of the pumpkin easily. If you don't take off enough, it will challenging to remove the seeds and to stuff later.

Remove all the seeds inside the pumpkin/squash with a large spoon.

Lightly drizzle and rub inside of each pumpkin/squash with about 1/2 tablespoon olive oil per pumpkin/squash. Season with salt and pepper.

Place pumpkin top on pumpkins/squash and set pumpkins on baking sheet. Bake until tender and can be pierced with a butter knife, about 50-60 minutes. Set aside to cool before adding the filling.
Make the Filling:
Heat a large sauté pan over medium heat. Add about a tablespoon of olive oil. Once hot, add in mushrooms (it's okay if they stack to start a bit, they will reduce in volume very quickly). Saute mushrooms over medium heat until brown, about 7-9 minutes. Stir only occasionally, about once every 2-3 minutes- this is key to making them brown! Season just before removing from heat. Place mushrooms in a large bowl and set aside.

In the same saute pan, sauce the kale. Add in another tablespoon of olive oil and all the kale- it's okay if it stacks. Add a tablespoon of water and cover for 1-2 minutes, until it reduces in size. Uncover and continue to saute until wilted and jut beginning to brown, about 7 more minutes. Be sure to season with salt. Add into the large bowl with the mushrooms.

In the same sauté pan, saute onions with seasonings. Add another tablespoon of olive oil and the onions. Saute until just beginning to brown, about 3 minutes. Add in a pinch of salt, garlic and rosemary/thyme and sauce another 2 minutes. Add in red wine/sherry and stir until the liquid has evaporated, about 1 minute. Add onion mixture to mushrooms and kale.

Add cooked brown rice to mushroom, kale, and onion mixture and stir to combine thoroughly. Add in half of the gruyere cheese (2 ounces).
Assembly:
Spoon brown rice mixture into the baked pumpkin until completely full. Any leftovers can be placed in a casserole dish. Top generously with leftover gruyere and sprinkle fried crispy onions if using. Do not place the top of the pumpkin/squash back on top.

Bake at 350 until cheese has fully melted, about 15-18 minutes.