This recipe is a riff off of my original green falafels recipe I made about a year ago- I still love falafels as a protein source for my lunches, although I wanted to find ways to make this easier and simpler. You do really need a food processor for this one, but if you have it- trust me it's SUPER simple. Just toss everything in and you're basically done.
This parsley dressing is also adapted from another herby dressing I made, but with sage. I upped the yogurt a bit to really get that tangy flavor going on. As I tried to think of a descriptive and catchy title for it, I realized this is actually SUPER similar to a green goddess dressing. So I'm going to consider my take on a green goddess dressing.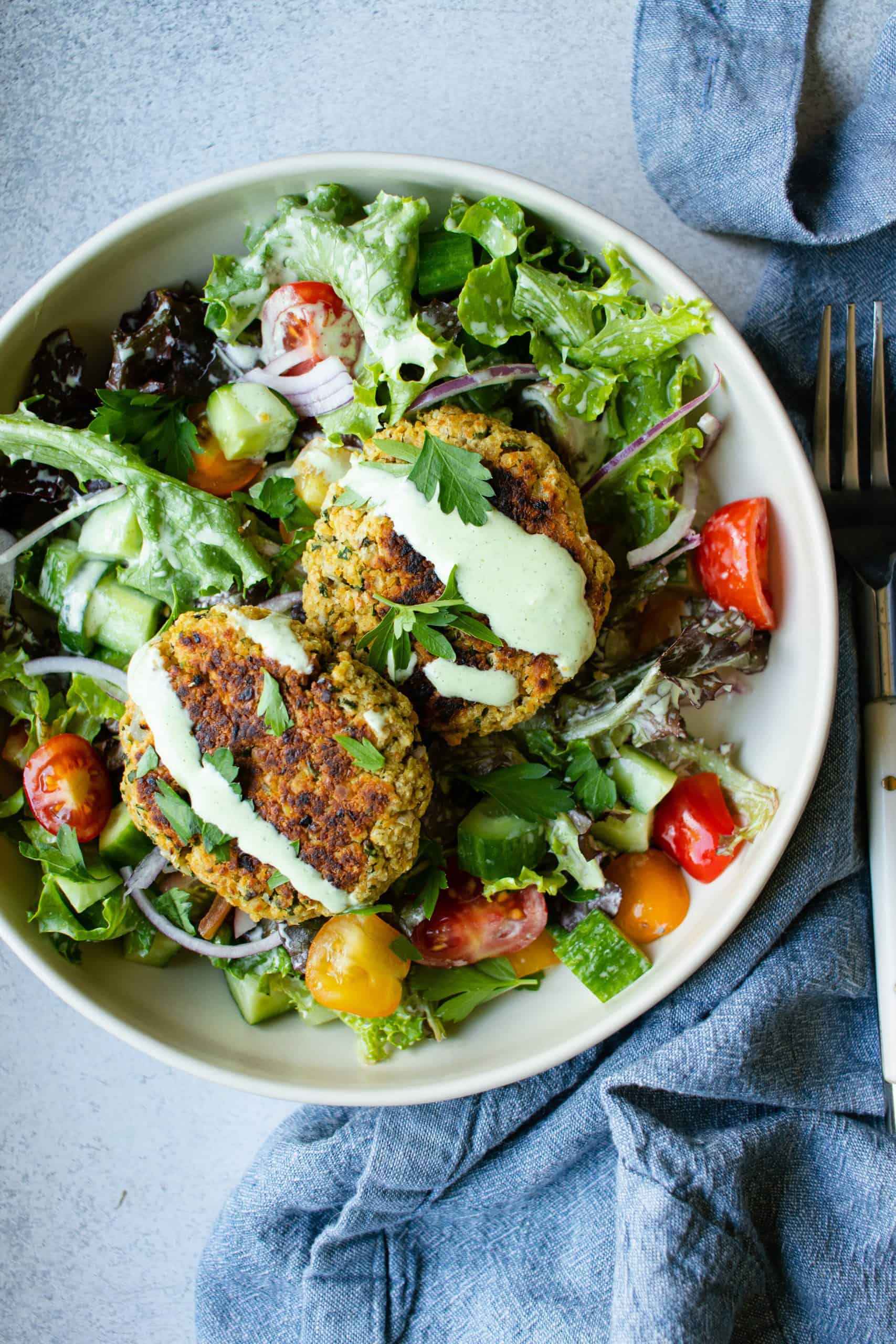 Easy Basil Falafels with Green Goddess Dressing
1/2

cup

breadcrumbs or panko

,

(1.25 ounces)

2

tablespoons

finely grated parmesan

,

(1 oucne)

1-2

garlic cloves

1/2

teaspoon

baking powder

1

teaspoon

kosher salt

1

can

chickpeas

,

unsalted, rinsed and drained

1

egg

1/4

cup

assorted basil or other fresh herbs (cilantro, parsley, chives all work too)- don't worry about chopping, just toss them in!

1

shallot (or 2 tablespoons diced red onion- about 1/4 of a red onion)

oil spray or 1-2 tablespoons high heat oil like grapeseed oil or avocado oil
Parsley Green Goddess Dressing (makes 1 cup)
2

tablespoons (33g)

white balsamic or champagne vinegar

2

tablespoons (27g)

fresh lemon juice

,

(1/2 lemon or just a bit more)

1/3 cup + 1 tablespoon

(80g)

plain icelandic skyr or greek yogurt

2

garlic cloves

1

bunch (1.5 ounces)

parlsey

,

stems included

1/4

cup (60g)

olive oil

1/2

teaspoon

kosher salt

black pepper, to taste
Preheat oven to 375.

Place everything in a food processor and pulse chickpeas are mostly broken down and finely chopped.

Make patties: Scoop falafels into small 1/3 or so cup patties- just big enough to fit in the palm of your head comfortably- this make about 6. Be sure to squeeze the mixture quite strongly to help it bind.

Heat a non-stick oven-proof skillet over medium heat (if you don't have open proof, no worries- just transfer to a baking sheet when baking). Spray pan generously with oil.

Fry falafels: Place patties onto pan- it should sizzle immediately. Use a spatula to flatten the falafel a bit so you maximize the crispy part (the outside!). Cook until the bottom side is brown, about 2-3 minutes, then flip for another 2 minutes.

Bake: Place pan in the oven until falafels are fully baked inside, about 5-7 minutes. Serve.
Parsley Green Goddess Dressing
Toss everything in a blender and blend until smooth. Store in airtight container for up to a week.