This is a deceptively easy weeknight meal- I promise. I made these a while back and Matt immediately requested the recipe to make on his own. A few weeks later when he was starting to make them, he called me, asking for me to check the recipe b/c the directions looked too minimal. But nope, it was right. They truly are that minimal.
Broiling the meatballs is the crucial shortcut- that doesn't sacrificing any texture or flavor. From there- it's up to you. Add more or less depending on what you want to serve with it.
For one meal, I just served this with brown rice, a quick cucumber and red onion salad, and some goat cheese.
Another time, I added in some roasted carrots and tahini sauce and took out the cheese. It's really up to you, and you can switch it for leftovers!
Speaking of… these are great for leftovers. If you're pinched for time, make the rice and carrots ahead of time. Even though there are few components, each is super simple and requires about 5 minutes to prep.
P.S. I normally don't eat lamb, but Matt loves it and it worked here with all the other flavors. You could easily sub for ground beef or bison here too.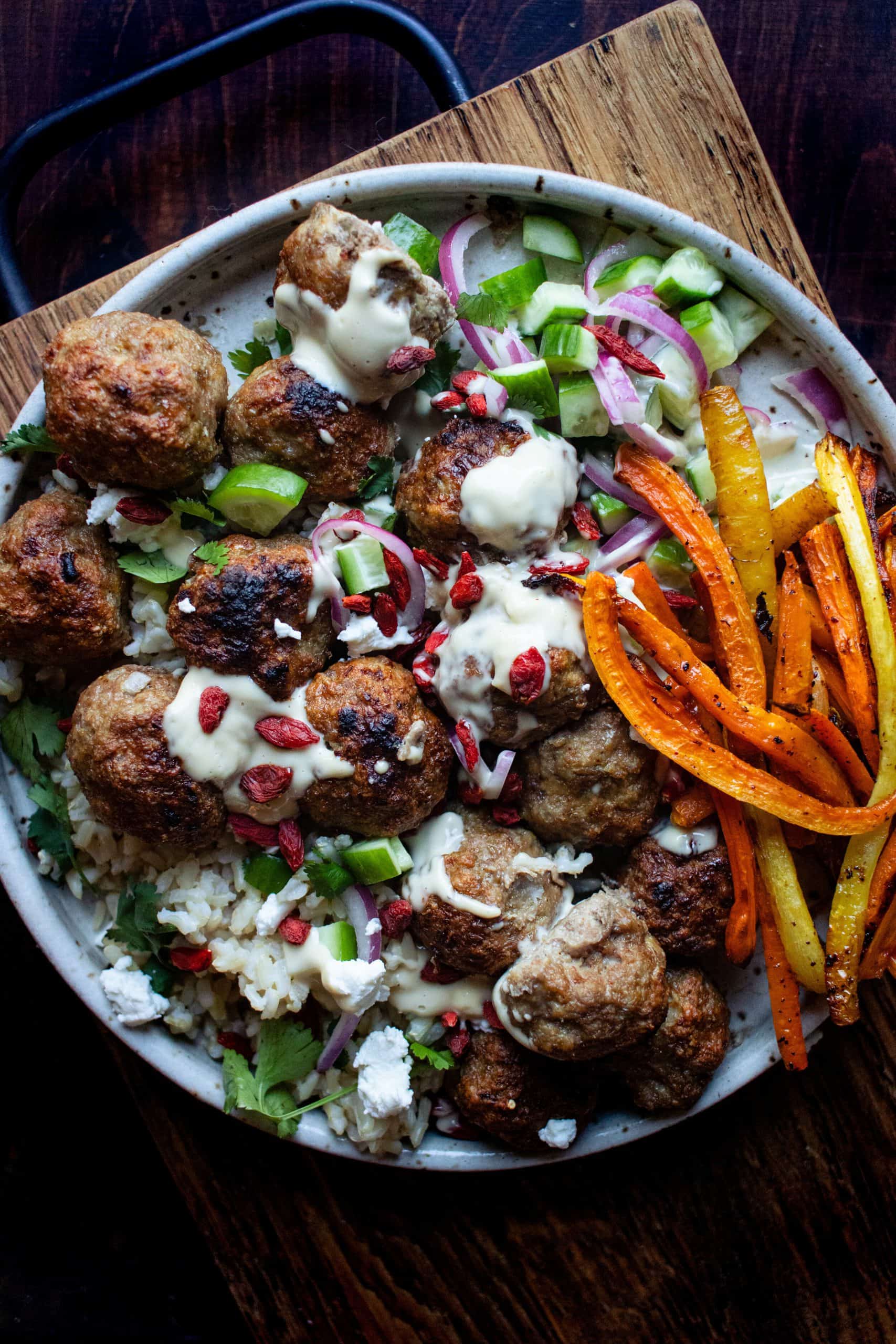 Lamb Meatballs with Pickled Cucumber & Red Onions and Tahini Sauce
What to serve with? Here are two great options. Feel free to mix and match these sides.
Option 1:
– Roasted Carrots (Roast carrots at 425 for about 25-35 minutes)
– Tahini Sauce (see below)
– Top with Goji Berries or Pomegranate Seeds
– Cooked Brown Rice
Option 2:
– Crumbled Goat Cheese
– Cucumber
– Red Onion Salad (see recipe below)
– Top with Fresh Herbs (Parsley and cilantro work great here!)
– Pita Bread
Meatballs:
1/4

cup

almond meal

1

egg

1

pound

ground lamb

1

teaspoon

kosher salt

2

garlic cloves

1

shallot diced

,

(2 tablespoons)

Zest of 1 lemon

1

teaspoon

cumin

1/2

teaspoon

coriander

Pinch

cinnamon

1/2

teaspoon

chili powder
Pickled Onion & Cucumber Salad
1/4

cup

red onion

,

, sliced thinly

1-2

small cucumbers

,

, diced

2

teaspoons

white balsamic vinegar

~1

teaspoon

kosher salt
Meatballs:
Preheat broiler. If making the sides, make the onion cucumber salad now so it sits and marinates while you do the meatballs.

Mix everything together in a big bowl. Then separate out into 2-tablespoon sized balls- this made about 15 meatballs.

Broil for about 8-10 minutes, until they are cooked through and reach an internal temperature of 160 degrees.
Pickled Onion & Cucumber Salad:
Toss everything together in a bowl and set aside while you cook the meatballs. Store in fridge for up to a day. The longer it sits, the stronger the pickling flavor. You can also make this ahead of time and then dress at very end.