This recipe steals the genius method of poaching eggs in a sauce from shakshuka, and then spin in on its head by making that sauce full of garlic, ginger, cilantro, lime and coconut milk. Did I mention this dish is vegetarian, whole 30, paleo and has over a pound of greens? Sold.
This recipe is inspired by bon appetite, but simplified in steps and ingredients. While I found the boiling and blanching of greens a bit of a nuisance and would skip that step if just using spinach, this step was essential to making tougher greens like kale and collard greens tender and delicious.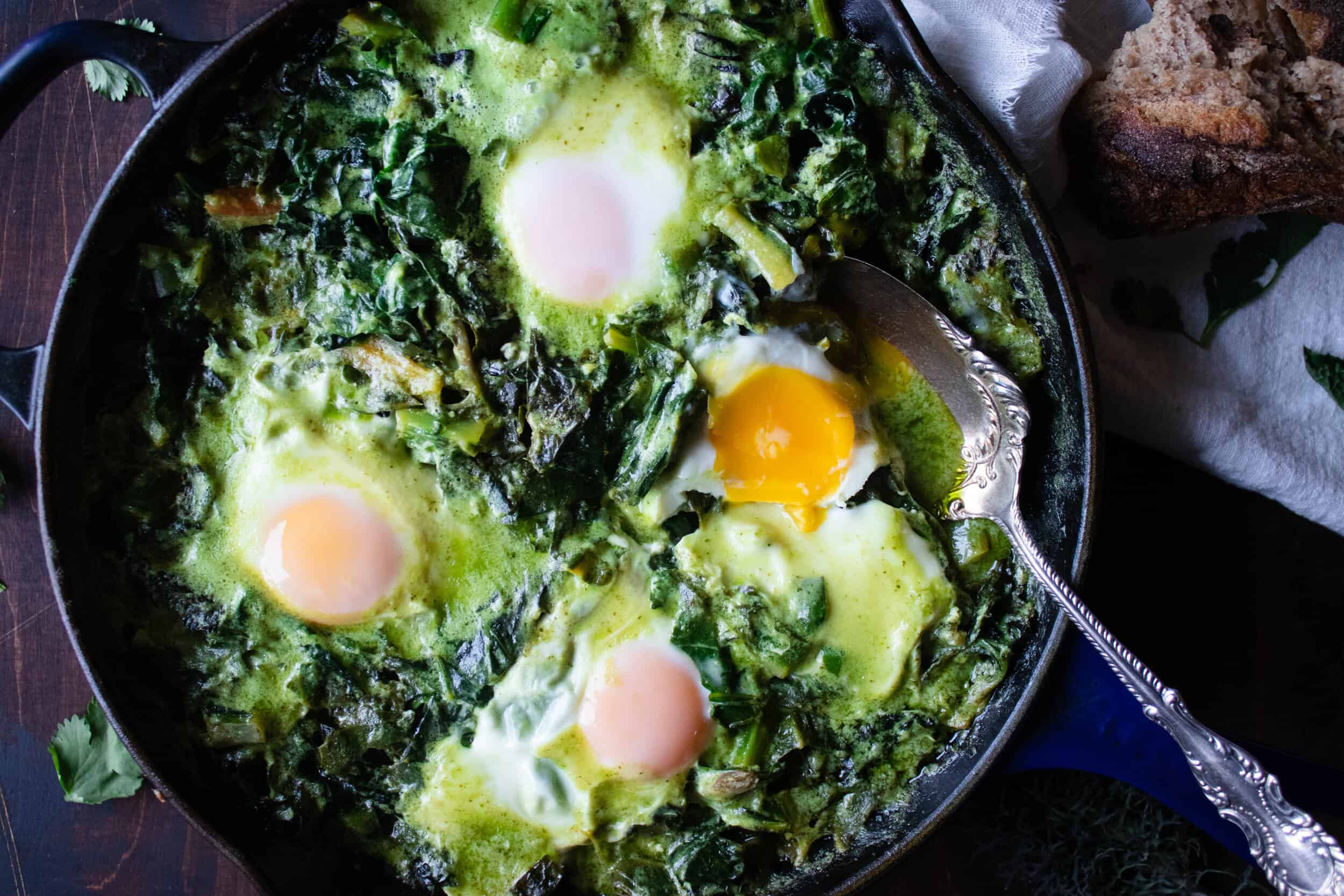 Green Shakshuka
Adapted from Bon AppettitMakes 4 small servings or 2 large
1

pound

greens of your choice

,

I used a combination of spinach, Swiss chard, and collard greens

2-3

tablespoons

extra virgin olive oil

,

divided

1

tablespoon

minced ginger

1

tablespoon

minced garlic

1

tablespoon

minced preserved lemon**

,

use lemon zest or lime zest if you don't have preserved lemon- this can be made or bought but isn't easy to find- it just has a bit of a stronger flavor

1

can

coconut milk

juice of 1

lime

,

(lemon would probably work too, but only do 1/2 of one!)

3/4

teaspoon

sea salt

1

cup

lightly packed cilantro leaves

4

eggs
Bring a large pot of water and a big pinch of sea salt to a vigorous boil. Add in greens until vibrant and green, about 1-2 minutes. Immediately place greens in an ice both to cool quickly. Remove and strain. Squeeze out excess water and chop roughly into bite size pieces. Set aside.

**If using spinach: you can skip this step!

In a 10 or 12'' skillet, add about 1.5 tablespoons of olive oil (enough to coat bottom of pan generously) and saute ginger, garlic, and preserved lemon until golden, about 2-3 minutes.

Place oil and all the sauted seasonings into a blender and add in coconut milk, lime juice, sea salt, and cilantro leaves. Blend on high until cilantro is blended well.

Reoil the 10'' or 12'' skillet you were just using. Add in greens and sauté on medium heat until any excess water has evaporated, about 3-4 minutes.

**If using spinach and skipped first step: saute on low heat for an additional 5 minutes, until wilted.

Add in green coconut sauce and continue to saute until sauce has thickened slightly, another 5 minutes.

Add in eggs- try to create a little indent for each one and then cover pan until egg whites are set and yolks are just runny, about 8 minutes. Serve with rice or a baguette.