Looking for one more recipe to celebrate heirloom tomatoes before the end of their season? This recipe from NYT Cooking is perfect.  I don't know quite how to explain this tart- it has hints of a breakfast quiche with egg and roasted potatoes, but the pesto, tomatoes, and cheese bring it to a new place and expand this dish way beyond breakfast. 
For all of the different layers and flavors going on, the process is surprisingly simple and final product harmonious. I made a few tweaks here and there- adding more eggs, less cream, etc… the biggest change was using potatoes as the base. Here's why:
Seasonality 
Nutrition (could easily do red, blue, or Japanese sweet potatoes too)
Easier and less fussy (Yes, you could use store bought pie crust, but if I'm doing a pie crust, I like to make my own)
Who doesn't love crispy potatoes. 
See a step by step with a bit of explanation in my instagram stories as well (labeled: tomato tart).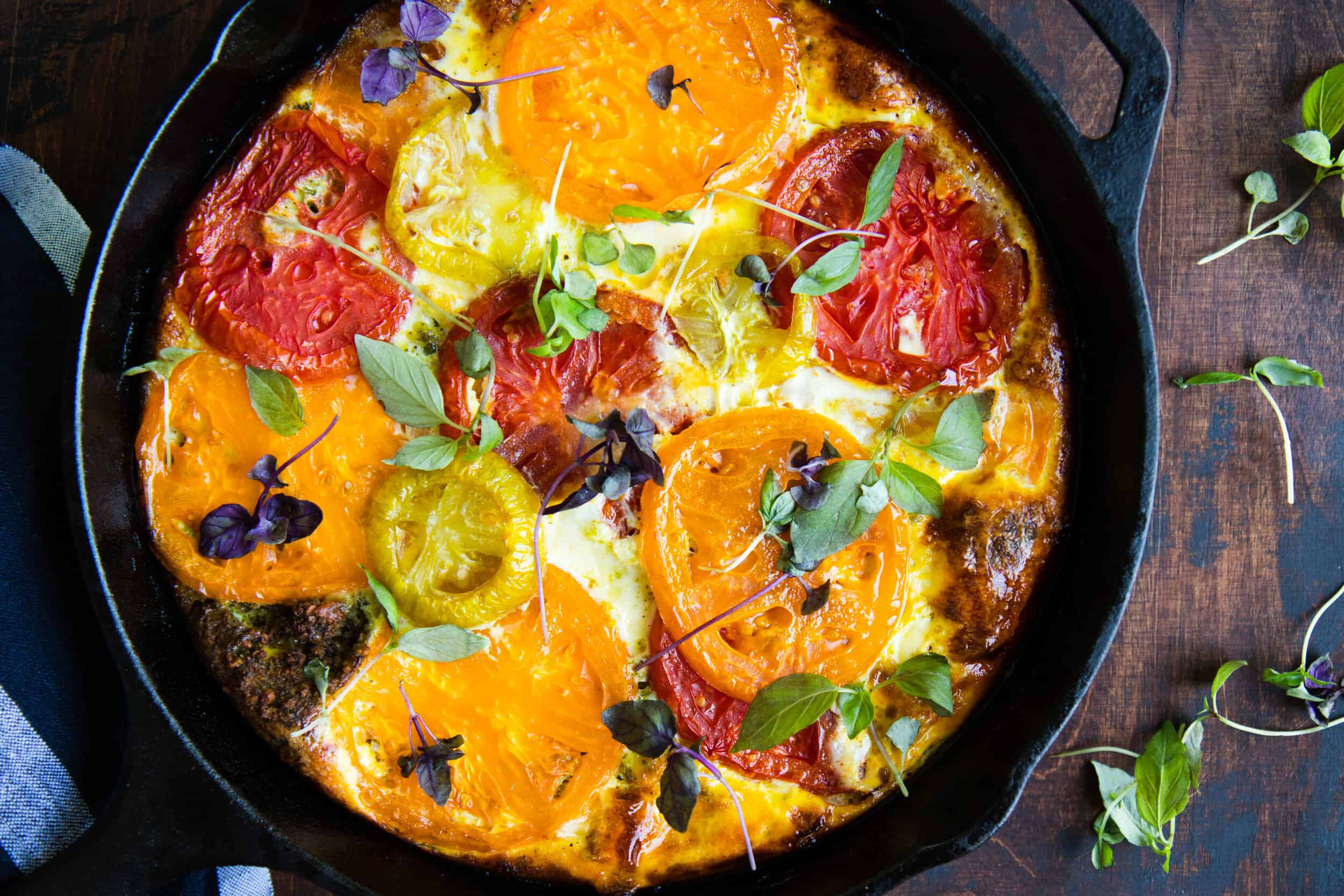 Heirloom Tomato Pesto Tart
1

pound

potatoes

,

sliced thinly

1.5

pounds

tomatoes

,

4 medium

1/3

cup

pesto

3/4

cup

shredded cheese of your choice

,

I've done just mozzarella, I've also done a 3-cheese pizza blend of asiago, parmesan, and mozzarella that was delish!

5

large eggs

1/3

cup

2% or whole milk

1/2

teaspoon

sea salt

1/2

teaspoon

black pepper
Preheat oven to 375. Toss potatoes in about a tablespoon of olive oil. Sprinkle with sea salt and pepper. Place on baking sheet and roast for 20-25 minutes, until lightly brown.

Slice tomatoes into 1/4'' slices. Salt lightly and place in colander to drain excess liquid; let sit for 20 minutes.

Layer the baked potatoes into the baking dish you plan to serve in- this can be a 9'' deep cast iron or 9'' square baking dish. The potatoes will stack slightly into about 2 layers.

Spoon pesto over potatoes as evenly as possible. Add half of the cheese.

In a medium bowl, whisk eggs, milk, salt, and pepper. Pour into baking dish.

Layer tomatoes on top. Add remaining cheese to top.

Bake for 40-45 minutes, until filling is set and cheese is melted and beginning to brown.