I'm currently obsessed with sheet pan meals. Maybe its the colder weather- plus the realization that they are the BEST weeknight meal ever. Every time I make one, I become more obsessed with just how practical they are. Within about an hour, you have an all-in-one meal that requires minimal cleaning and prep and is great for leftovers the next day. I've been playing around with lots of different marinades and veggies, but here are some of my biggest tips for making these meals successful:
You can use different vegetables, but keep the same vegetables grouped together so you can remove as needed based on how quickly they cook. This way you don't have to worry about the different vegetables being ready at the exact same time- remove each vegetable once it's ready.
Use bone-in chicken. Seriously. I used to think this wasn't that big of a deal. It is. It will be so much tender and flavorful. You can also add in chicken thighs if that's your thing, just keep in mind they cook slightly longer.
Try to marinate for as long as you can. More time= more flavor.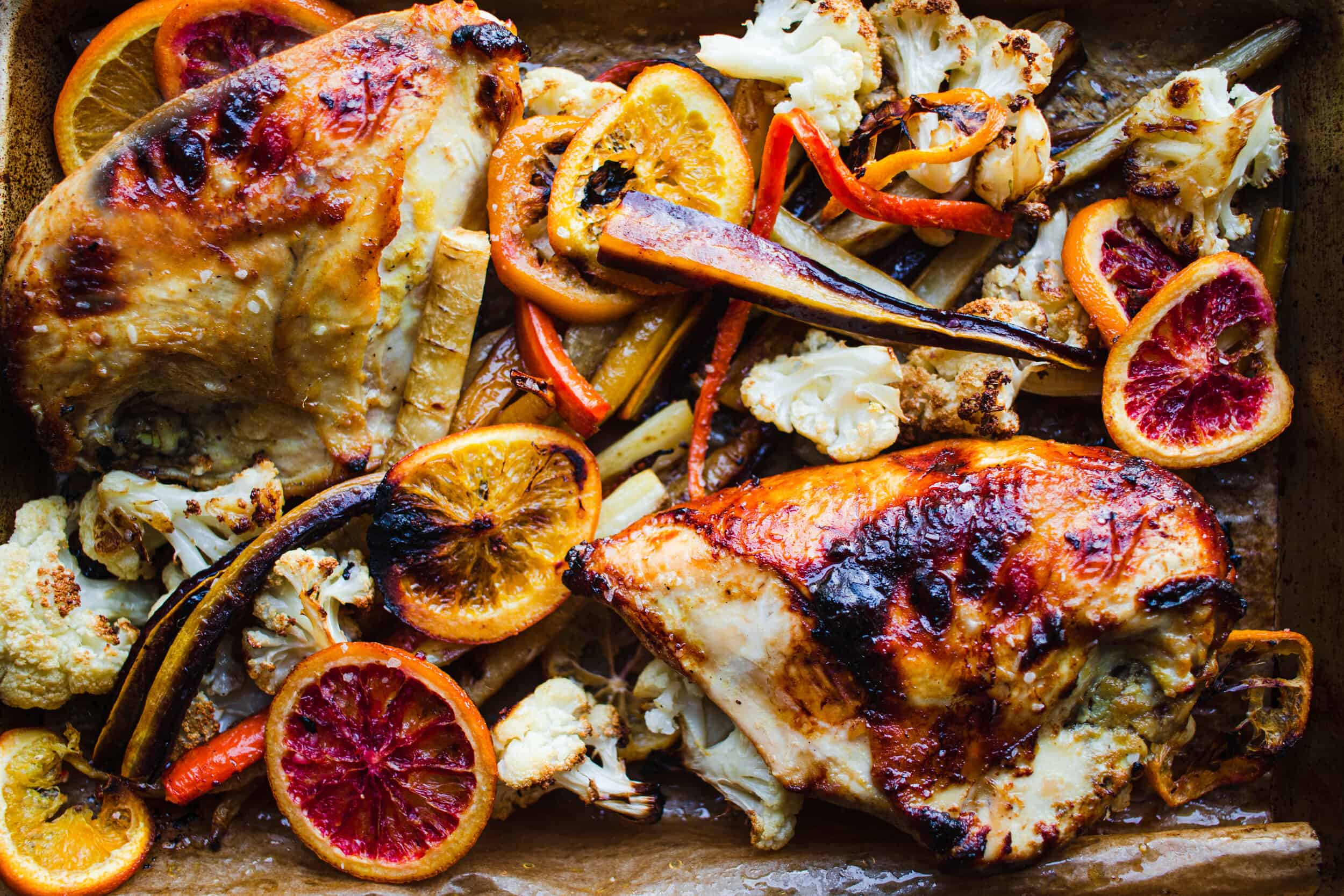 Sheet Pan Orange Roasted Chicken with Carrots & Cauliflower
Difficulty Level: 2
Marinade:
Juice of 1 1/2 oranges (about 1/3 cup)

,

use the remaining 1/2 orange to slice and roast.

2

tablespoons

honey

2

teaspoons

mustard

2

teaspoons

ginger puree

2

small garlic cloves

,

minced

2

tablespoons

olive oil

1

teaspoon

salt

1/4

teaspoon

cumin

1

teaspoon

soy sauce
Other:
2

bone-in chicken breasts

1/2

head cauliflower

,

cut into florets

1/2

pound

carrots (about 7 or so)

,

sliced into quarters (see picture- just cut off the ends and then cut into 4 long strips)

1/4

cup

pomegranate seeds

,

for topping
Make the marinade: Add orange juice and honey in saucepot. Bring to a boil and then simmer for 5 minutes, until thicker and about half the amount that it originally was. Let cool just slightly and then add in remaining ingredients.

Marinate the chicken: Set aside 1 tablespoon of the marinade for the vegetables, then pour the rest over chicken breasts. Marinate chicken for at least one hour, up to overnight (~8 ish hours).

Blanch the orange slices: Slice oranges into very thin slices. Place into boiling water for 2 minutes and then set aside to cool. This is key to making the oranges not bitter!

Preheat the oven: Preheat oven to 425.

Prep the sheet pan: Toss cauliflower, carrots, and orange slices with the 1 tablespoon of marinade and another tablespoon of olive oil. Season with salt and pepper. Spread out onto a sheet pan with parchment paper, leaving some room for the chicken on one side.

Add chicken and roast: Add chicken to the other side. Roast for 30 minutes, until chicken registers 165 degrees of internal temperature. At this point, the cauliflower should also be done. Remove both the chicken and cauliflower and continue to roast carrots until quite brown, about 5 more minutes.

Serve: Sprinkle pomegranate seeds on top and serve with rice.