I looooove cioppino. Literally anytime it is on the menu, I get it. Seriously, you can ask Matt- it doesn't matter what else is on the menu, I will always get it. It's just too good to pass up! Despite the many years I've order cioppino at restaurants, I only attempted to make it once. Recently I made it again with family and realized I had no reason to be intimidated or hesitant about making it! It is fairly simple and straight forward. You can also pick and choose the seafood you like best.
The only downfall of this is that you really need to eat it fresh. While I'm currently experimenting with ways to make this a dish I could make for meal prep, the mussels and clams definitely make it a dish that isn't great for leftovers (although if you want to try leftovers, you can toss any leftover mussels/clams and the rest of the seafood will stay for the next day- I tried that and it worked well).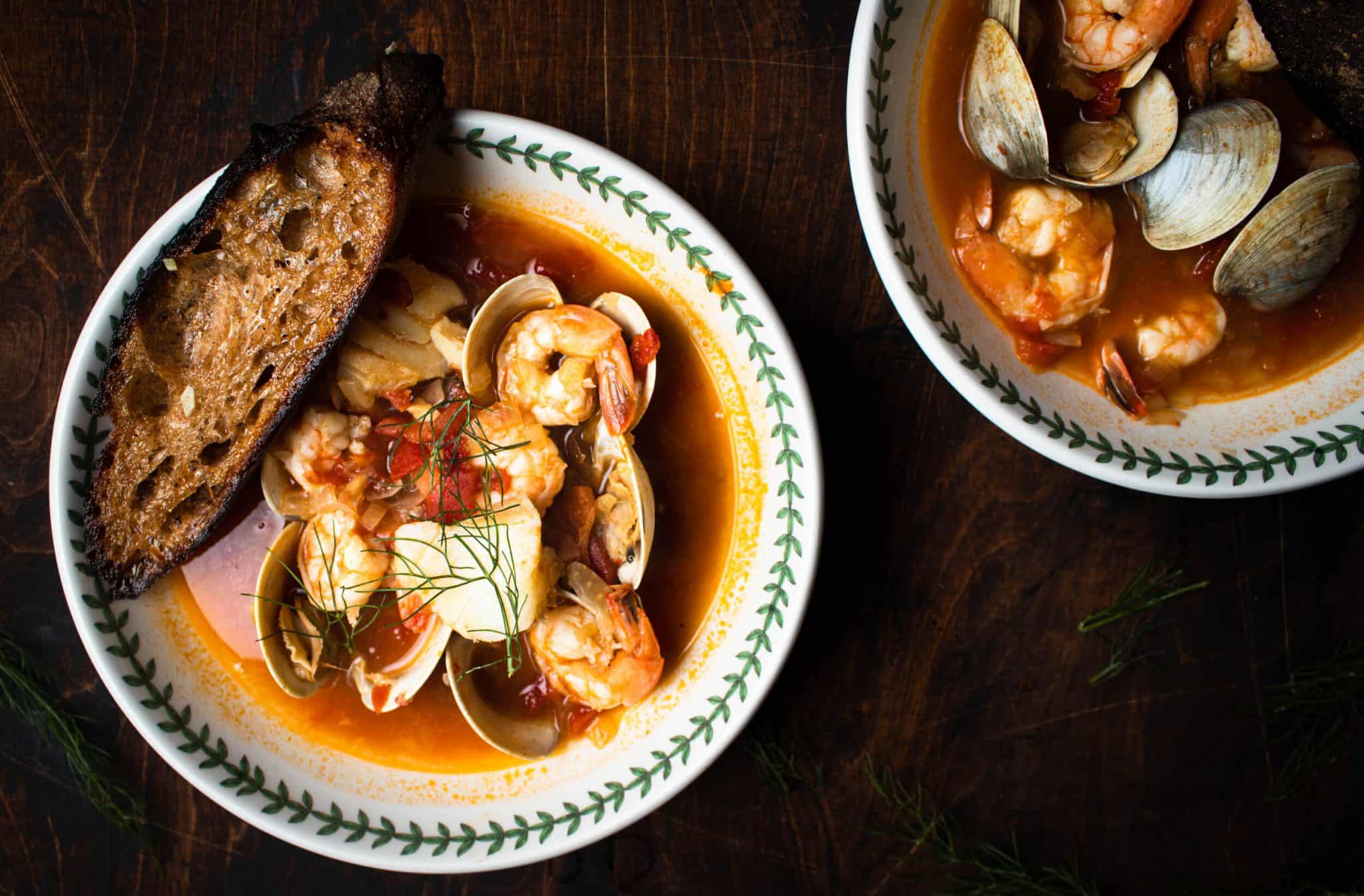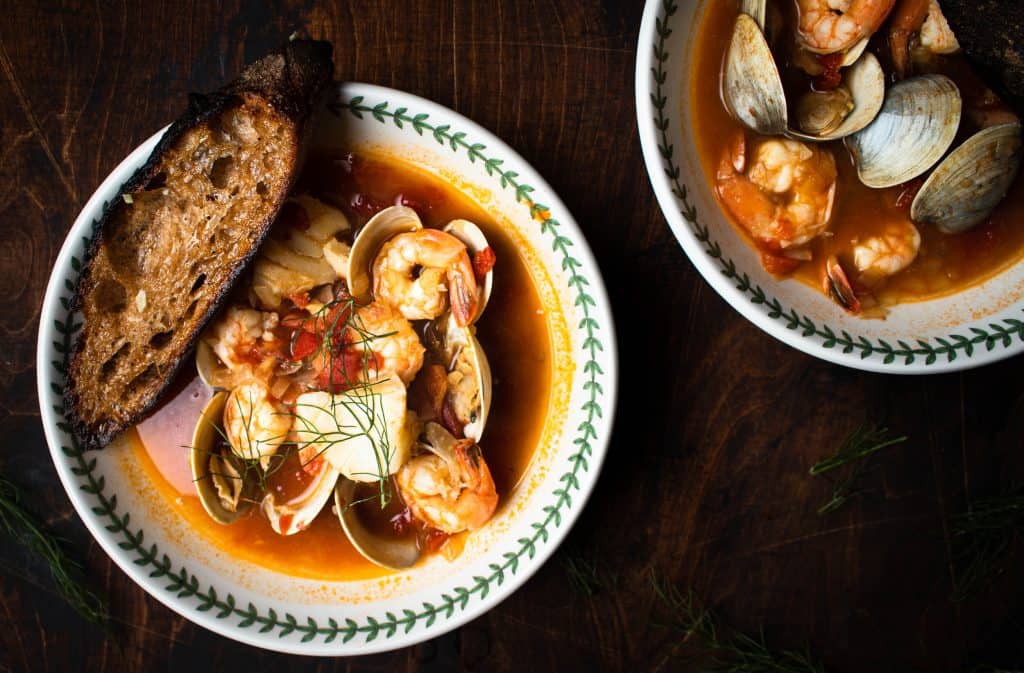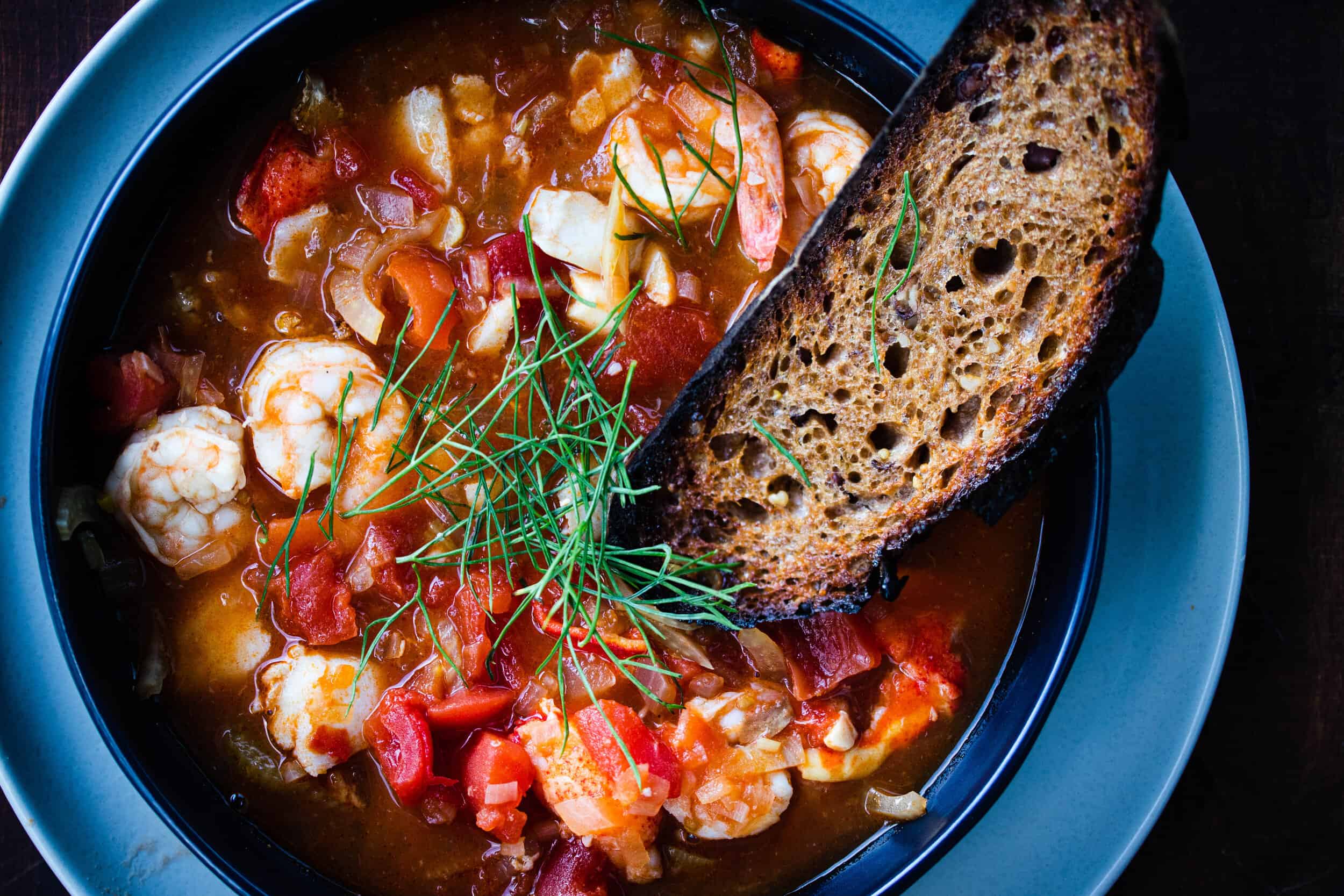 Cioppino (Seafood Stew)
Adapted from Giada De Laurentiis
1-2

tablespoons

olive oil

,

enough to generously coat bottom of pan + a few more tablespoons for the baguette

1

fennel bulb

,

sliced, + 1 few sprigs of fennel for garnish

1

large yellow onion

,

diced

2

shallots

,

diced

2

tablespoons + 1 tablespoon (for baguette)

minced garlic

,

if desired

2

teaspoons

sea salt

1/4

cup

tomato paste

1

28 oz

can diced tomatoes

1 1/4

cups

white wine

,

dry

4

cups (32 oz)

fish stock

1

bay leaf

1

pound

mussels or clams

,

you can do both, but I found that when I did a pound of each, I had a lot of leftover waste

1

pound

shrimp

1/2

pound

white fish like cod

,

cut into 2'' chunks (you can also use calamari, more shrimp, scallops, or even lobster)

1

baguette

,

sliced on a bias

1

large zucchini

,

spiralized (optional- I found this to a be nice way to add more vegetable and texture to the dish, but this is my own spin!)
In a large pot, saute onion, fennel, shallots, and garlic in oilve oil over low to medium heat. They should begin to turn translucent and lightly brown, but the heat should be low enough to not brown a ton; this takes about 7 minutes.

Add in tomato paste-stir to coat the onions and fennel-and then the diced tomatoes, wine, fish stock, and bay life. Bring to a boil and then reduce to a simmer. Simmer, covered, for 30 minutes.

Preheat oven to broil to get baguettes ready. Light brush each slice with oil and garlic and broil in the oven until brown, about 3 minutes.

Add clams and mussels first, as they require a longer cooking time. When adding clams and mussels, keep the broth at a simmer and pot covered for about 5 minutes, until the clams and mussels just start to open.

Add in the shrimp and fish and cook until they are no longer translucent, about 5 more minutes. I found that exactly 5 minutes worked perfectly here.

Place a small handful of spiralized zucchini (or a big one if you're like me and love it) into the bowls you plan to serve the stew in. Spoon cioppino into bowls and garnish with a spring of fennel. Place toasted baguette on side and serve immediately.