This White Wine & Tomato Seafood Pasta crosses all seasonal boundaries and is relatively quick and easy. It's that go-to recipe to always have in your back pocket. No, there's nothing groundbreaking about the flavors and technique here, but it's just really damn good. Sautéing onion, followed by garlic, tomato paste and white wine not only builds in layers of flavor but is satisfyingly methodical. 
Seafood Options
I've made this with shrimp, shrimp and scallops, and a mix of shrimp, scallops, and clams. Cook to your liking and the occasion- I think my favorite is the combo of about 3/4 shrimp and 1/4 scallops- it feels special, but by doing a mix, it's more budget-friendly. The shrimp and scallops cook at the same time, so that's easy to do, but the clams take longer to cook. If adding in clams, add them in first for about 4 minutes before you add in the other ingredients (and let them cook in the sauce).
White Wine & Tomato Seafood Pasta: How to cook this on a weeknight:
While buying the seafood the day of or day before is best, it's not always the most practical. If I can't do this, I'll use frozen shrimp/scallops and just place them in the fridge the day before so they have about 24 hours to defrost in the fridge. Then rinse and pat dry to make sure there is no excess water.
The pasta/sauce is great for leftovers the next day. The seafood, not as much- I like to just reserve a handful of shrimp and cook them fresh the next day and add them into the pasta if eating this the next day.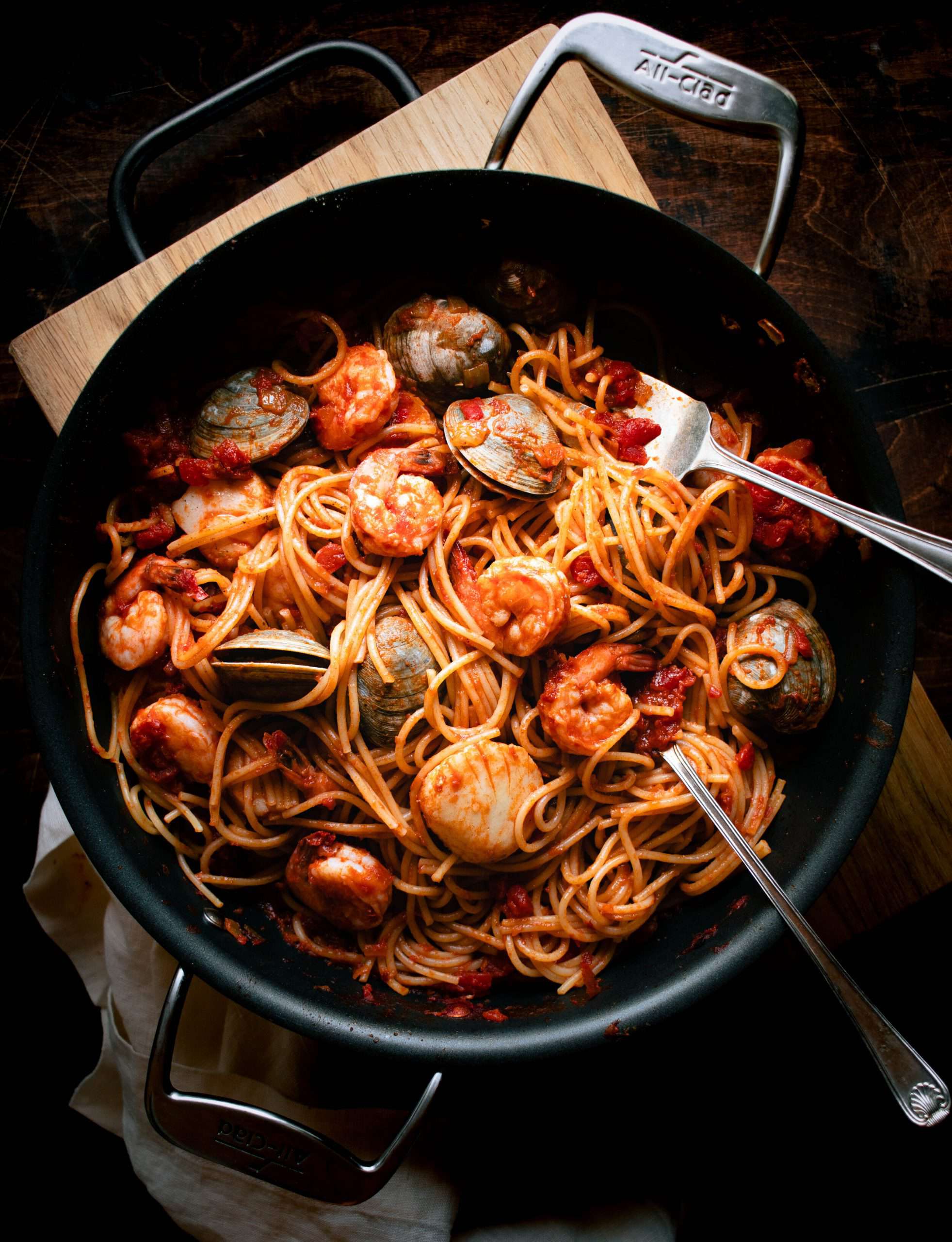 White Wine & Tomato Seafood Pasta
White Wine & Tomato Sauce:
1-2

tablespoons

olive oil or butter

2

garlic cloves

,

minced

1

shallot or 1/4 white onion

,

about 1/3- 1/2 cup, diced finely

2

tablespoons

tomato paste

1 14.5

ounce

can diced tomatoes

1/4

cup

dry white wine

Pinch

red pepper flakes

,

optional

Salt and pepper

,

to taste
Other Ingredients:
1-2

tablespoons

butter or olive oil

1

pound

various seafood

,

scallops, shrimp, clams** see note at top if cooking clams and my tips on using frozen seafood

Linguine pasta

,

cooked according to directions
Begin the sauce: Heat olive oil in a large deep skillet. Sauté onion over low to medium heat until lightly browned, about 5-7 minutes. Add in garlic and sauté another minute.**During this time, get a pot of boiling water set up for the pasta. I begin to cook the pasta once I begin cooking the seafood to time it out well, but having the water ready is key.

Add in tomatoes and cook: Add in tomato paste and saute an additional minute, until slightly darker in color. Add in tomatoes and white wine. Bring to a boil and then simmer for 5-10 minutes, until tomatoes have thickened just a bit.

Cook the pasta: Begin to cook pasta (according to package directions) right before you cook the seafood. Generally it takes around the same time, but it's better to have the pasta sitting and waiting for a few minutes than the other way around. When cooking, reserve 1/4 cup pasta water. Add this pasta water to the sauce at the end if you need to thin it out a bit.

Prepare the pan for the seafood: Push the tomatoes to one side and clear some space to sear the seafood. Turn up the heat slightly and position the pan so the burner will be mainly over the seafood, not the sauce. Rinse seafood and pat dry to remove any excess water before cooking.

Cook the seafood: Add the remaining butter or oil to the empty part of the pan- it should melt and sizzle immediately. Add in seafood and let sit for 2-3 minutes, until brown on one side. Then flip to sear the other side. Lightly mix in with sauce once the seafood is 90% of the way cooked through.

If pasta is ready, keep the pan on low heat. If not, take the pan off the heat (and if pasta REALLY isn't ready, remove the seafood from the sauce and set aside).

Assemble: Toss pasta in tomato sauce and seafood. Serve immediately. This one is best served fresh because of the seafood, although the pasta works for leftovers.