Okay, okay I know… I didn't even use penne in this picture for a "Penne all Vodka" recipe. But there's a reason: you really don't have to use penne pasta. Many shapes will do! (Okay or maybe I thought I already had a picture when I made this, so when I made it with penne… but it's true- I often do this with different types of pasta. No reason to be tied down to one.)
Oh and one more point to those who may not be a big fan of greens: the picture above shows fresh purple basil on top- those aren't the greens! The greens will be well incorporated into the sauce and trust me, even if you aren't the biggest fan of greens you'll like it.
While I'm not normally a huge pasta fan, I was drawn to the simplicity and ease of this recipe from Bon Appetit. I've adapted it slightly to give the tomato flavor a bit more oomph with a fresh tomato and as always.. added greens! My goal here was to make this as easy as possible, so using the pasta cooking liquid to blanch your greens is an efficient way to make your greens tender.
This is also great for leftovers the next day. Add some cooked chicken sausage at the end if you want to add meat to your meal.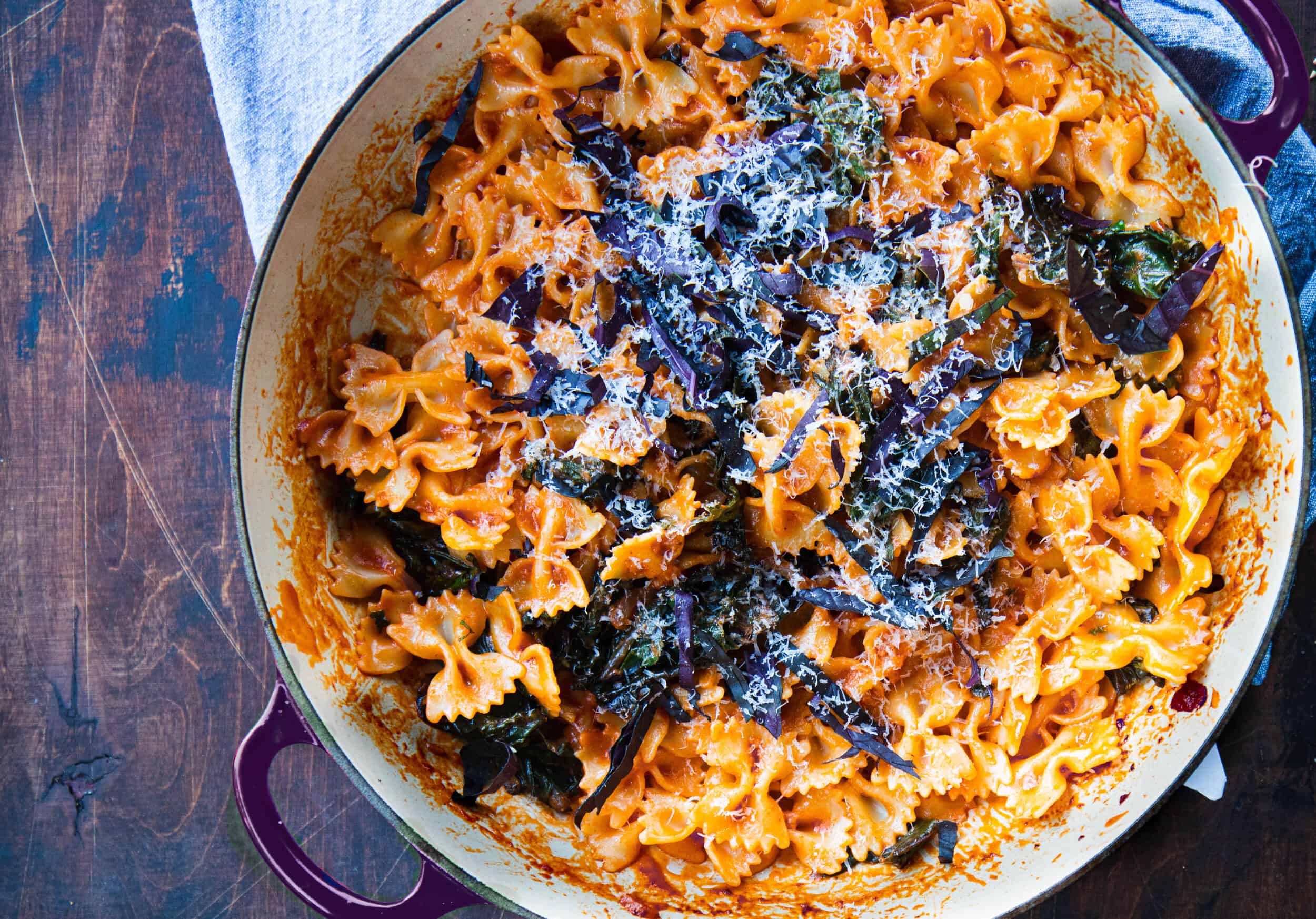 30 Minute Penne Alla Vodka with Greens
Adapted from Bon Appetit
1

pound

penne pasta or other pasta of your choice

optional: 1 small bunch spinach or other green of your choice

1

vidalia onion or 2 shallots

,

diced

4

garlic cloves

,

minced

3.5

ounces

tomato paste

1

medium tomato

,

diced

3

tablespoons

1.5 ounces vodka

3/4

cup

heavy cream or coconut milk

fresh parmesan cheese for sprinkling
Cook the pasta (and the greens):
Fill a medium to large pot with water and bring to a boil. Add a big pinch of salt to the water.

Blanch the greens so they are easy to add to the sauce! To do this, add the greens to the salted water. Let sit in the boiling water, uncovered, for about 30-45 seconds, until bright green and wilted. Remove with a slotted spoon or spider and run under cold water to stop it from cooking (don't get rid of water- you need it for the pasta).

Set greens aside in a colander or something that can absorb the excess water from the greens.

Cook pasta according to directions. Right before you drain the pasta, reserve 3/4 cup of the liquid the pasta cooked in (P.S. If you forget to do this- it's not the end of the world. I've forgotten and it worked fine 🙂
Create the sauce:
Heat a large skillet over low to medium heat. Add in enough oil to generously coat the pan, about 1-2 tablespoons.

Add in onions and garlic. Satue until lightly brown, about 5 minutes.

Add in tomato paste, tomato, and greens, and some salt to season (about 1/4-1/2 teaspoon). Continue to saute until it is a dark red and beginning to turn a darker brown, about another 5 minutes. Stir frequently.

Add in vodka and continue to saute until the vodka has reduced and mostly evaporated.

Turn heat off.

In a small cup, combine heavy cream and 1/2 cup of hot pasta water (either from pasta depending on your timing or just add some hot almost boiling water if you forgot). If using coconut milk, only add in 1/4 cup of the hot pasta water (the coconut milk is a bit thinner). This ensures the cream won't break when you add it to the sauce. Stir to combine. Then add in cream to the pan and stir to incorporate.

Add in pasta and toss to coat the pasta in the sauce. Top with parmesan.