Hot Take: I've never really been into stuffing. Perhaps I never had one that really spoke to me- while I love bread, I just didn't get it. However, it did feel like a somewhat quintessential dish to have on hand for the holidays. Last year I began to explore some stuffing recipes- in particular this one from Alison Roman started to make me rethink things. Maybe I was a stuffing person? So this year, as soon as Thanksgiving was within sight, I began testing out the stuffing recipe I made last year for Thanksgiving. And I'm seriously excited about the end result: a Lighter Whole Grain Stuffing with Miso and Leeks.
Looking for other Holiday recipes? Be sure to check out here.
Adaptations to Make this Lighter & More Nutrient-Dense
This recipe is adapted from the one I enjoyed so much from Alison Roman. I made some key changes to make it more "Kate Cooks" style:
Using whole grain bread instead of white bread. Whole grain vs. white is personal preference, but one thing is not negotiable: the crust. You need to have a good bakery bread with a nice crust. Also I found that you want to avoid lots of seeds, as they tend to break down a bit with cooking.
Using less fat. Look, in my opinion, you need a good amount of fat here. It adds essential flavor and moisture to the dish. While I haven't tried it, my guess is olive oil would be a nice substitute here with the butter. I personally loved the flavor of the butter, especially because it browns a little bit.
Using more celery and leeks. This highly aromatic vegetables soak in all that flavor from the butter, miso, and garlic. I started just using the whole bunch to avoid food waste in my recipe testing and realized I liked this ratio better anyway.
Adding in miso. Perhaps I overuse this ingredient, but I just think it works so well with butter and these flavors. Given that there is less fat in this recipe compared to others, the miso ensures that this is still full of flavor.
All in all, when you step back and look at the ingredients, I was pleasantly surprised by it. It's basically a bunch of celery and leeks, whole grain bread, eggs, and chicken stock.
Cleaning Leeks
Leeks are notoriously dirty and so taking a second to make sure they are properly washed is key. No one likes dirt. For this recipe, the way I clean leeks is by first cutting them, then cleaning them. It's a lot easier and quicker. To cut the leeks, first slice in half lengthwise, then slice into 1/4" slices. Place in a large colander or strainer and thoroughly wash. I use my large salad spinner for this. Then set aside to lightly drain, but it's okay if they are perfectly dry.
Making this Lighter Whole Grain Stuffing with Miso and Leeks a One Pot Meal
If there's an opportunity to make a recipe a one-pot dish, I will absolutely take it. It can be done with this recipe, but you need to use the right pot. In particular, the pot needs to be heavy cast iron and very wide. While the stuffing will fit in something like a 4-5 quart cast iron pot, there's too much stacking because the pot isn't wide enough. This results in a stuffing that is more steamed, rather than browned. And that browned top part is the BEST part.
So basically you need to use a very large, wide cast iron pot. This is where this 15" or 16" heavy cast iron fry pan I invested in about four years ago comes in handy. It gives you the surface area needed to properly saute the leeks and celery, as well as to not stack too much in the oven.
Of course, this isn't a pot most kitchens would have. If you don't have this pot, you can just use a wide skillet for the stovetop part and then transfer to a 9×13" dish. Works just fine as well!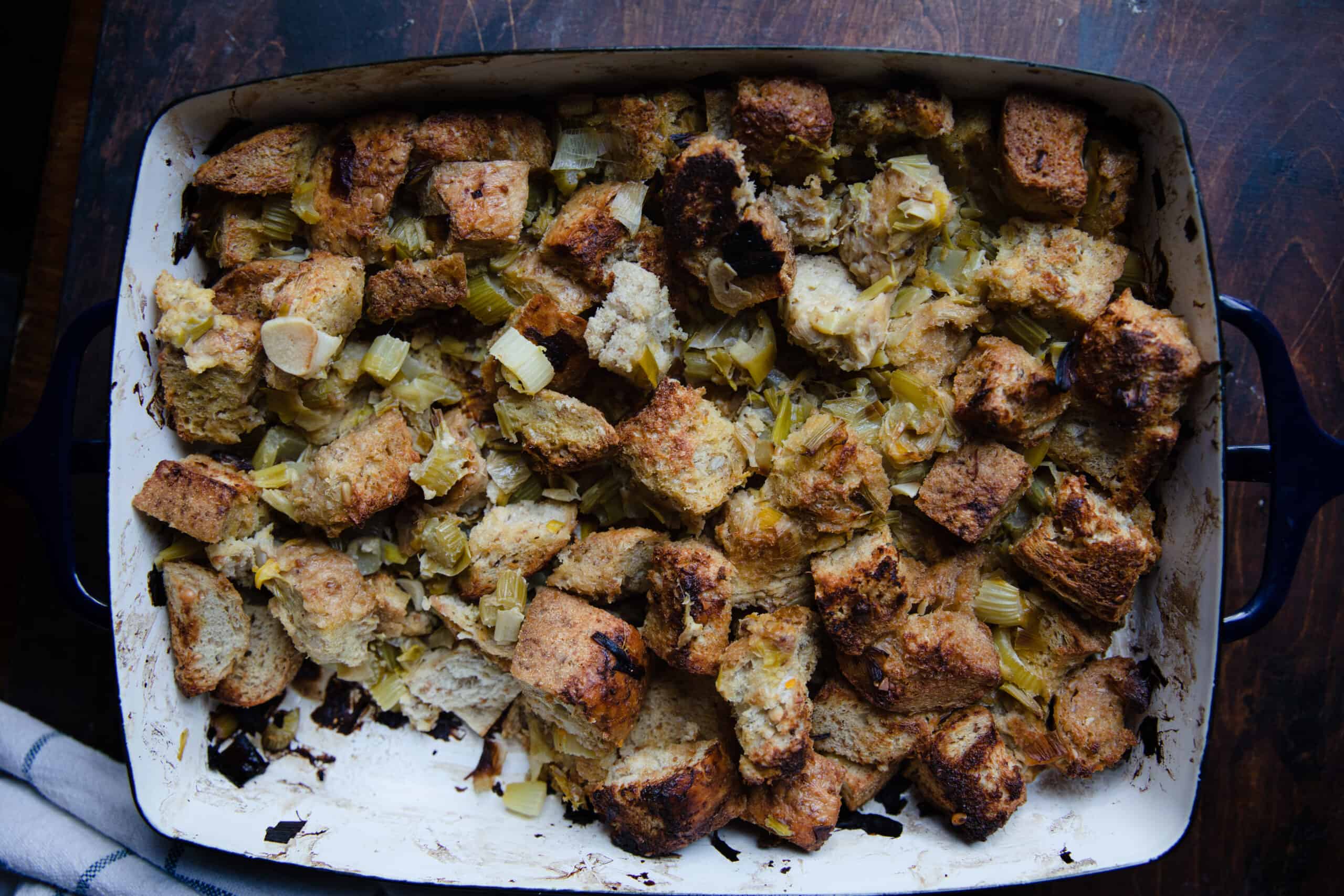 Lighter Whole Grain Stuffing with Miso and Leeks
1

large loaf bread with good crust

,

about 16-20 ounces

1/2

stick unsalted butter

1

tablespoon

white miso

4

garlic cloves

,

thinly sliced

1

teaspoon

salt

4

leeks

,

cleaned and diced* see above for how to clean leeks

1

bunch celery

,

sliced (about 8 stalks)

1/2

cup

dry white wine

3

eggs

2 1/2

cups

chicken stock
Preheat oven to 350. Cut bread into 1'' cubes. Place on a baking sheet and bake until lightly crispy, about 15 minutes. Set aside and change oven temperature to 375.

See pot options above for recommendations based on what you have and prefer.

In a large cast iron, add butter. Once mostly melted, add in in miso and garlic. Stir and break up the miso as much as possible and saute for an additional minute or two, until garlic is light golden.

Add in leeks and celery and saute until just softened and beginning to brown, about 5 minutes.

Add in white wine and continue to saute until the majority of the wine has evaporated.

Remove pot from heat and let cool down for a moment.

*If using another dish, this is the time to transfer this to a 9×13'' baking dish.

Add in cubed, toasted bread and stir to combine.

In a medium bowl, whisk the eggs and chicken stock together, then pour over bread and leek mixture and toss to combine.

Cover dish with foil and bake for 25 minutes.* Then turn oven up to 425 and bake an additional 20 minutes, until top is crispy.

*If making ahead of time, do this step and then finish baking when ready to serve.