Making your own bagels: sounds a bit intimidating, right? I'll be honest, I was a little skeptical. But I trust @food52 and my friend Tess was totally game to do these (and quickly became obsessed with this recipe.. in the best way possible). To be candid- this isn't simplest recipe out there. However, I promise it's easier than you think and once we got the hang of it, Tess, Matt and I each felt confident in the process. Also if you've made any type of bread or yeasted dough- you'll feel comfortable with this.
The key: timing and patience. The ingredients in these bagels couldn't be simpler- flour, yeast, honey, salt. Better yet, I love this recipe because unlike many other bagel recipes I saw, it uses all purpose flour, something we always have in our pantry. The flavor and textures all develop from multiple rises and a few methods.
Now… for my beginner bakers out there or for anyone who has gotten frustrated at somewhat vague directions: I've tried to be as detailed as possible and give all our tips and tricks. Given that we made these bagels almost every day for about two weeks straight, we have our fair share of helpful hints. At the same time, I don't want to be too verbose or have too much text to be intimidating, so I'm going to do two variations of directions: 1. A super simple one that outlines the steps, but somewhat minimally (for experienced bakers or if you're repeating this recipe) 2. A very detailed recipe (for beginners or those who wanting more clarification).
This recipe is from Food 52, with just a few slight differences I'm just elaborating a bit more on the directions. Link in bio.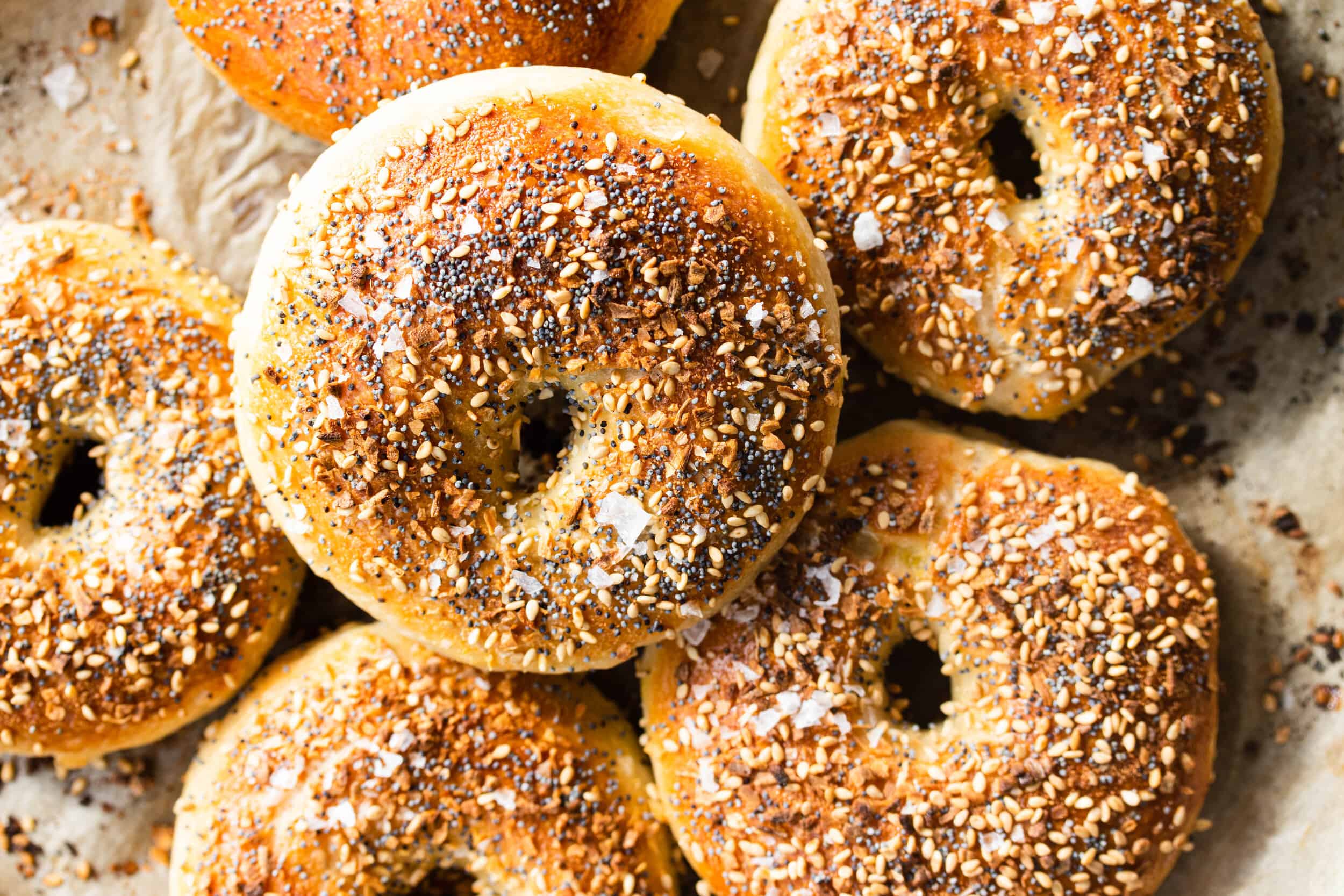 Homemade Everything Bagels
15.5-15.8

ounces

(just under 3 1/2 cups) all purpose flour

the original recipe called for a pound- we found just a tiny bit less worked perfectly. add more during the kneading process if too sticky and needed

3/4

teaspoon

active dry yeast

1

tablespoon

honey

2

teaspoons

salt for dough + 1 teaspoon salt for boiling water

9

ounces

(1 cup + 2 tablespoons) warm water (about 100 degrees- just above room temperature)

1

teaspoon

baking soda

1

egg

,

beaten (for egg wash)

toppings of your choice- for an everything bagel: flaky sea salt (my favorite; Maldon) poppy seeds, sesame seeds, dry minced garlic (regular garlic powder works in a pinch too), & dry minced onion,

The beauty about this is you can omit or add more of whatever spices you like!
Super Simplified Directions:
In a large bowl, add in warm water, yeast, and honey. Let sit for 5 minutes to bloom.

Add in flour and salt (2 teaspoons) and stir into dough. Let sit for another few minutes.

Knead dough for a brief period of time (3 minutes).

Place dough into a well oiled bowl. Cover with plastic wrap and place in fridge for an hour.

Divide dough into 9 pieces and roll into a bagel shape and place on baking sheet. Cover with plastic wrap and place in fridge overnight.

Preheat oven to 500.

Let dough come to room temperature while bringing a large pot of water to a boil. Add in baking soda and 1 teaspoon of salt. Reduce heat to a simmer.

Do the float test.

Boil each bagel for 90 seconds– flip each one about halfway through. Place back on baking sheet.

Brush egg wash onto each bagel lightly and sprinkle seasonings onto each bagel.

Reduce oven temperature to 450. Bake bagels until golden, about 16-20 minutes, rotating the sheet halfway through to ensure even browning.
Generally it's good to steps 1-6 the night before and then 7-13 the next morning.
In a large bowl, add in warm water, yeast, and honey. Whisk to combine and let sit for at least 5 minutes to bloom yeast. You should see bubbles to indicate yeast is active.

Add in flour and salt (2 teaspoons) and gently stir to incorporate flour into water and mix into a dough. There should not be any excess flour or water left. The dough will be slightly sticky. Set aside for 5 minutes before kneading.

On a well floured surface, knead dough for a brief period of time (3 minutes). If the dough is too sticky, sprinkle more flour on top and on the surface. It should be slightly sticky to the touch, but not so sticky that the dough sticks to your hands and you can't knead it. The kneading helps develop the gluten.

Pour about 2 tablespoons of olive oil in the same large bowl you initially used. Place dough in bowl and rotate dough to coat the ball in the oil. Cover with plastic wrap and place in fridge for an hour to rise. According to the original directions, you can place this in for up to 4 hours- we always did an hour.

Remove dough from fridge. Divide dough into 9 pieces and roll into a bagel shape: Ideally using a pastry cutter (or sharp knife), divide dough equally into 9 pieces.

There are two ways to shape the dough. I highly recommending watching my video above (go to minute 3:30 for this part) to see how to do this, as it's hard to explain in text. For both ways, each piece will need to be rolled into a ball. From there, you can choose to punch a hole using your thumb into the center and continue stretching out the hole OR you can roll the ball into a long cylinder (about 10 inches long- the key is that the cylinder needs to be long enough to wrap around your hand) and then place the dough around your palm and wrap it around your hand; secure the dough together by squeezing the two ends together and shape the part where the ends came together to be even with the rest of the dough. I've found that the punching method results in more uniform bagels. Place the shaped bagel dough on a baking sheet lined with parchment paper. Repeat for the other 8 pieces.

Cover the whole baking sheet with plastic wrap and place in fridge overnight (at least 8 hours).

Preheat oven to 500.

Before boiling bagels, let the dough come to room temperature (let sit at room temperature for about 30 minutes). Bring a large pot that is 3/4 of the way full with water to a boil. Add in baking soda and 1 teaspoon of salt. The baking soda helps to create an alkaline environment that helps create that crispy exterior. Reduce heat to a simmer.

Test that the bagels can float: place one piece of bagel dough in a bowl of water. It should float. If not, let it rest for another 20 minutes or so and try again. If it still doesn't work, this indicates something went wrong with your yeast and rising- you can continue but the bagels will be quite dense.

Boil each bagel for 90 seconds– flip each one about halfway through. Use a spyder or big strainer to fish out the bagels. When done, place back on baking sheet. We did this in two batches.

Brush egg wash onto each bagel lightly and then sprinkle your seasonings onto each bagel.

Reduce oven temperature to 450. Bake bagels until golden, about 16-20 minutes, rotating the sheet halfway through to ensure even browning.

Technically you should wait 30 minutes before eating. We often only lasted 10- it was fine 🙂
Video