Sick of salads, but still need your veggie fix? Meet your new friend: collard green wraps!
The keys to a delicious wrap:
Blanching
A good dressing
Light and crisp vegetables
Blanching: I've talked a lot about blanching before, and that's because it's a game changer. It's the magic behind most crudite- tenderizing and just slightly softening vegetables, while still keeping them bright, fresh, and almost raw. Blanching collards makes them easier to handle and tastier. (See bio for full details on how to blanch)
(Since my boiling water is out anyway, I also blanch the carrots)
Dressing: Either toss the vegetables in the dressing and then wrap them up, or use the creamy dressing as a dipping sauce (or both). Here I used my creamy peanut sauce (I've also used a creamy basil avocado one that I'm finalizing). You can do almost anything, as long as it has a strong bold flavor.
Vegetables: There's a lot of flexibility with what veggies you use. My personal favorites are ones that I have a lot of crunch- here I used carrots, kohlrabi, peppers, and apple (a touch of sweetness from something like apple goes a long way here). Avocado is also a great add.
It's been a long time since I've made these, but back when I was at culinary school in New York, I was obsessed with the collard wraps at this one specific raw restaurant (Pure Food and Wine). When I saw these beautiful collard greens at the market, I immediately had flashbacks and knew I had to make these.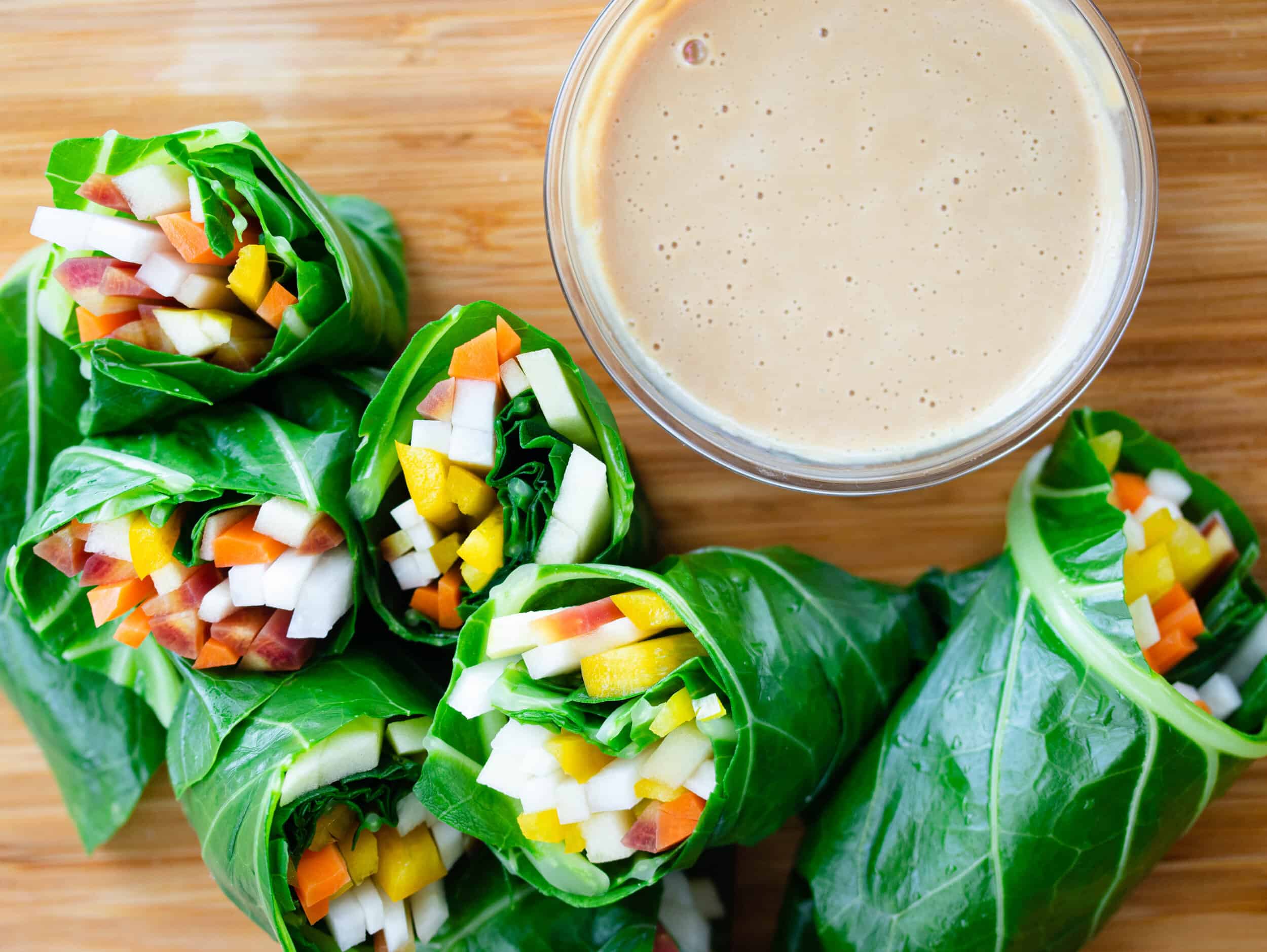 Rainbow Collard Wraps with Creamy Peanut Dressing
1/2

bunch collard greens

,

(about 4-5 large leaves- the larger the easier it is to wrap, so try to get big leaves)

1/2

apple

,

julienned or sliced into a thin matchstick

1/2

bell pepper

,

(any color), julienned or sliced into a thin matchstick

1/4

kohlrabi, peeled and julienned or sliced into a thin matchstick

,

(this is harder to find, so omit if you can't find. Good substitutes would be jicama or daikon. You can also just increase the amount of another vegetable.)

1-2

small carrots

,

peeled and julienned or sliced into a thin matchstick

Creamy Peanut Sauce or other sauce of your choice
Blanch the collard greens: Prepare a large pot of salted boiling water on the stove. Once it is at a boil, uncover and add in collard greens. Using tongs or a spoon, push lightly down so the entire leaf is submerged. Let cook for about 45-90 seconds, until the greens are vibrant green. The more you cook, the more tender and softer the leaf. Immediately remove the greens and place in a colander and put under running cold water or in an ice bath until the collard greens are quite cool.

You can also do a quick blanch (about 30 seconds) on the carrots to tenderize them as well. Repeat the same method, just for 30 seconds.

Option: You can toss your vegetables in a few tablespoons of the peanut sauce before your wrap them if you don't want to deal with a dipping sauce or want a stronger flavor in the wrap.

With a small knife, cut out the thick bottom stem of the collard green. See my video to see how much I cut out- I went a bit into the leaf, but tried to keep the majority of the leaf whole.

Wrapping them: To be honest, watching instead of reading is a much better way to understand this method, so I highly encourage you to watch, but here's my best way to explain:

1. Lay the collard green flat on a cutting board. Add in vegetables in the center- don't go overboard, or it will be too hard to wrap up- you'll see within the first try how much is doable.

2. Fold in the bottom edge over the vegetables to cover them about halfway. Then fold in the vertical edges to mostly cover the vegetables.

3. Tuck the vegetables in securely under the bottom edge and then roll the wrap to finish. Keep the edge/end on the bottom side or stick a toothpick through the wrap to keep it closed.

Serve with dipping sauce!