Looking for a comforting and cozy recipe? This pasta is it- especially because it's quick and easy. Not only does it take 30 minutes, but the steps are super simple and have minimal clean up. It's the perfect recipe for the novice cook or someone looking for a straightforward weekend night meal.
A few notes about my personal preferences and room for flexibility here:
Coconut milk lightens this dish up a bit, but also adds a bit of sweetness/flavor to the mix. If you prefer to keep it just creamy without that hint of sweetness, go for the heavy cream instead.
Have fun with pasta shapes- while I've been loving rigatoni recently, shells or penne would also be great here!
Whole Food's Italian blend is one of my go to's for recipes like this- it's a blend of provolone, asiago, and parmesan. But really, you can go for most cheeses, as long as it melts- mozzarella is another easy option.
I love adding in a bit of cauliflower and spinach for some veggies. If that's not your thing, just omit the spinach and add in another 8 ounces of pasta for the cauliflower.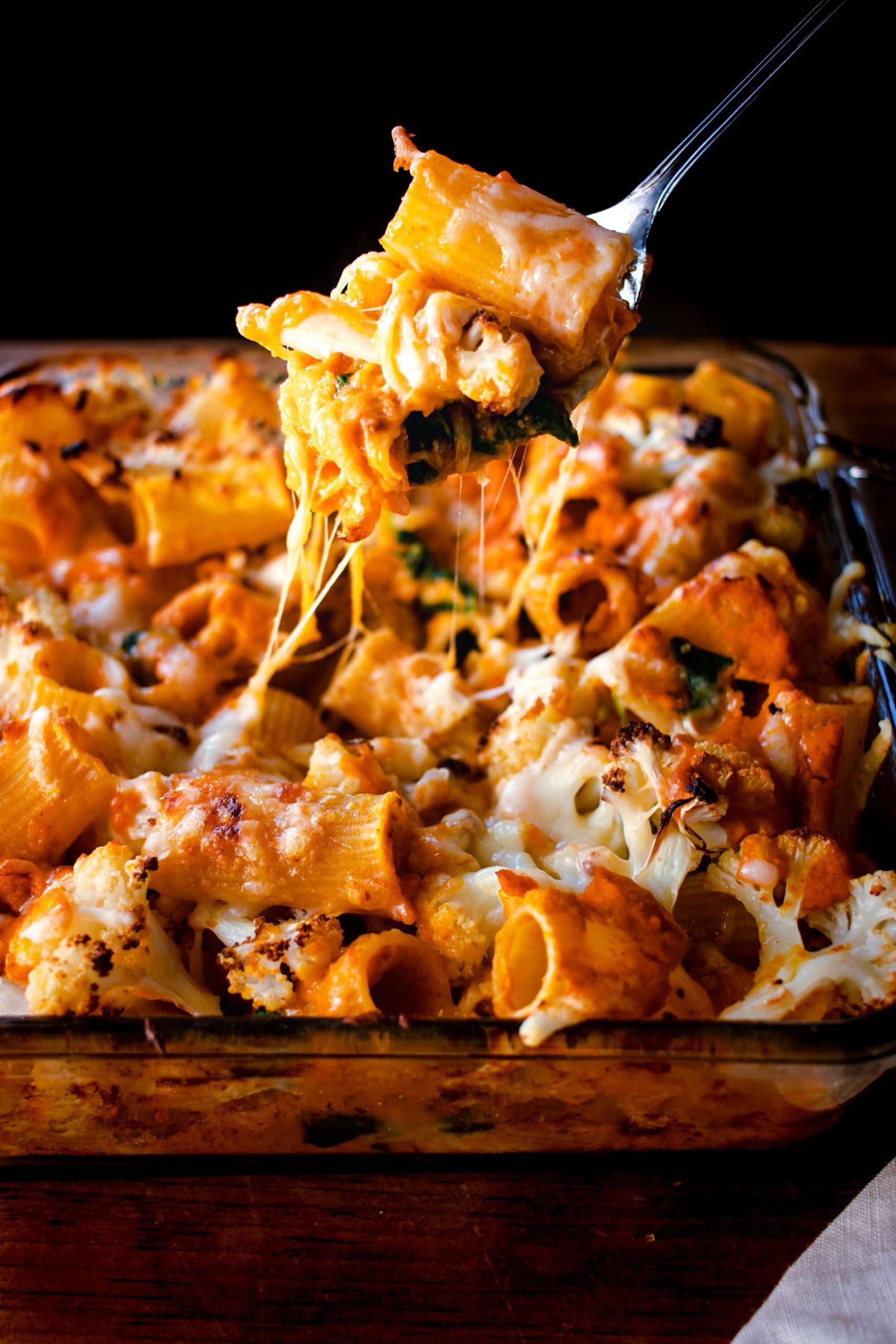 Pumpkin Mac n Cheese with Roasted Cauliflower
1

pound

rigatoni or another tube-shaped pasta

1

large handful of spinach

3/4

cup

(180g) canned pumpkin

3/4

cup

(145g) coconut milk OR 1/3 cup heavy cream + 2 tablespoons pasta water

1

cup

shredded Italian blend cheese (or a mix of your favs)

1/2

head cauliflower, cut into bite-size florets and already roasted

, (Toss in olive, salt, and pepper and roast at 425 for about 25 minutes!)
Preheat oven to 425.

Cook pasta: Cook pasta according to directions, but keep al dente- for Banza pasta I cooked it for 5 minutes (about 1-2 minutes quicker than what the directions stated). Reserve pasta water if using heavy cream.

Make the sauce: Blend pumpkin, coconut milk, salt and pepper in a blender (or whisk vigorously if you don't have a blender).

Assemble and bake: Place pasta and cauliflower in a 9×9 pan and add in sauce. Toss to evenly coat in the pumpkin sauce. Sprinkle cheese on top and bake for 12-14 minutes, until cheese is fully melted and just lightly brown. Broil for 2-3 minutes, until cheese is browned. Serve immediately.