Before this summer, I had never cooked with lobster. It sounded a bit intimidating and never something I had even considered. Feel similarly? Good news: lobster (okay lobster tails) are seriously easy to cook! Yes, they're a bit of a splurge and not an everyday meal… but if you're looking for something special that isn't over the top in prep, this is it.
I've adapted this recipe from my favorite cioppino recipe. It's made for two and comes together in about 45 minutes- but 25 of those are just letting the broth simmer and build flavor.
I served this with some tempura eggplant fries and a baguette from @seyloubakery topped with some pesto.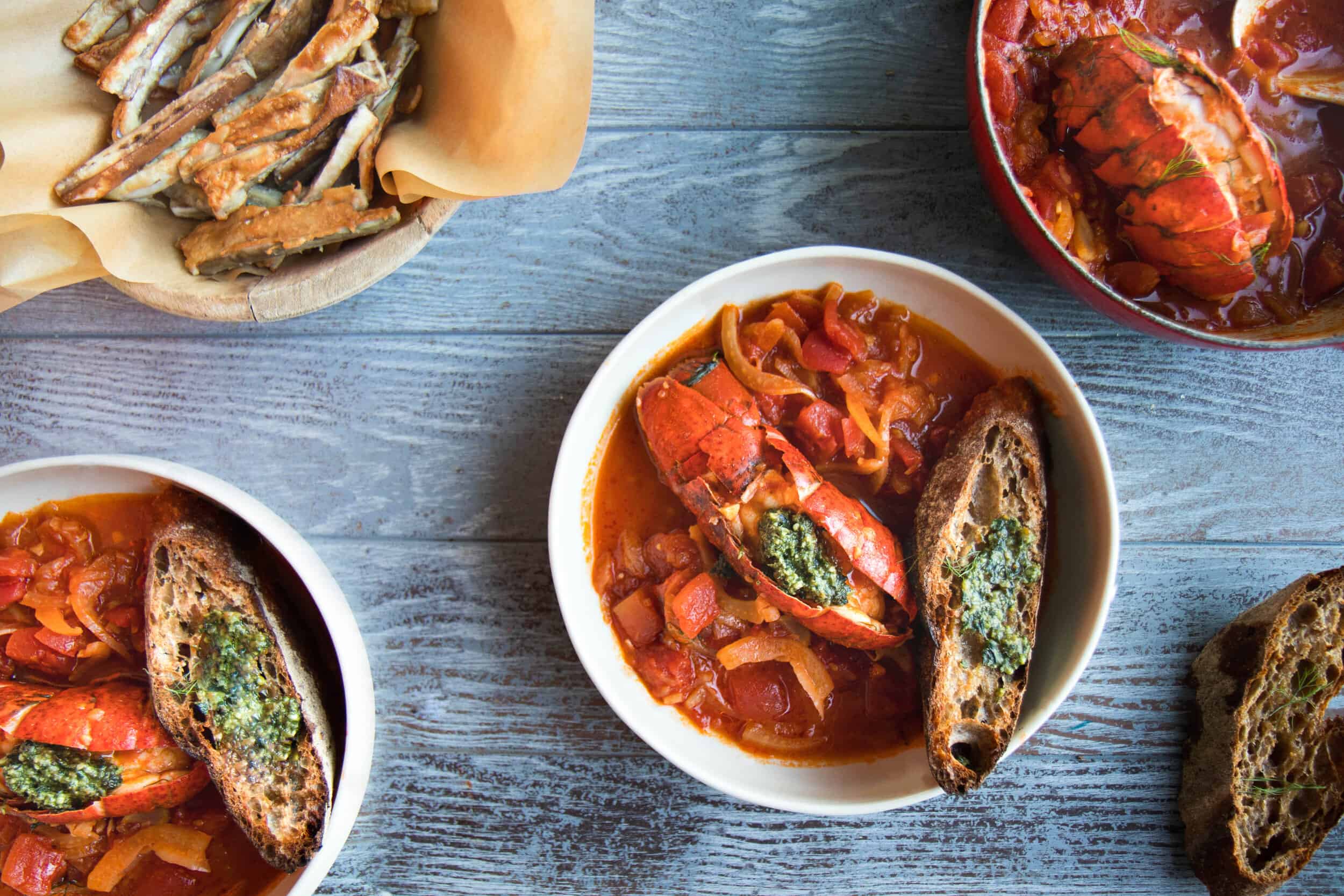 Summer Lobster Tomato Stew
1

tablespoons

olive oil

,

(enough to generously coat bottom of pan) + a tablespoon or two for the baguette

1/2

fennel bulb

,

sliced + 1 few sprigs of fennel for garnish

2

small shallots

,

diced (about 1/3 cup diced)

3

garlic cloves

,

crushed (+ 1 garlic clove for baguette if you want)

2

tablespoons

tomato paste

1 14-

oz

can diced tomatoes

1/4

cup

dry white wine

2

cups

(32 oz) fish stock

1

bay leaf

2

lobster tails

,

cleaned and with shell cut in half (use a scissors or knife and cut directly down to the center of the "spine")

1/2

baguette

,

sliced

optional: 1/4 cup pesto
In a large pot, saute onion, fennel, shallots, and garlic in olive oil over low to medium heat. The onions should begin to turn translucent and lightly brown, but the heat should be low enough to not brown a ton; this takes about 7 minutes.

Add in tomato paste. Stir to coat the onions and fennel. After about a minute, add the diced tomatoes, wine, fish stock, and bay leaf. Bring to a boil and then reduce to a simmer. Simmer, covered, for 30 minutes.

Preheat oven to broil to get baguettes ready. Light brush each slice with oil (and a bit of crushed garlic if you want) and broil in the oven until brown, about 3 minutes.

Add in lobster tails, shell down, and cook until they are no longer translucent, about 1 minute/once (mine was about 4-5 minutes for a 4 ounce tail).

Place each lobster tail into individaul bowls for serving (rightside up). Spoon tomato stew into bowls over lobster. Place baguette on side. Add a spoonful of pesto to the lobster and the baguette if desired.