This vibrant green sauce adds lot of flavor and texture to an otherwise simple pasta. I was originally interested by a green kale pasta by NYT Cooking, but I found the kale made it difficult to get a smooth texture and just dominated too much. More tender greens like spinach or baby kale works better to create a silkier smoother texture.
The second secret ingredient: sunchokes! Sautéing and then pureeing them results in a rich, creamy sauce so you don't need any heavy cream. I picked up on this trick in Vegetable Kingdom by Bryant Terry and have been using it in a bunch of different ways and adjusting it to my own liking/pantry.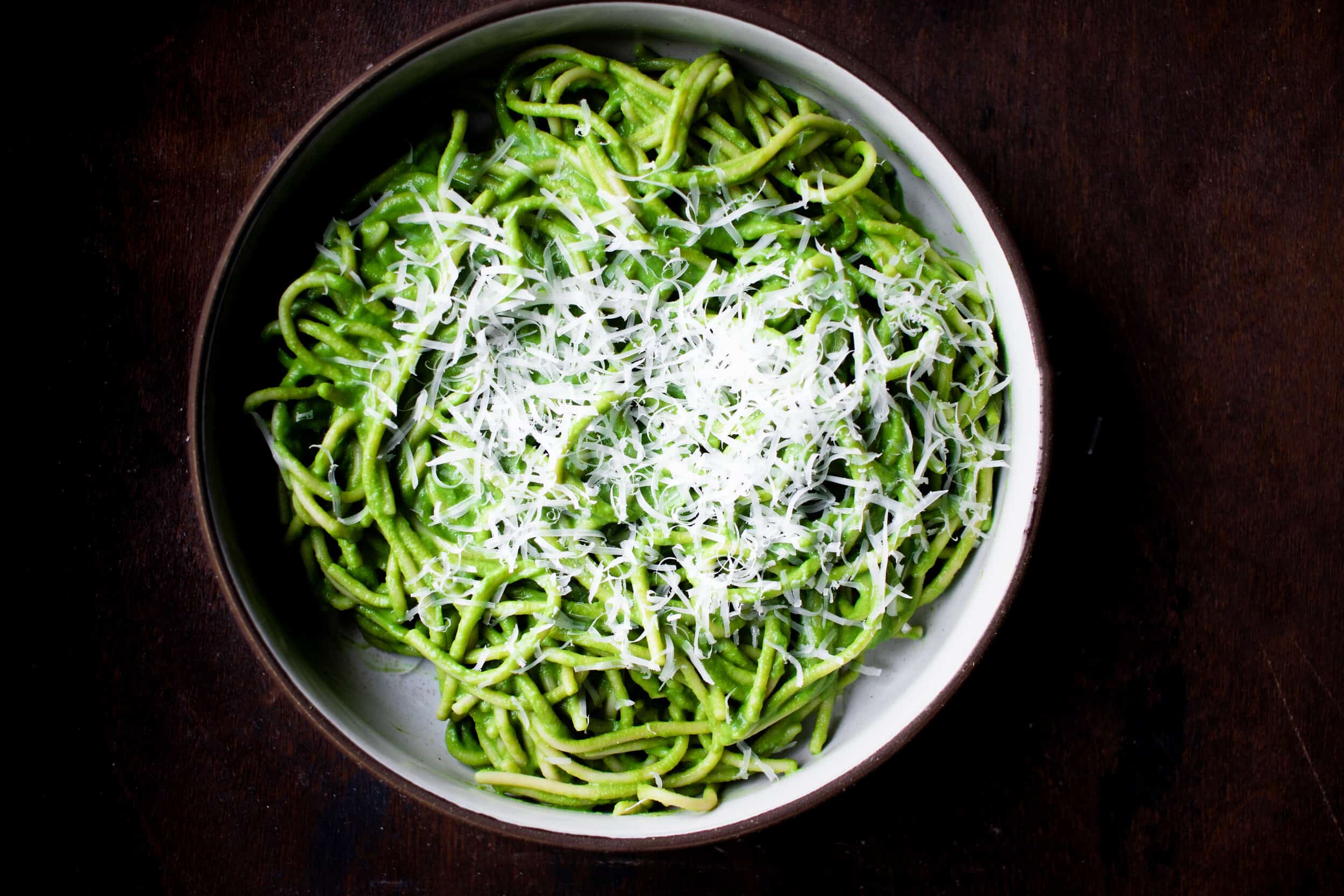 Green Sunchoke Linguine
Difficulty Level: 2. Makes about 1 1/2 cups of green sauce (an easily be halved, but also works for leftovers).
4

ounces

total greens

,

(can be a mix- I will usually do half spinach and half collards or another somewhat tender green)

1-2

tablespoons

olive oil

1/4

onion

,

roughly diced (1/2 cup or so)

1/4

sunchokes

,

roughly diced (3 or so sun chokes, each around the size of a golfball)

1

garlic clove

,

roughly diced

1/2

teaspoon

kosher salt

Pepper

1

tablespoon

dry white wine

, (No white wine on hand? I hate to buy a whole bottle just for a tablespoon, I get it. I have omitted this one time when I didn't have it on hand, but the acidity really does help keep it balanced, so if possible… get it. If you don't have white wine, a touch of lemon juice at the end will help balance the acidity but has a stronger flavor)

1/2

cup

cashews or blanched almonds

1

tablespoon

white miso

1

package of linguine, cooked according to directions
Blanch greens: Blanch greens in salted boiling water for 1:30-2 minutes, until wilted and bright green. Run under cold water to stop cooking.

Saute sunchokes and onions: In a small saucepan, add in oil, onion, sunchokes, and garlic. Saute over low to medium heat until brown, about 7ish minutes. If you notice any sticking, add a bit more oil. Season with salt and pepper during this time.

White Wine: Add in white wine and saute until it has mostly evaporated, about 1-2 minutes. Set aside, off heat.

Cook pasta: Cook pasta according to directions. Reserve 1 cup of pasta water.

Blend: Transfer to blender and add in cashews and 3/4 cup water (ideally the reserved pasta water if you can, but you can also just do plain water). Blend until smooth. If you notice it is too thick, add in a bit of water, a few tablespoons at a time, until desired consistency.

Add greens: Add in blanched greens and puree again until smooth. Add in more water, a few tablespoons at a time, as needed.