This Foolproof Slow-Roasted Paprika Chicken is perfect for a Sunday afternoon. It takes a bit of time to cook in the oven, but it's incredibly simple, straightforward, and lends itself well to leftovers (and even a soup if you want!). If cooking a whole chicken intimidates you or you've messed it up before, this recipe is incredibly forgiving and is a great place to start. And if you feel like you can roast a chicken blindfolded, you'll still enjoy how tender, flavorful, and simple this recipe is as well.
Why is this foolproof?
The key really is in the low oven temperature. I've cooked whole chickens at almost every temperature you can think of- 300, 325 350, 375, 400, and 425 degrees. Each has its pros and cons, but I like 325 degrees because of how forgiving it is. It's much, much harder for the chicken to dry out and you'll be left with an incredibly tender, moist chicken. It also gives you a wider, more forgiving range at which the chicken is fully cooked and still moist and so if you don't take the chicken out RIGHT at the exact moment, it will probably still be fine.
Behind the Recipe: Foolproof Slow-Roasted Paprika Chicken
Spice Mixture: The ratios in this mix is actually what I tested most in this recipe. It's a delicate balance in having lots of flavor without it being overpowering (and I say this having done both). I really wanted the paprika to come out while also having dimension and complexity (without it being too many ingredients).
Lemon & Garlic: Adding these into the cavity of the chicken give a subtle hint of flavor and complexity.
Keys to Success
Use a thermometer! I really can't emphasize this enough for almost all of my recipes. It is key for cooking proteins, no matter your cooking level. As a beginner, it's incredibly helpful. As a chef, it's incredibly helpful.
Especially for a whole chicken, you really don't want to be stuck with a semi-raw chicken on the inside. And unlike other proteins, it's not something you want to cut into to check. By the time you cut into it after it's out of the oven and has rested, placing it back into the oven just isn't an option (and takes out all the ease of this recipe). Using a thermometer is the best way to avoid this.
There are lots of options for thermometers. I'm still finding my favorite one, but here are two options: an inexpensive one ($15) and a more moderately-priced one ($55).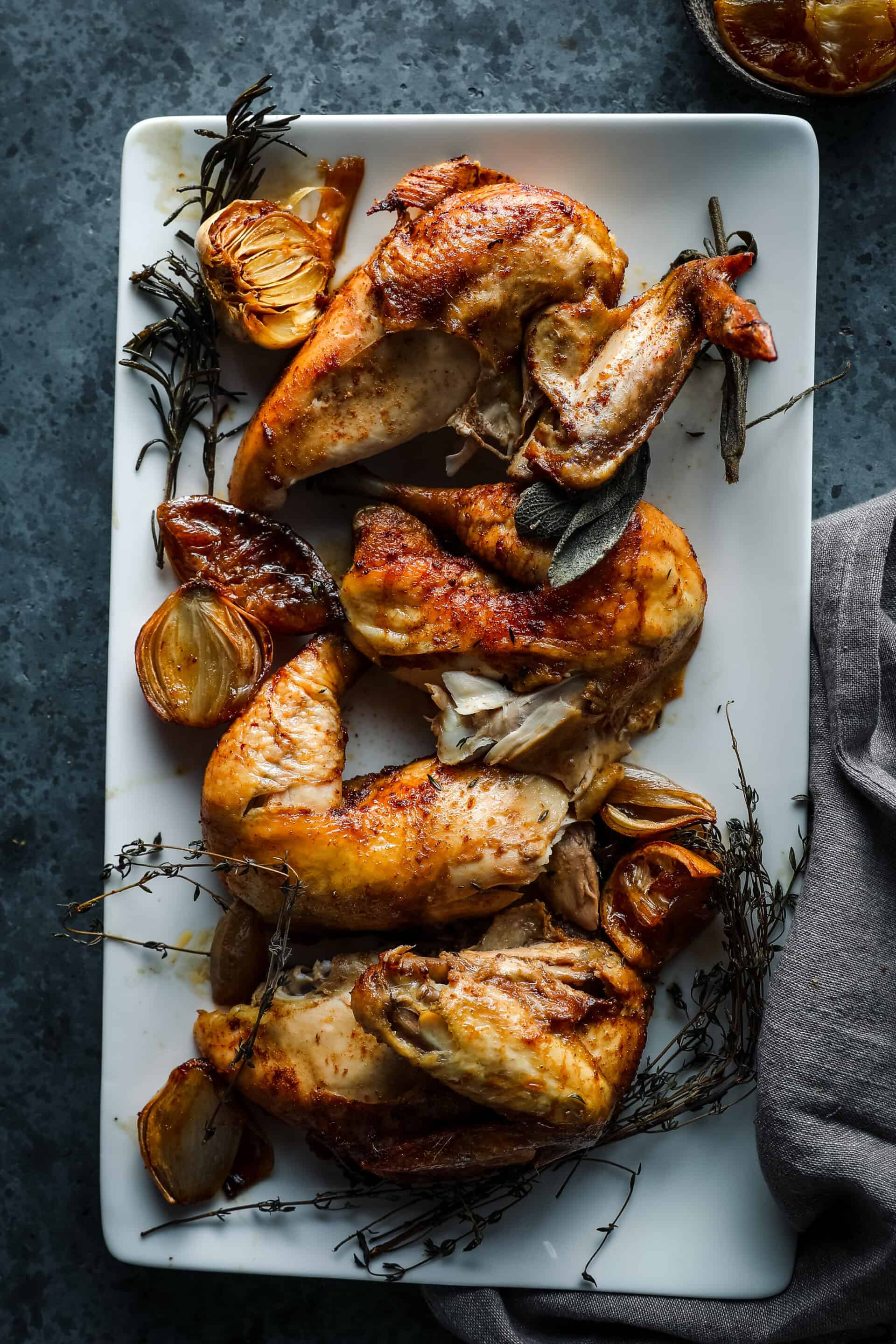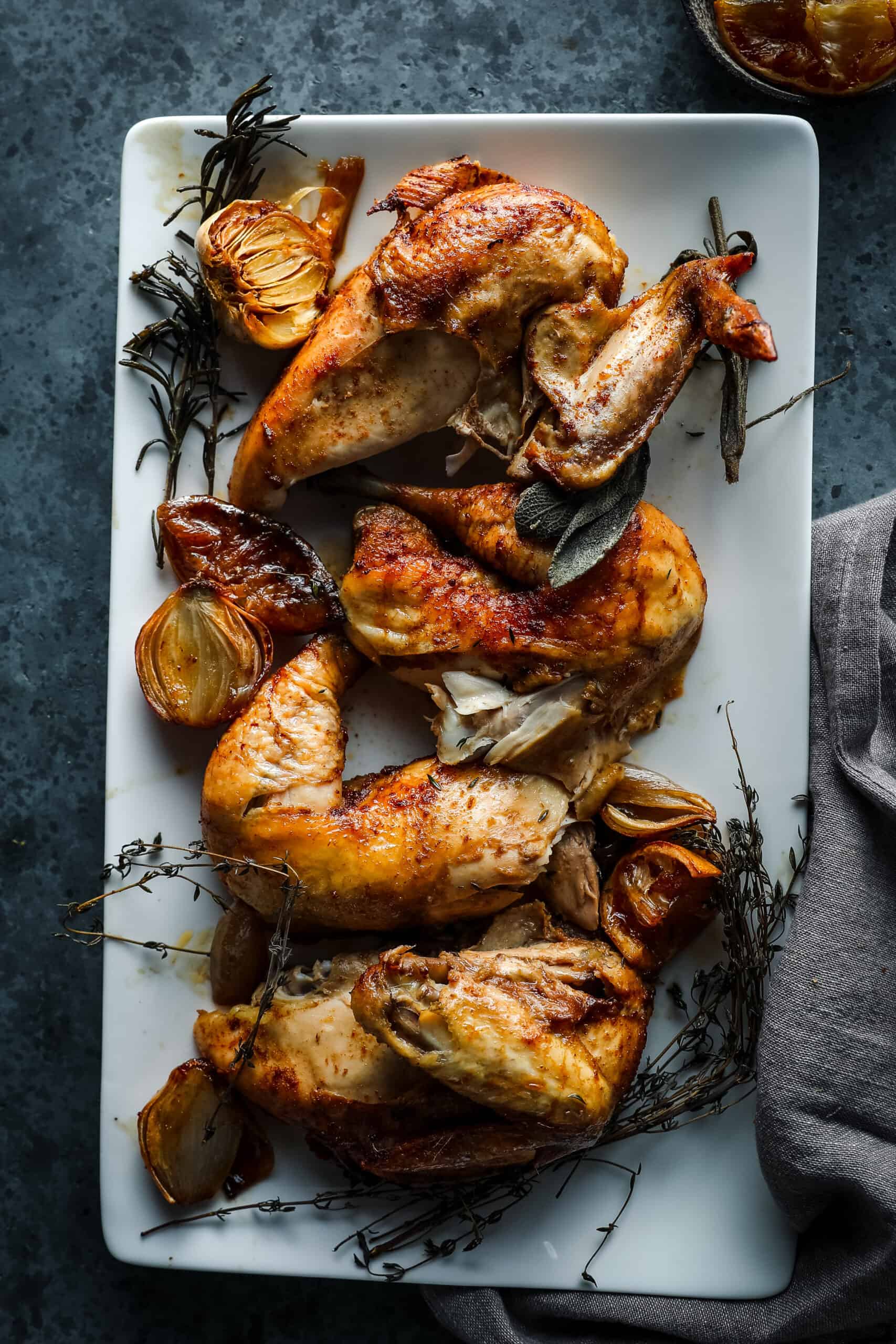 Foolproof Slow Roasted Paprika Chicken
3-4

tablespoons

extra virgin olive oil

1.5

tablespoons

paprika

1

teaspoon

cumin

2

teaspoon

light brown sugar

4

teaspoons

diamond kosher salt (if using any other salt, use half the amount)

1/2

head

garlic

,

(skin still on)

1

lemon

,

quartered

1

3-4 pound

whole chicken
In a small bowl, add in olive oil and all the spices (paprika, cumin, light brown sugar, salt).

Get everything out so you don't have to worry about cross-contamination once you're working with the bird. You'll need:

– optional: a small sheet pan lined with foil to place bird on (you can also cook it directly on this if you'd like OR the foil makes it a bit easier to clean)

– twine to tie the legs

– halved garlic and quartered lemon nearby

– oil and spice mixture nearby

– the chicken (duh)- remove from packaging and remove any organs that sometimes are left inside. pat dry with a paper towel. do not rinse in the sink!

Pour about 1/3 of the oil and spice mixture onto the top of the bird. Massage mixture onto the top outside part of the bird. Use your hands to make sure you get the spice mixture and not just oil, as sometimes the spices settle to the bottom. Accept that your hands are going to get messy for this period, but it'll be worth it.

Gently with the tip of your fingers, get under the skin of the chicken and pour another 1/3 of the oil/spice mixture under the skin. As best as you can without ripping through the skin, gently rub the mixture. You'll need to tear some tissue in order to do this, but be gentle or you'll pierce through the skin entirely. the first time you do this it will feel a bit odd, but this helps the flavor get to every part of the chicken.

Flip the entire chicken over and pour remaining oil/spice mixture onto bottom of the chicken. Use your hand to throughly coat.

Add garlic and lemon to the inside of the chicken. If all of the lemon doesn't fit inside, place it around the chicken.

Place chicken in oven for the next two to two and half hours, until the chicken registers an internal temperature of 165. Every 45 minutes to 60 minutes, baste the chicken by using a spoon to take the liquid on the outside/in the pan and spooning it over the chicken. This helps keep the chicken really moist.

The time varies depending on the size of the chicken, which is why a thermometer is SO helpful! Be sure to check at the deepest part of the chicken (see picture) but without touching the bone. I will usually check two points- both at the thigh and breast- to be sure.

Let chicken rest for about 15-20 minutes before cutting into it. See above for some pictures and help.