Pasta is the food to make if you're looking to slow down and appreciate the art of making food. You'll be amazed at how much it takes to make a single ravioli. I'm by no means a pasta master, but I have learned a lot from various experts and lots of tinkering. In particular, I wanted to share my experiences with whole wheat pasta in this step by step: fresh whole wheat pasta post.
Over two years ago I took a couple of classes from Pasta Social Club. It was the perfect entry point and Meryl was great at making this complete newbie feel a bit more confident.
Since then, I've experimented a lot with different color pastas, using whole grain flour, and evolving my own method. I've found that the best ratio is 50% whole grain flour and 50% 00' flour- however, a simple substitute doesn't work great. Whole grain flour absorbs more liquid, so I've been working and documenting the best way to compensate for this without just adding water (egg yolks are a lot more flavorful).
Considering this an ever-evolving working documentation of my pasta adventures. I'm fairly confident to say that I've found the right ratio for the plain pasta dough. The colored pastas still require a bit more tinkering with, so stay tuned.
Fresh Whole Wheat Pasta, Part 1: Making a Basic Dough
I've learned this method from Pasta Social Club a few years ago and it's my favorite one. I have tried to use a kitchen aid standing mixer once and found that it didn't work as well, so I highly recommend doing this by hand. For a full Step by Step: Fresh Whole Wheat Pasta guide, see the photos below as well as videos in the recipe description.
Fresh Whole Wheat Pasta, Part 2: Getting Creative
Sage Pasta Dough
The basics: For this pasta, you laminate fresh sage leaves into the pasta. To do this, create two thin pasta sheets. Then place sage leaves in between the pasta sheets and run this through the pasta machine again.
Pink Pasta
I absolutely love the stunning pink that beets bring. To do this, place 2 medium beets (you'll probably only use about 50-70% of them) in a baking dish. Pour in just a bit of water (about 1/2 cup or so) and cover with foil. Bake at 400 degrees for about 45 minutes, until tender. Let beets cool slightly and then peel. Place in blender with eggs to make a puree. This one does take some time, especially because I think it looks best when you pair it with normal pasta dough (meaning you are making two doughs).
Green Pasta
I've tried several methods for green pasta and I haven't found one that's been perfect. Each one has required a good amount of tinkering with the moment and the consistency has been inconsistent- so I won't be sharing a recipe yet! However, I've tried achieving the green shade through both peas (recommended by Pasta Social Club) and spinach (by Evan Funke in American Sfoglino). The peas resulted in a somewhat dry/crumbly dough whereas the spinach was challenging to really ring out extra moisture, resulting in a dough that was way too sticky. Stay tuned as I figure out my favorite method here.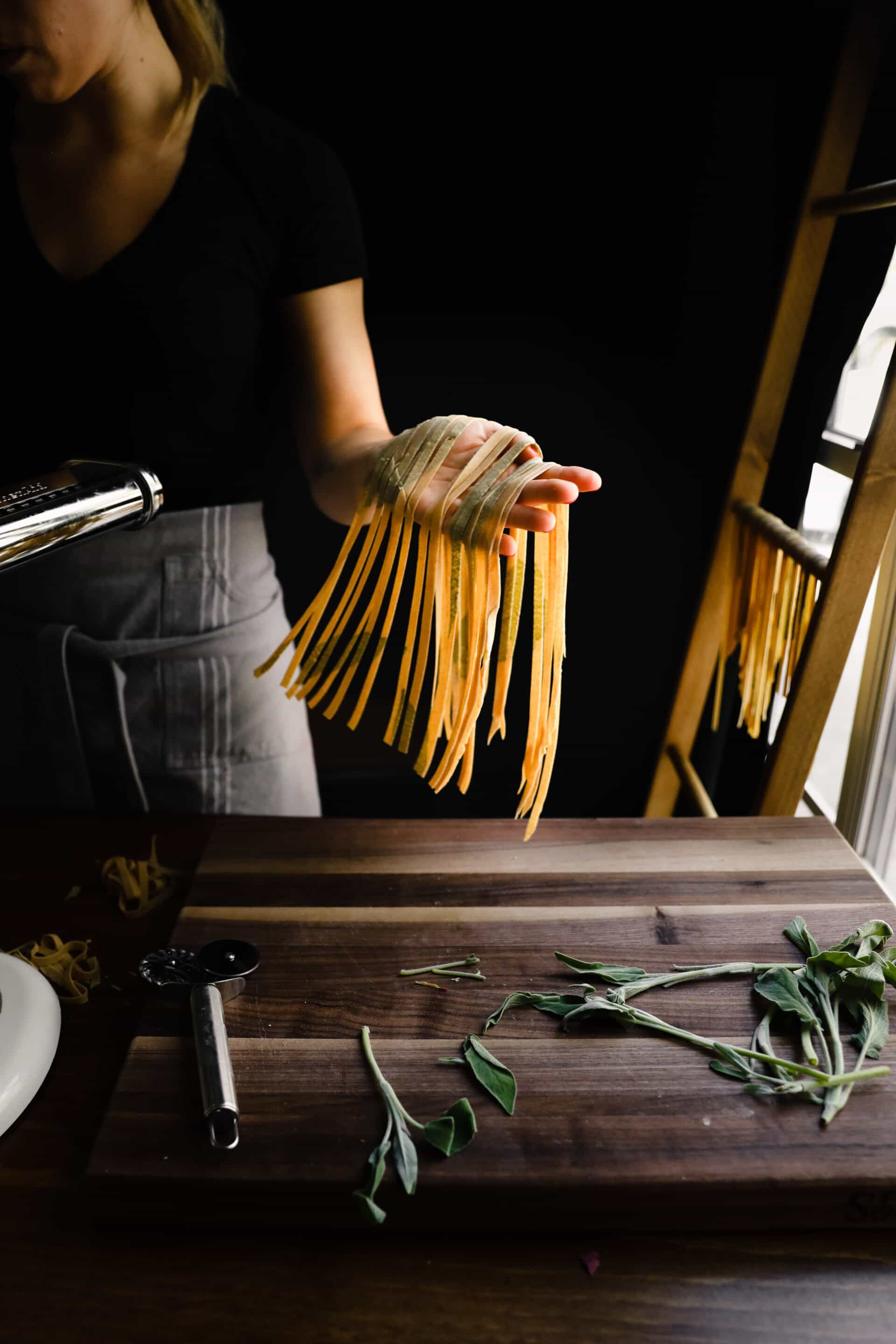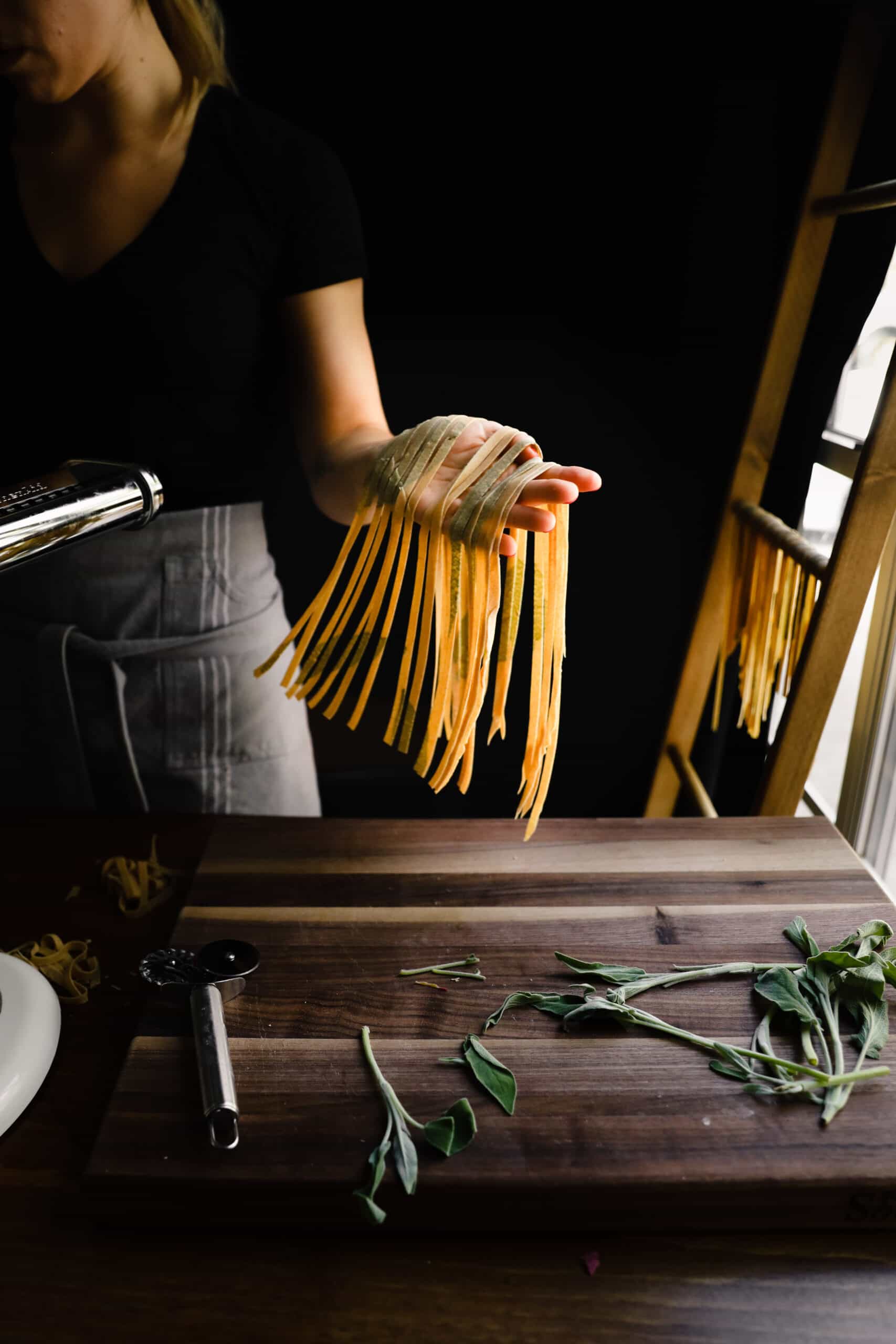 Step by Step: Fresh Whole Grain Pasta
3

large eggs

,

(150g)

2

large yolks

,

(50g)

200

grams

00' flour,

*this is finer grain than all purpose and results in a smoother dough. You can use all purpose as a substitute if you can't find it!

200

grams

whole wheat flour

50

grams

semolina flour
In a large bowl (preferably one that is wide rather than deep), add flours and mix.

Note: You can also do this on a large cutting board or on counter, just keep in mind it will get a little messy (see video for messy version here- a video above with green pasta shows how to do this in a bowl instead!)

Create a well in the middle. Add in eggs and egg yolks into well.

Using a fork, whisk the eggs. Once completely whisked, slowly begin to drag some of the surrounding flour into the egg mixture. Continue this gradually until it has become quite thick- so thick that you can't use a fork anymore.

Begin to use your hands to incorporate the flour into the egg mixture. Remove the fork. Take some of the surrounding flour and gently put it over the egg mixture. Using the tip of your fingers, gently push it into the egg mixture. Repeat until almost all flour is incorporated.

At this point, the dough should be coming together in a stiff, firm ball. Remove the dough from the bowl and place on the counter. Knead for 10 minutes. Some notes:

– Yes, actually 10 minutes. It's a long time. Time yourself. This is key to developing the gluten and creating a supple, smooth dough.– This is a lesson I've learned both from the pros and from failed experience: Doing this by hand is best. It allows you to adjust the dough as needed. If you notice it is quick dry, stiff, and there are cracks, it needs more water. It's important to add water in REALLY small increments so to add water, spray with a water bottle or dip your finger tips in water and continue to knead. Knead for about 30 seconds and then reassess and add more if needed. If you notice the dough is very sticky and wet, sprinkle in a bit more 00' flour.

Cover dough with plastic wrap and let sit for at least 30 minutes. This allows the dough to hydrate and is another key step for supple, smooth dough. You can also place the dough in the fridge for 1 day at this point.

Remove a small portion (about 1/4 cup) of the dough using a pastry cutter or your hands. Flatten out with your hands into a rough rectangle. Then using a pasta machine, begin to create pasta sheets. Start at the thickest setting (level 1) and run the pasta through the machine. I usually do this a few times at level 1 to focus on creating a relatively uniform rectangle that has the same width as the pasta machine. From there, continue to run the pasta through the machine and increase the setting each time to make the pasta thinner. Sometimes I'll skip one level (e.g. from level 1–>3), but as it gets thinner and thinner, I go up in increments of 1. I usually stop at level 6 or 7, depending on desired thickness.

From here you have several options:

1. Use this for fresh lasagna (the easiest option because guess what- you're done!)

2. Run this through another pasta attachment (see above) to create noodles (another easy option).

3. Use the sheets to make ravioli (super delicious but be prepared to set aside a solid hour to do this. I highly recommend recruiting others for this step because it is more fun and goes by more quickly!).