My favorite thing about these One Bowl Toffee & Pretzel Oat Cookies? First, they are naturally gluten-free, but everyone will enjoy them. Second, they require no electric mixer and only need one bowl. Lastly, they're familiar but with a twist. The base of the dough is akin to a traditional chocolate chip cookie, but adding in toffee and pretzels in place of chocolate chips is a game-changer.
This post was originally written in March 2020. It has now been rewritten and republished 2 years later.
Jump to Recipe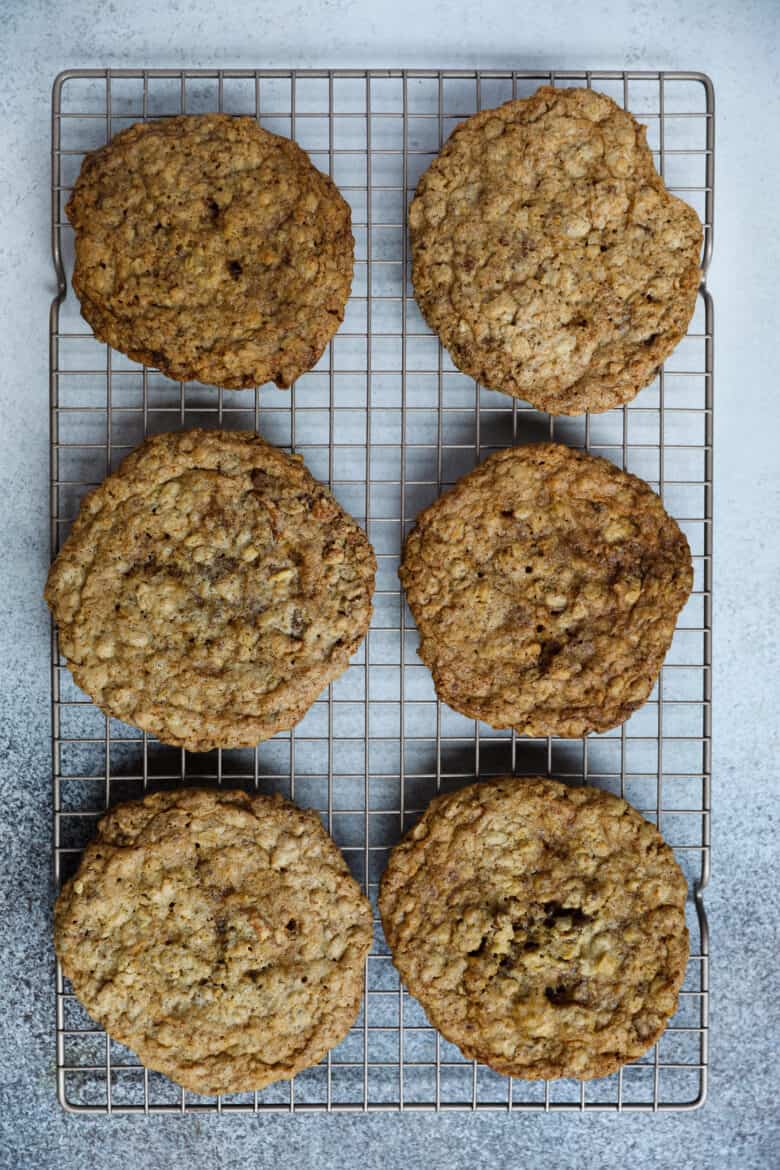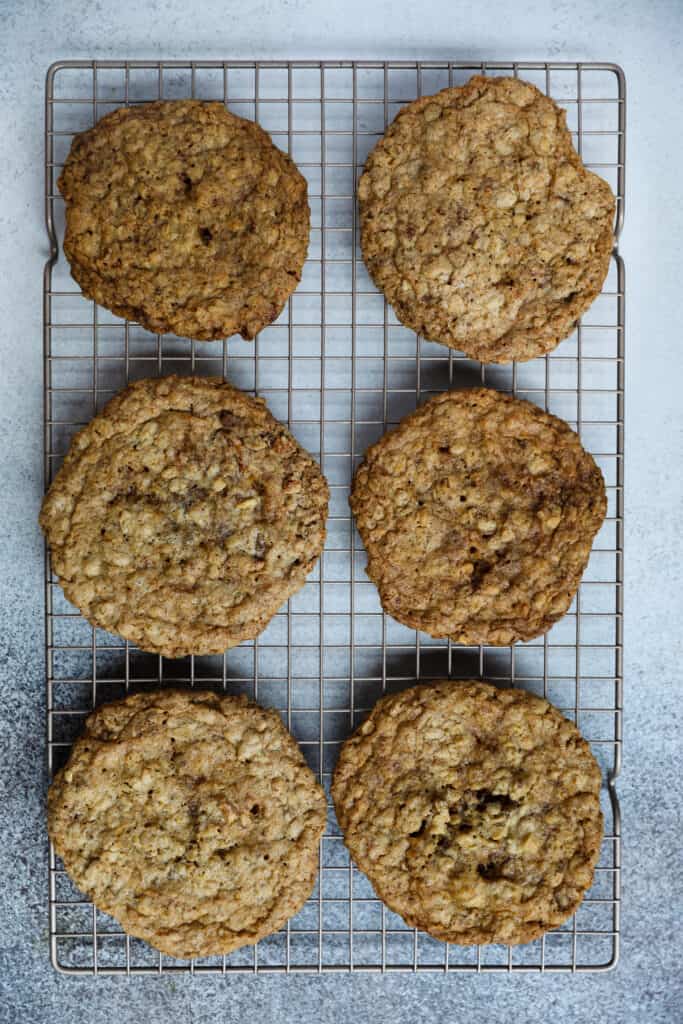 While I'm not quite as systematic as I'd like to be, I've been making effort to go through my older recipes and update them. I personally love having my old recipes on the blog to see my own growth and journey over the years. However, sometimes I look at a recipe and realize it's not quite up to the standards I have now. These cookies are adapted from my original recipe in 2019, but I've updated with the knowledge I now have after making dozens and dozens of cookie recipes.
Take these cookies- I made these in 2019 when cookies were a very occasional treat for me. The primary goal for these in 2019 was to create a dessert that didn't use refined sugar. Without going on a huge rant, I have different feelings on this now and don't think there's much of a difference between coconut sugar and white sugar, especially when you're using large quantities of both.
One Bowl Toffee & Pretzel Oat Cookies: Step by Step Video
Original Post (from fall 2019)
A cookie that's gluten and refined sugar-free, but tastes like a traditional cookie? Yes- it's possible, but it's all about the right ingredients. Using a combination of oats and oatmeal adds texture (while sneakily making it gluten free) and coconut sugar adds a hint of caramel and depth of flavor beyond just "sweet".
Yes, there is butter and a decent amount of coconut sugar in these cookies, but both the quantity and actual ingredients are key to making these taste like a real cookie. Particularly with cookies, butter and sugar aren't just needed for flavor, but also for texture. They help the cookie spread out during the baking process, resulting in that crispy yet soft crunch.
A balance of salty and sweet from chocolate chips and pretzels are the perfect finishing touch. I personally love Lily's Chocolate Chips because they are sugar-free and taste great.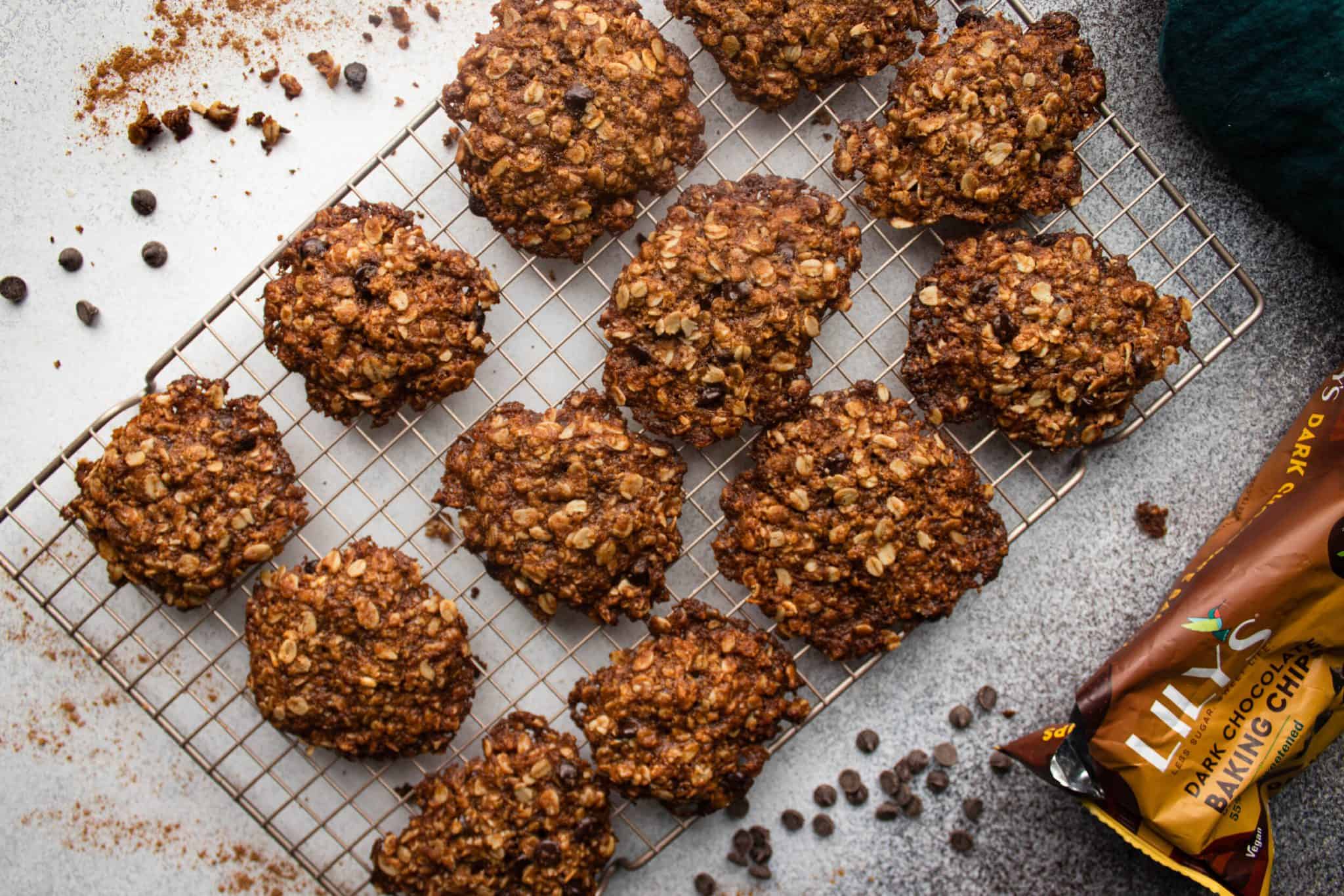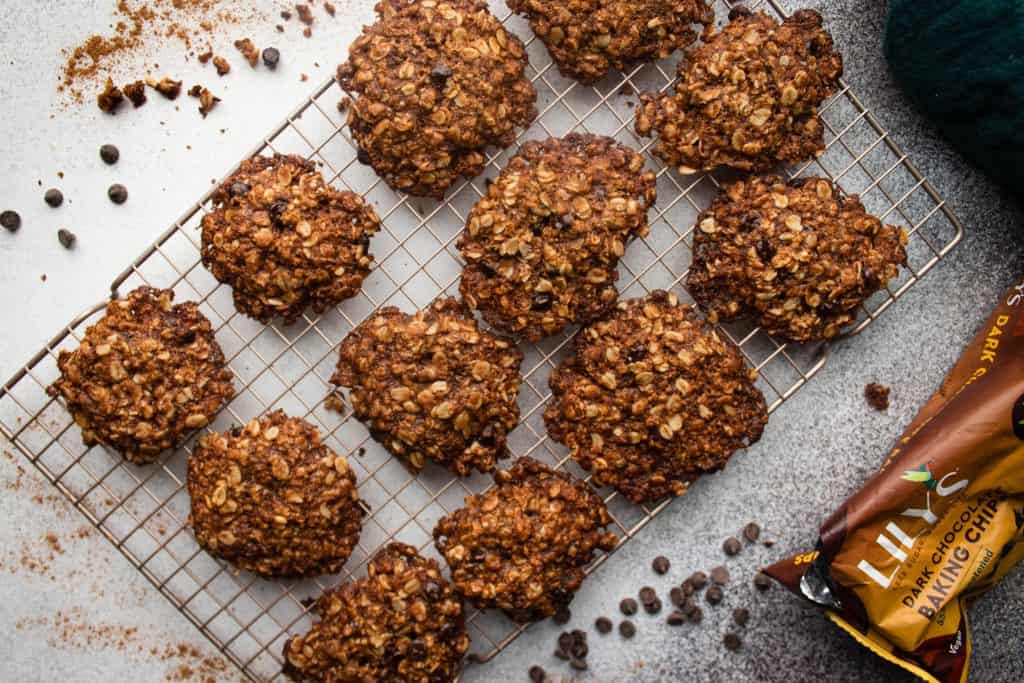 Original Recipe I made in 2019 (using coconut sugar)
Chocolate Chip & Pretzel Oat Cookies
Makes 16-20 cookies
1 1/3 cup oats (110g)
1/3 cup oat flour (30g)
1/4 teaspoon baking soda
1/2 teaspoon baking powder
1/4 teaspoon sea salt
3/4 cup coconut sugar (105g) (you can also use brown sugar here)
6 tablespoons butter, melted (84g)
1 egg
2-3 tablespoons chocolate chips (I used Lily's dark chocolate chips- they are sugar free)
2-3 tablespoons crumbled/chopped pretzels (gluten-free if you want to make this cookie completely gluten free) (use a knife to chop into smaller pieces)
Preheat oven to 375.
Combine oats, oat flour, baking soda, baking powder, and sea salt in a medium bowl. Set aide.
Add coconut sugar and butter in a large mixing bowl. Cream butter and sugar using a handheld mixer, until thoroughly mixed, about 30 seconds. Add in egg and beat for an additional 15 seconds or so.
Gradually add in flour mixture and continue to mix together (I like to use a regular whisk for this part) as you add the flour.
Stir in chocolate chips and pretzels.
Scoop cookie dough into balls (each about a heaping tablespoon or so) onto a parchment lined (or silpat) baking sheet. They will spread, so give some space in between the cookies or you'll have one gigantic cookie (I confess- this happened to me the first time I did this! I completely underestimated how much they would spread and placed them very close together).
Bake until cookies are lightly golden on the bottom, about 10 minutes. Let them cool on baking sheet for about 5 minutes, and then put the cookies onto a rack to cool completely. They will harden in the cooling process, so don't worry if they look a little soft when you pull them out of the oven.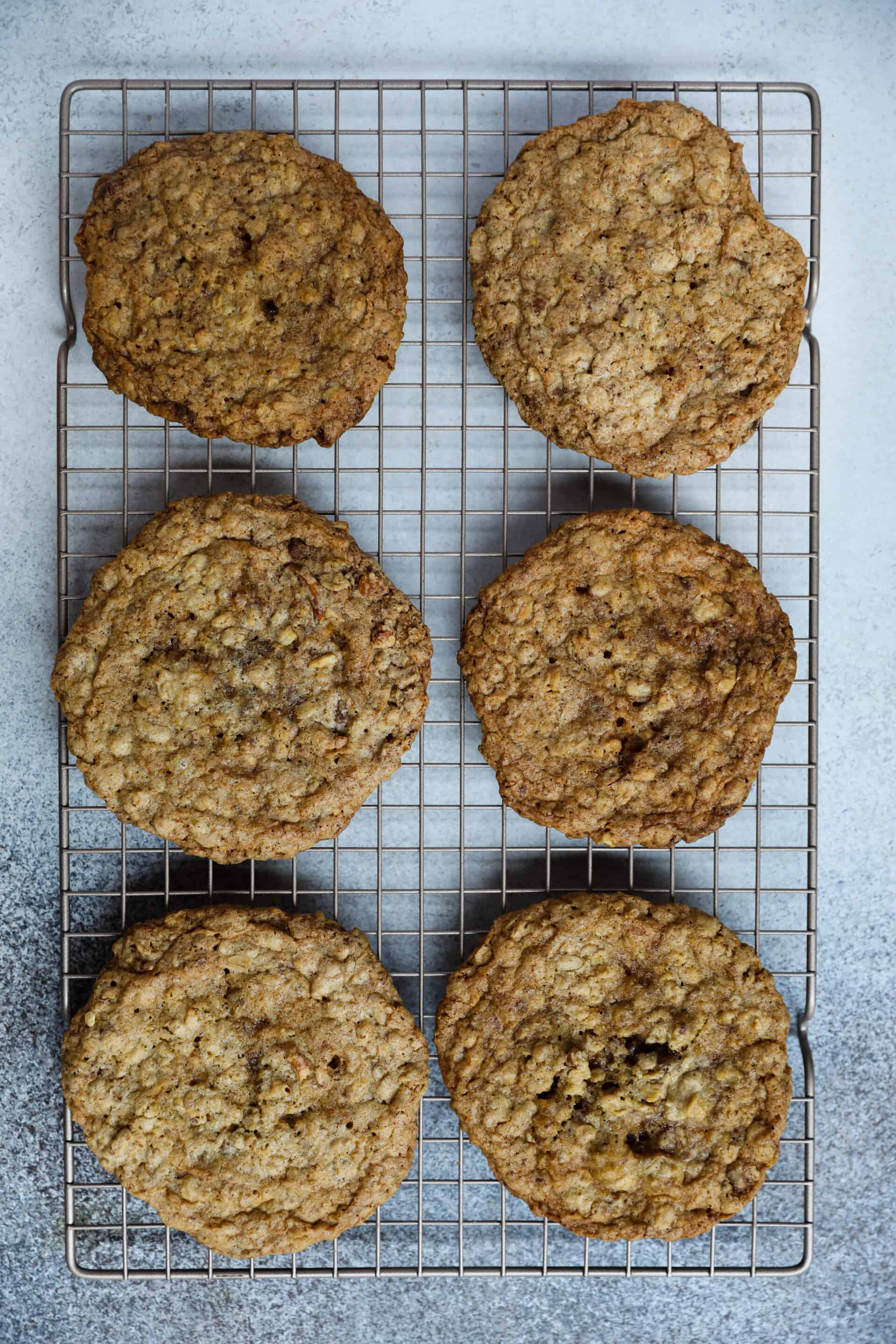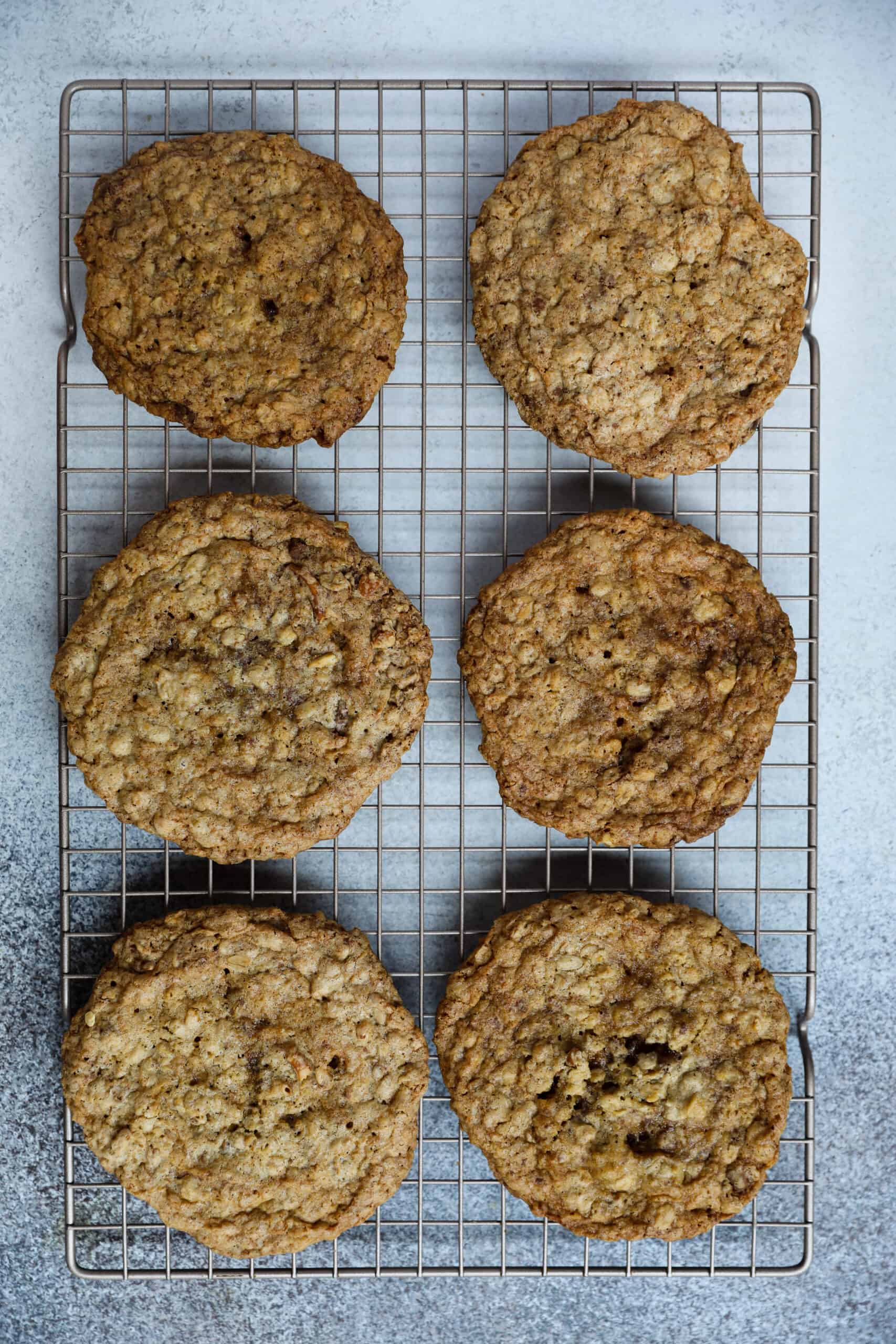 Toffee & Pretzel Oat Cookies (Gluten-Free)
1/2

cup

pretzels

,

23g

3

oz

toffee

,

4 squares or chocolate

6

tablespoons

butter

,

melted (84g)

1/2

cup

white sugar

,

100g

1/4

cup

light brown

,

50g

1

egg

1

teaspoon

vanilla extract

1 1/3

cup

oats

,

110g

1/2

cup

oat flour

,

70g

1/4

teaspoon

baking soda

1/4

teaspoon

baking powder

3/4

teaspoon

diamond kosher salt (if using any other salt, use half the amount)
Place pretzels in a ziploc bag. Crush with a rolling pin until they are crushed into tiny pieces. Repeat with chocolate toffee. Set aside.

In a large bowl, add in melted butter, white sugar, and light brown sugar. Mix vigorously with a whisk. Add in egg and vanilla extract and whisk vigorously again.

Add oats, oat flour, baking soda, baking powder, and salt to bowl. Whisk until completely incorporated with a spatula.

Stir in pretzels and toffee with a spatula. Scoop into balls that are about the size of 2 tablespoons and place on a parchment lined baking sheet. Place in freezer for 5 minutes before baking. Bake 16-18 minutes, until lightly golden brown.