One of my strongest memories of Christmas as a kid is my mom's chocolate crinkle cookies. Given that, plus my mom's affinity (and mine) to chai tea, I was immediately drawn to these Chai Crinkle Cookies from NY Times Cooking. I made these in December 2019 and wrote a post on it (now updated to this one). Perhaps it's because I've become a lot more familiar with cookie recipes (I've average about 1-2 batches a week for the last two years), but I found these to be missing something in both flavor and texture. Just a bit too dry and not enough of a POW. But I love the concept. So I adapted them to create these Chewy Chai Crinkle Cookies that are chewier and more tender (and also more flavorful).
I love this spin on a chocolate crinkle cookie. But let's be honest- chocolate adds a lot of flavor. And in traditional crinkle cookies, it's the main one. Since these cookies have no chocolate, they have to get flavor from elsewhere. A combination of brown butter, molasses, a heavy dose of spices like cardamom, cinnamon, ginger, nutmeg, and black pepper does the trick.
Chewy Chai Crinkle Cookies: A few helpful tips and tricks
Ingredients:

Malted milk powder. The first time I made these in 2019 I was determined to find malted milk powder. And I was lucky enough to have such an awesome mom that was willing to go into the depths of the baking aisle to scavenge for it. Luckily, she eventually found it near the hot chocolate. If you aren't so lucky, don't fret. I've now tested this recipe both with and without the powder. It does add a complexity that's hard to mimic, but the cookies have enough flavors going on it'll be delicious without it too.

Process:

Rolling the cookie dough in both granulated and powder sugar. Why? The granulated sugar helps the confectioners sugar stick to the outside of the dough better.
Use more confectioners sugar than you think. Trust me- the dough will expand as the cookies back and if the dough balls were generously coated in confectioners sugar, it will look pretty sad.
Other Holiday Cookies to Enjoy:
Here are a few of my other favorite holiday cookies to enjoy during this time of the year.
In the holiday spirit? Here are some of my other favorite cookies for the holidays.
Here's a small excerpt from my old 2019 post:
To me, these were the perfect Christmas cookie for a few reasons:
The dough is easy and fun to make. Matt and I made the dough together- stress-free and in full on holiday mode. Bonus points for the amazing aromas from the brown butter and spices during the making process.
They have a depth of flavor beyond just sweet. The spices seriously come out in these cookies, which is something I always want in my desserts- yes, sweet, but also packed with other flavors too.
We still have them, and they are still just as good almost a week later (this may be a dangerous thing too)
This flavor isn't just a Christmas one, meaning I will probably make them again in January…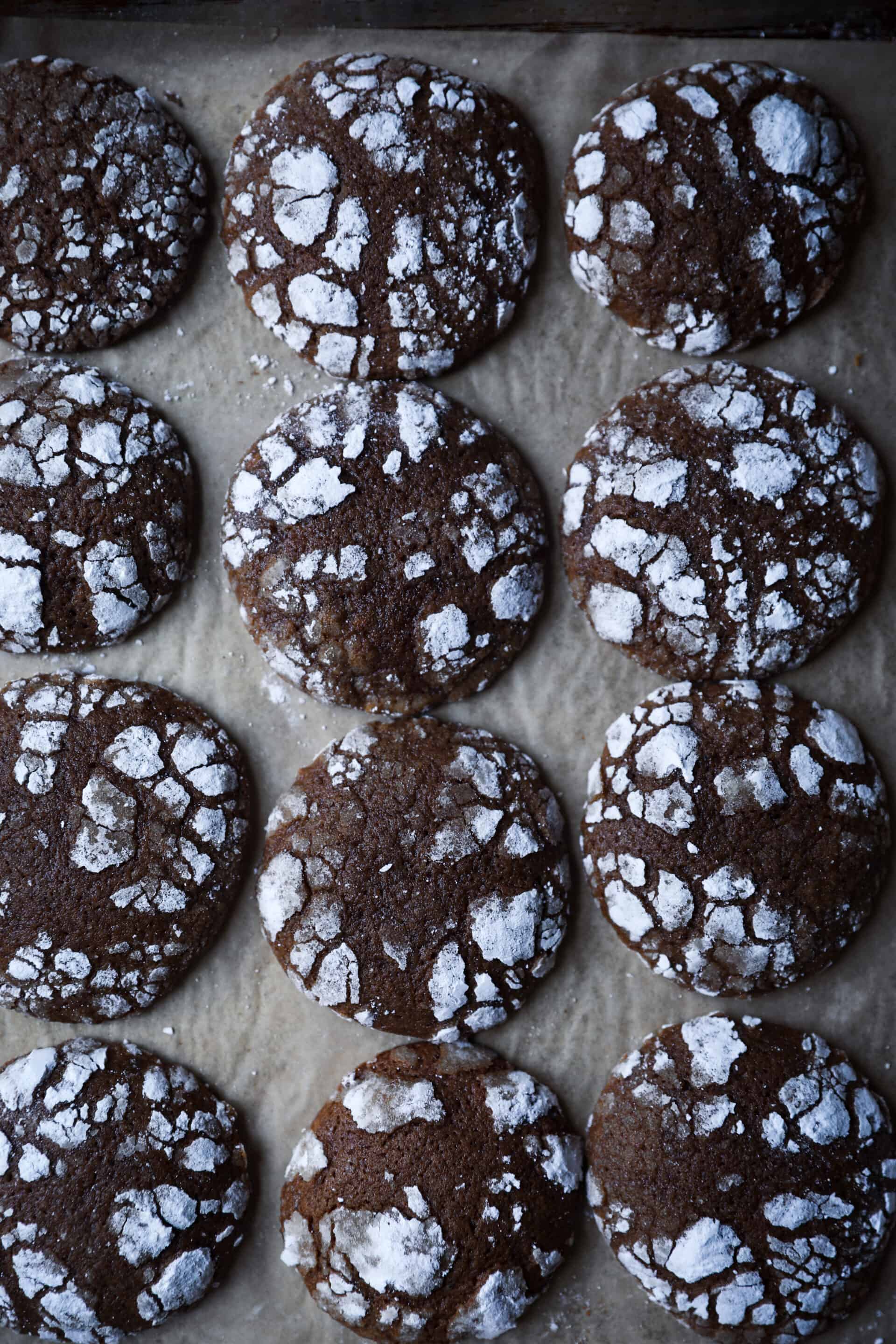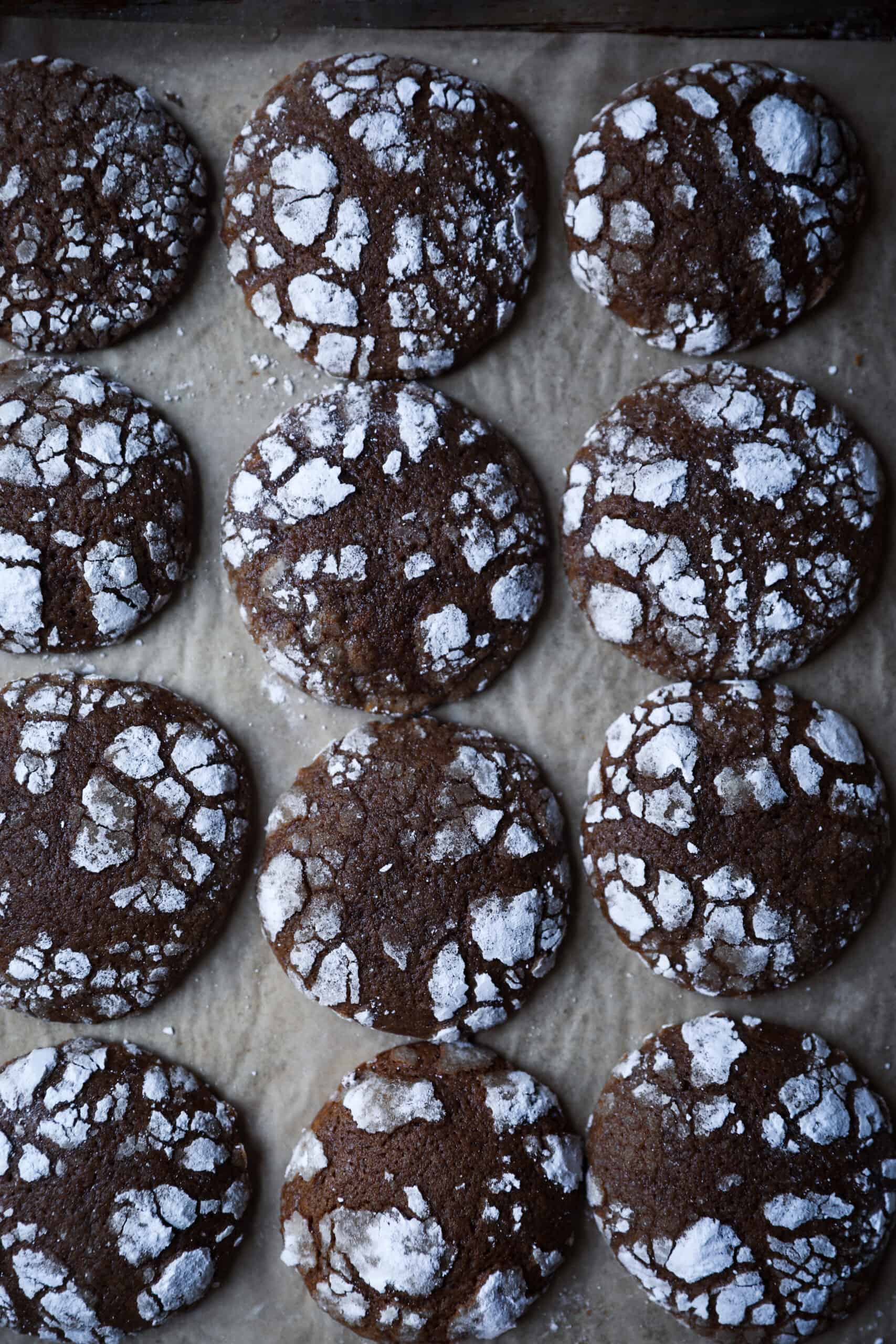 Chai Molasses Crinkle Cookies
1

stick (4 oz)

unsalted butter

1

teaspoon

ground ginger

1

teaspoon

ground cinnamon

1

teaspoon

ground cardamom

⅛

teaspoon

ground cloves

1/4

teaspoon

finely ground black pepper

1 3/4

cup (184g)

all-purpose flour

1

teaspoon

kosher salt

optional: 2

tablespoons

malted milk powder

1

teaspoon

baking powder

1/2

cup (100g)

white sugar

,

+ 1/4 cup (50g) for rolling

1/4

cup (50g)

light brown sugar

2

large eggs

2

tablespoons (42g)

molasses

2

teaspoons

vanilla extract

2/3

cup (65g)

confectioners sugar

,

for rolling
Brown butter on stovetop.

Add in all spices (ginger, cinnamon, cardamom, cloves, and pepper). Let sit while you prepare the other ingredients to steep and cool slightly.

Mix together all dry ingredients: flour, salt, milk powder, and baking powder. Set aside.

In a large mixing bowl with eletric handheld mixer or standing mixer bowl with paddle attachment, add in butter, white sugar, and light brown sugar. Cream on medium speed until lighter in color, about 2 minutes.

Add in eggs, molasses, and vanilla extract. Continue mixing for a few more minutes, until well incorporated. Scrape sides of bowl as needed.

Gradually add in flour mixture and mix on low speed, just until the flour is incorporated. Cover bowl and place in fridge for at least 1-2 hours, up to overnight. The dough will seem a bit wet and sticky, but will firm up in the fridge.

Place confectioners sugar in one small bowl and white granulated sugar in another small bowl. Using your hands or a cookie scooper, gather about 2 tablespoons worth of dough and roll into a bowl. Roll in granulated sugar, followed by confectioners sugar. Place on baking sheet or plate that can fit in the freezer. Don't worry about arranging them, because they need to go in the freezer first.

Freeze sugar-rolled cookie balls for 10 minutes- no more or less! It will affect the texture and how the sugar stays on the outside!

Arrange cookie balls on parchment-lined baking sheet- give them some space because they will spread. Bake for 15 minutes, until just set but still soft. Let cool on cooling rack before eating.