This Watermelon, Corn & Queso Fresco Salad is the perfect sweet side salad for summer dinners. In particular, it goes great with strong smokey flavors like a grilled skirt steak (like this one here) because of its high dose of sweetness from watermelon and corn. This salad is part of my "dinner salad" collection. Wondering what dinner salads are? See below.
What do I mean by dinner salads?
A super simple salad to have on the side with dinner that only has a handful of ingredients and a "vinaigrette". By "vinaigrette," I usually mean just some good evoo and a touch of vinegar or lemon/lime juice). The point is that that can be made on the spot by hand in minutes. It's a perfect way to add in some produce, color, and texture to a meal and showcase summer produce right now.
Behind the Recipe: Watermelon, Corn & Queso Fresco Salad
Watermelon: Not too much to say here, but in general get the smallest watermelon you can find. Even a really small one will yield a lot (probably more than you think). Oh and definitely make sure it's seedless.
Corn: I prefer to grill the corn to get more dimension and a slightly smoky flavor in this Watermelon, Corn & Queso Fresco Salad. This works great especially if I'm already grilling. Just put the ears directly on the grill in a small corner while everything else grills. However, if tight on time, just do it raw!

Quick Tip: After MANY times and attempts of using different methods, here's my favorite way to remove the kernels off of corn. IMO, it's both the easiest and safest. Cut the ear in half (after grilling) and then use a knife to remove the kernels from each side. Cutting in half makes it more manageable and safer.

Queso Fresco: A key player for some salty contrast to the sweetness of watermelon and corn. Can't find queso fresco? Goat cheese or feta would be great as well. However, I've been exploring some Mexican cheeses that are new to me but readily available here in San Antonio. Queso fresco is firmer compared to goat cheese or most fetas, meaning it doesn't crumble. I personally hate when cheese crumbles and when you mix it, it gets on everything else. This cheese will stay in its own lane.
Arugula or Other Greens: Some slightly bitter greens like arugula also help balance out the sweetness and make this more filling.
The "Vinaigrette"
For salads like these, I often don't even make a vinaigrette. I don't want it to distract from the produce and so it's more just making sure everything's in harmony and nothing is dry. Of course, if you prefer a classic vinaigrette for this Watermelon, Corn & Queso Fresco Salad, do your own thing here.
Extra Virgin Olive Oil: For a salad like this, use your best. I have a separate olive oil I use just for salads- it's a more expensive, higher quality one that has a slightly fruity taste.
Champagne Vinegar or White Balsamic Vinegar: These are my go-to's when I'm looking for something tangy, but still subtle and not overpowering. Often times I'll get these vinegars at my local oil & vinegar shop (like a boutique style shop) because they are usually a bit sweeter and viscous compared to ones at the grocery store. I also really love the brand "O Olive Oil & Vinegar". Their vinegars have more dimension that just acidity. I use their champagne vinegar and honey white balsamic vinegar.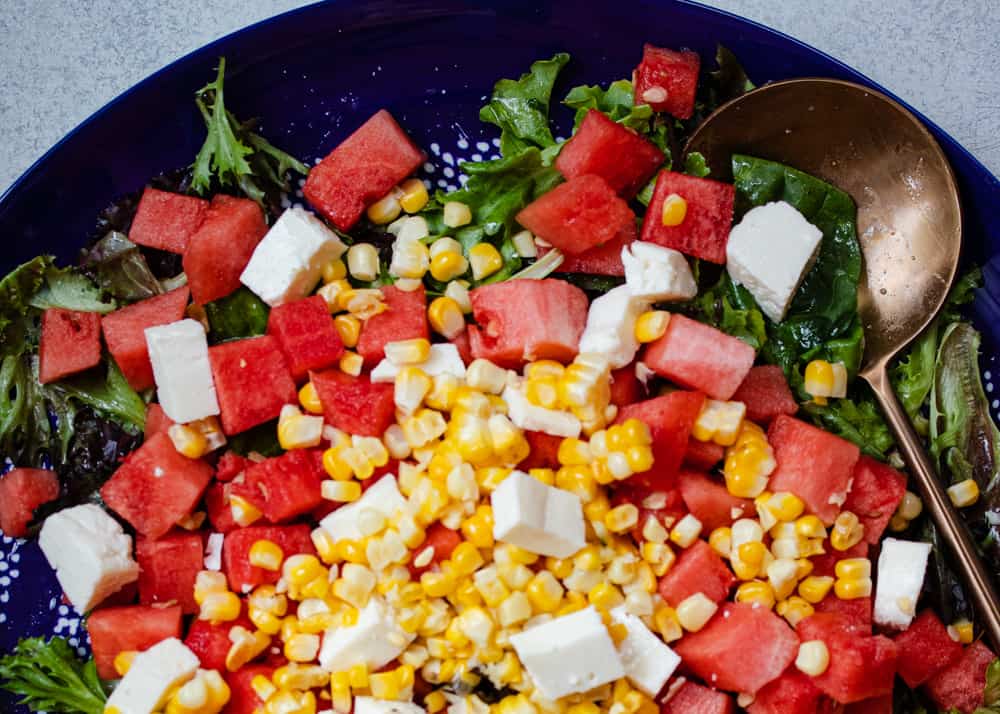 Watermelon, Corn & Queso Fresco Salad
2

ears

corn

,

, husked and cleaned

4

cups

diced watermelon

,

(about 1/2 of a very small watermelon, but let's be honest- watermelon sizes vary greatly so you've going to have estimate this one a bit)

3

ounces

queso fresco

,

, diced into 1/2'' cubes (can also use feta or goat cheese)

4

cups

mesclun or argula

,

(or other greens of your choice)

flakey sea salt and pepper

,

to taste

1-2

tablespoons

extra virgin olive oil

,

, or to taste

1

tablespoons

nice high quality vinegar like a sweet white balsamic or champagne vinegar

,

(see above for deets and reccs)
Optional: Grill the corn. If already grilling, this is an easy step. If not grilling, then option to just bypass this one!

Rub just a bit (about a teaspoon/ear) of olive oil on each ear of corn and season with salt. Place directly on grill over medium/high heat. Grill until charred to liking, about 10 minutes. Occasionally, every few minutes, turn the cob to get even grilling.

Once grilled, let corn cool down slightly. Then cut the ear in half and then remove the kernels by shaving off each side with a knife.

Assemble the salad: Add arugula/mesclun to a large serving bowl. Drizzle in about 3/4 of the olive oil and vinegar you plan to use. Toss to coat the greens in the oil and vinegar.

Add watermelon, corn, and queso fresco on top. Drizzle with just a touch more olive oil and vinegar. Season and serve.