I'll be honest- I like BBQ, but I'm not a die-hard fan. So when I found myself literally licking this sauce off of the spoon, I knew this was a winner. My favorite part about this sauce is that it gets its sweetness from natural sources of sugar: peach and pomegranate (with just a tablespoon of coconut sugar). Not only do they add sweetness, but also a depth of flavor without being overpowering. I doubt someone could blindly guess peach and pomegranate are in here, but once you know, you can taste hints of them in the sauce. Another game changing ingredient: the chipotle pepper. It adds just the perfect amount of heat and spice, without being spicy (although you can add more if you like heat).
With peach season just starting, this is the perfect time to try this one out! Don't be intimidated by the somewhat long list of ingredients- the directions are super simple.
What to use this on? So far I've used this as a sauce to brush on grilled ribs and grilled chicken, as well as a dipping sauce for almost anything.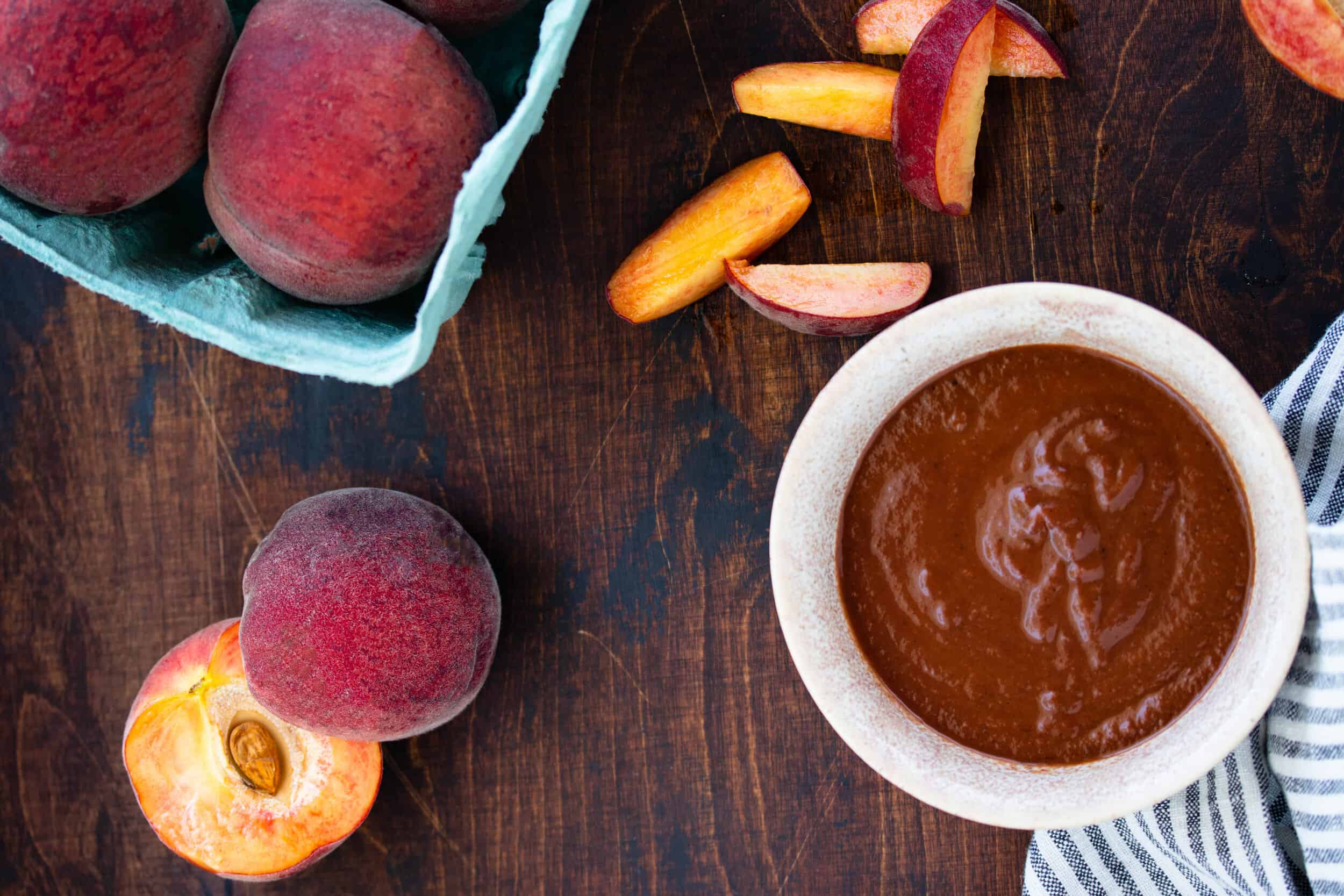 Peach BBQ Sauce
Makes about 3/4-1 cup. Adapted from Afro-Vegan
1

tablespoons

extra virgin olive oil

1/4

vidalia onion

,

diced (about 1/4 cup)

1

garlic clove

,

chopped (it will be blended so don't worry about it being too small or perfect)

1

medium peach or nectarine

,

diced (about 1/2 cup)

1/2

cup

tomato sauce

1/2

cup

pomegranate juice to make your own pomegranate syrup

,

(see my note below- I often will do a bigger batch starting with 3 cups)

2

tablespoons

red wine vinegar

, (apple cider would work fine here too if you don't have red)

1

tablespoon

soy sauce shoyu, or tamari

1

tablespoon

tomato paste

1

chipotle pepper in adobo sauce

,

(add another if you want it to be a bit spicy)

1

tablespoon

coconut sugar or brown sugar

1/2

teaspoon

sea salt

,

more to taste
Reducing the Pomegranate Juice:
Pour pomegranate juice into a small saucepot. Bring to a soft boil over medium heat and continue to cook it at this heat until the pomegranate juice is 1/4 of the original volume and is significantly thicker and almost a syrup like consistency. It will get thicker as it rests in the fridge.

During the reducing process, the liquid should have more bubbles than a typical simmer, but not a rapid boil. While you can keep this a bit unattended while you do something else, stay nearby to keep an eye on it.
IMPORTANT NOTES:
This can be done a week or two ahead of time. Given this, I normally do a big batch, instead of just the amount needed for this recipe. The syrup stores in the fridge easily and can be added to a lot of different sauces. Keep in mind: The more liquid you have, the more time it will take to reduce- normally I do 3 cups total of pomegranate juice to result in 3/4 cup of syrup.

If you want exactly what you'll need for this recipe, start with 1/2 cup pomegranate juice and reduce down to 2 tablespoons (1 ounce; half a quarter cup), which will take about 10 minutes. Additionally, if you're doing this, I recommend just reducing the pomegranate juice after step 2 below.
Making the Sauce:
Place a small sauce pot over low to medium heat. Add in olive oil, diced onion, garlic, and peach. Saute, stirring occasionally, until onion and peach are browned and lightly caramelized. Set aside to cool just slightly, and then add to a blender.

If you are making a small batch of pomegranate syrup, do that now using the same sauce pot. See directions above.

Add tomato sauce, pomegranate syrup, red wine vinegar, soy sauce, tomato paste, chipotle pepper, coconut sugar, and sea salt. Blend until creamy and smooth. Serve immediately or store in fridge for up to a week.